The Loop
Bryson breaks through, the Shark in the buff, the LPGA's dress code, and tour pros crash a wedding
Welcome to another edition of The Grind, where we're pretty sure we were on the only transatlantic flight to The Open carrying a PGA champ (Jason Day) and an HGGA champ (Me). Talk about precious cargo. Of course, only one of us was sitting in first class. The other one was roughing it in the back of the plane, where the provided entertainment included a loop of re-runs (Does anyone actually watch that Jay Leno car show?) playing on a small TV screen a few rows away. Is American Airlines kidding? It's an international flight for crying out loud! Apologies to the rest of those passengers in coach, but I had to document these trying conditions:
In any event, Jason and I arrived safely in the UK, and I can report that American Airlines delivered his bag in a timely fashion. I can also report that a customs agent had no clue who he was and I decided to turn the whole scene into a reason to lay a few pounds on the Aussie (he'd fallen to 33-to-1 odds!) at a local betting parlor. Man, I love the (British) Open. But first, here's what else is happening in golf.
Bryson DeChambeau: You don't need to be a physics major to figure out that shooting a back-nine 30 on Sunday to win your first PGA Tour title is pretty special. DeChambeau's torrid finish took the John Deere Classic, and put the 2015 U.S. Amateur and NCAA champ firmly back in the conversation of being one of golf's next great stars.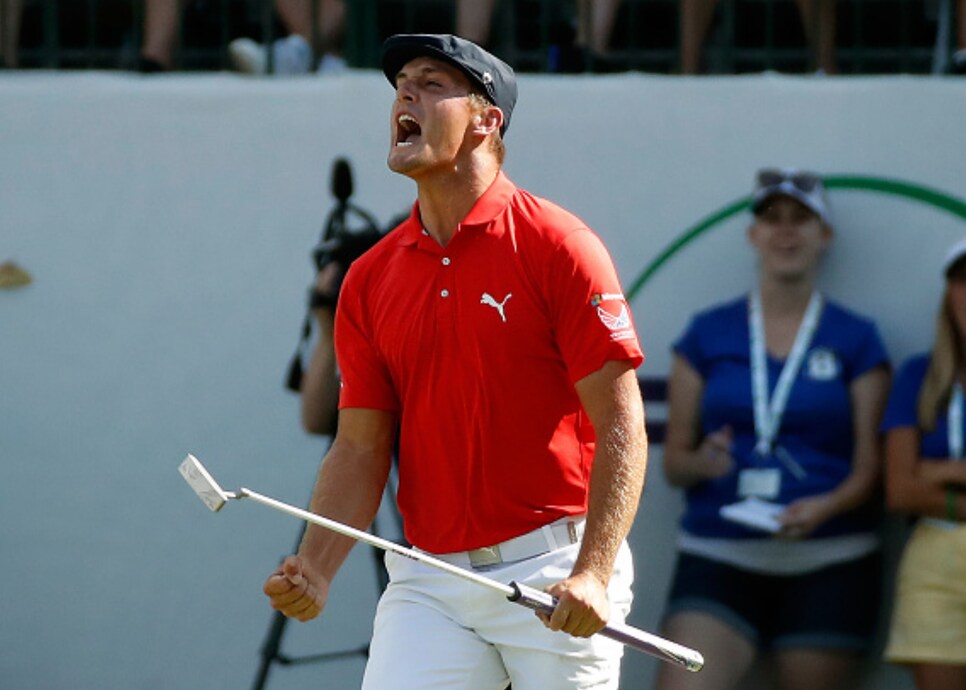 And yes, I'm still a "Deliever."
Sung Hyung Park: The 23-year-old overcame the course, the field, and even an appearance from the President to win the U.S. Women's Open by two shots. We're also buying 17-year-old amateur Hye-Jin Choi, who had the lead late on Sunday at Trump Bedminster before finishing runner-up. Although, it's got to sting a little to turn down a check for $540,000.
Mark Mulder: I don't care what tournament it is, if you win three years in a row, that's mighty impressive. Such was the case for the former A.L. Cy Young Award winner, who easily beat his fellow celebrities to complete a three-peat at the American Century Championship. Maybe the Web.com Tour should offer him a sponsor's invite. . .
Charles Barkley: No, Barkley didn't win in Lake Tahoe. In fact, he still finished dead last. But he showed some improvement (he made his first par in three years), and he showed he's willing to try anything to combat his nervous twitch on the course. From cross-handed swings:
LPGA's stricter dress code: Do these players really need to be told how to dress? What are they, teenagers? OK, so a lot of them are. Still, the fact that the phrase "NOT allowed" -- and "NOT" was in all caps -- was used five times in a short email to players seems a bit extreme. Especially since it's 2017 and not 1917.
Running over people with golf carts: Have you noticed this troubling trend lately? It's all fun and games until someone dies. Literally. Sorry if I sound like an old fart, but this is not funny, people:
This guy's bad gambling beat: The only person we felt worse for on Sunday other than Patrick Rodgers and Callum Shinkwin (By the way, we're also selling his finish at the Scottish Open) was this guy. Why? Because he bet on them to win. Both of them. Check out these bet slips that turned from nearly being worth $10,000 into worthless pieces of paper following the two golfers' close calls:
"British Open" bullies: If young players like Rory McIlroy and old players like Johnny Miller refer to it as the British Open, I'm not going to let anyone make me feel like a horrible person for calling it that. And you shouldn't either. Let's take a stand against British Open bullies. Well, other than Scottish golf writer John Huggan, who I'll be sitting next to all week in the media center at Royal Birkdale. He's a pretty big dude. . .
The Open heads to Royal Birkdale for the first time since 2008, which just happened to be the first major following Tiger Woods' last major win at Torrey Pines. I mention that because I recently did a lot of complicated basic math (Bryson DeChambeau would be impressed) to figure out which players have been the best in golf's four biggest events during those nine years. I'll tell you who No. 1 is (Jordan Spieth), but you're going to want to click on this link to see the top 30. Although, we might have to recalculate after seeing this:
Random tournament fact: If we really were to count U.S. Junior titles (and U.S. Amateur titles) as majors, then Tiger Woods and Jack Nicklaus would be tied with 20. Actually, that sounds sort of fair.
RANDOM PROP BETS OF THE WEEK
-- Jack Nicklaus would be OK with that: 1 MILLION-to-1 odds
-- Adam Scott will win the British Open: 28-to-1 odds (Actual odds. Along with Day, I also bet on Scott and fellow Masters Champ Sergio Garcia -- 18/1 -- to win.)
-- I will NOT need to make a return trip to the betting parlor Sunday night: LOCK
Say what you will about Joe Buck, the dude has a great sense of humor. If that wasn't obvious from his cameo in "Brokmire," here's the Fox announcer posing with Brooks Koepka before the All-Star Game and joking about his U.S. Open gaffe when he misidentified Koepka's girlfriend, Jena Sims:
And Jena got in on the fun as well:
Rafa Cabrera-Bello and Andrew "Beef" Johnston crashed a wedding in Scotland: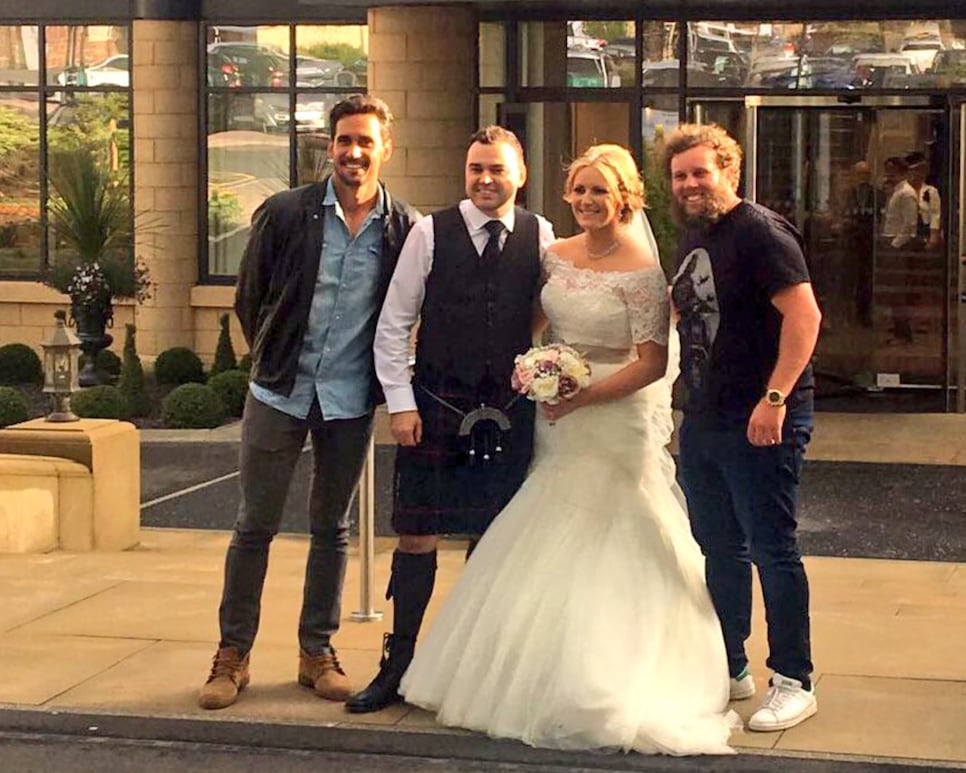 Considering Caberar-Bello went on to win the Scottish Open, the Spaniard is probably looking for weddings to crash in Birkdale this week.
PHOTO OF THE WEEK THAT WILL HAUNT YOUR DREAMS
We get it, Greg. You want to be in ESPN's "Body Issue" next year.
Speaking of old golfers doing crazy things, check out 81-year-old Gary Player doing a back-flip off a boat:
Let's see you do that, Greg! Actually, we're pretty sure the 62-year-old Norman could pull that off. But he'd still trail Player by seven majors, and more importantly, one ESPN "Body Issue" appearance.
VIRAL VIDEO(S) OF THE WEEK (TRICK SHOT DIVISION)
We knew Sophie Godley had tremendous beer/golf pong skills, but this off-the-wall shot is absolutely bonkers:
And so is the fact that most right-handed tour pros are still really good when they switch to playing lefty. Check out the European Tour's "Left-handed Challenge," which Henrik Stenson won by hitting a lefty shot to two feet:
And finally, this guy claims to have hit a moving jet ski with a drive:
If he actually did, it's very impressive. However, we're now afraid that taking aim at people on jet skis is going to be the new running-over-people-with-golf-carts trend. Resist the urge. Please.
"In another five years, it will be just called 'The.'" -- Nick Faldo on the name progression of British Open to Open Championship to The Open. Don't give them any ideas, Nick!
THIS WEEK IN DUSTIN JOHNSON-PAULINA GRETZKY BROOKS KOEPKA-JENA SIMS PUBLIC DISPLAYS OF AFFECTION
Lady and the champ! Jena's photo captions are the real winner this week.
Scott McCarron beat Bernhard Langer by a shot at the Senior Players Championship. That's not going to do a lot to quiet those questioning if the two are violating the anchoring ban. . . . Stephen Curry shot rounds of 79-73-68 at the American Century Championship to finish fourth. That's probably not going to do a lot to quiet those criticizing him for playing in a Web.com Tour event next month. . . . Just a reminder, but some dude is still alive to win a $2 MILLION parlay on the four majors after correctly picking Sergio Garcia and Brooks Koepka to win the first two. No pressure, Rickie Fowler. . . . And finally, I learned a lot about The Beatles on a great tour, which had an appropriate name: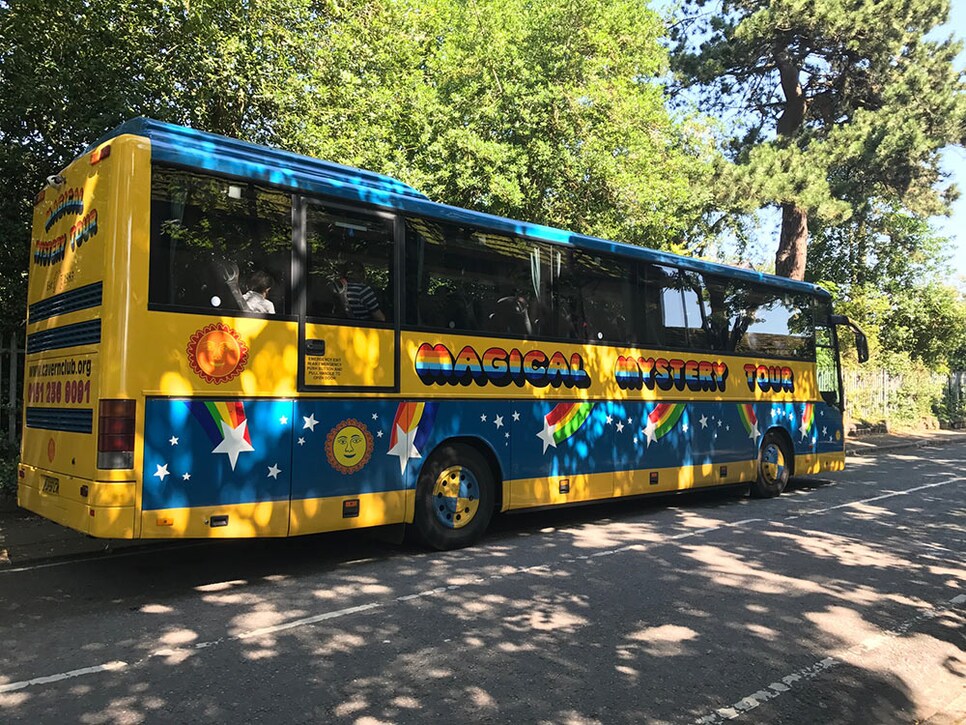 When in Liverpool, right? OK, so eating lunch for Subway wasn't quite as adventurous.
RANDOM QUESTIONS TO PONDER
What's the best Beatles song ever?
Will Sergio feel more nerves at the Open or next week's wedding?
How much better was Jason Day's in-flight meal?