The Grind
Brooks Koepka's star-studded Super Bowl Sunday, Jordan Spieth gets a fan arrested, and Dustin Johnson almost kills someone
Welcome to another edition of The Grind where we don't want to think about how much money we've lost betting against Tom Brady in big games over the years decades. Seriously, can this guy just retire already? Enough's enough! Of course, there were those two times my Giants beat him. And at least this time, I came out well ahead on Super Bowl Sunday thanks to Brooks Koepka winning in Phoenix. See, mom? Hosting a weekly gambling podcast can pay off! Aren't you proud of me?! So please go and subscribe to Be Right right now and then let's talk some golf. Did you subscribe yet? Yes? OK, good. Here we go.
Brooks Koepka: Sure, the four-time major champ has missed three consecutive cuts for the first time in his career, but when you get a chance to bet on Brooks Koepka at more than 50/1—especially at a tournament he's already won—well, you have to do it. With all due respect to Kevin from "The Office," that's even better than getting 10,000-to-1 odds on John Mellencamp to win an Oscar. OK, so winning the Waste Management Phoenix Open again wasn't easy. And he needed all the leaders to fold, but what an impressive finish, in particular this eagle chip-in on the 71st hole that proved to be the difference:
Brooks was really . . . into it? A regular PGA Tour stop? You love to see it. And we loved seeing him in a Super Bowl commercial later that day. Anyway, thanks, Brooks. Beers on me.
Actually, beers are still on you.
Dustin Johnson: Not to be outdone, Brooks' (former) workout buddy picked up yet another win, this time on the European Tour at the Saudi International. In his last nine starts, DJ has three wins, three runner-ups, a third, a sixth and a T-11 at the Sentry Tournament of Champions. Something tells me he wasn't exactly locked in for that event in Kapalua, because otherwise, this is an all-time heater.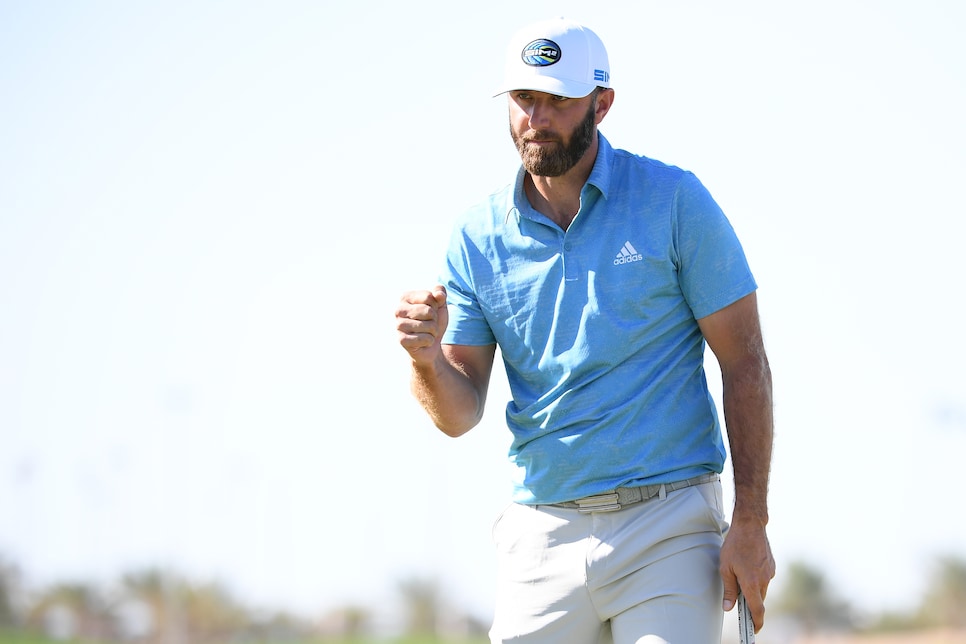 In fact, Johnson's grasp on the top ranking on the world is so strong, our Ryan Herrington pointed out the points difference between DJ and World No. 2 Jon Rahm is now 10 times bigger than it was when Johnson re-took the top spot in August. What a beast. Good luck to everyone else this year.
Jordan Spieth's Saturday: How electrifying was Spieth's Saturday at TPC Scottsdale? He show a career-low 61 thanks to 10 birdies, including one that even played a role in a fan dressed like Borat getting arrested. True story. Here's a full rundown of the craziness:
Hey, we can't blame the dude for falling out of his chair. That was some performance. And we haven't heard Golf Twitter utter the word "BACK" this much since, well, basically every time Tiger teed it up from 2015-2018.
Jordan Spieth's Sunday: Unfortunately, as with the Borat fan, the good times didn't last. You just knew it wasn't going to be Spieth's day when he sliced a 3-wood off the planet on No. 1.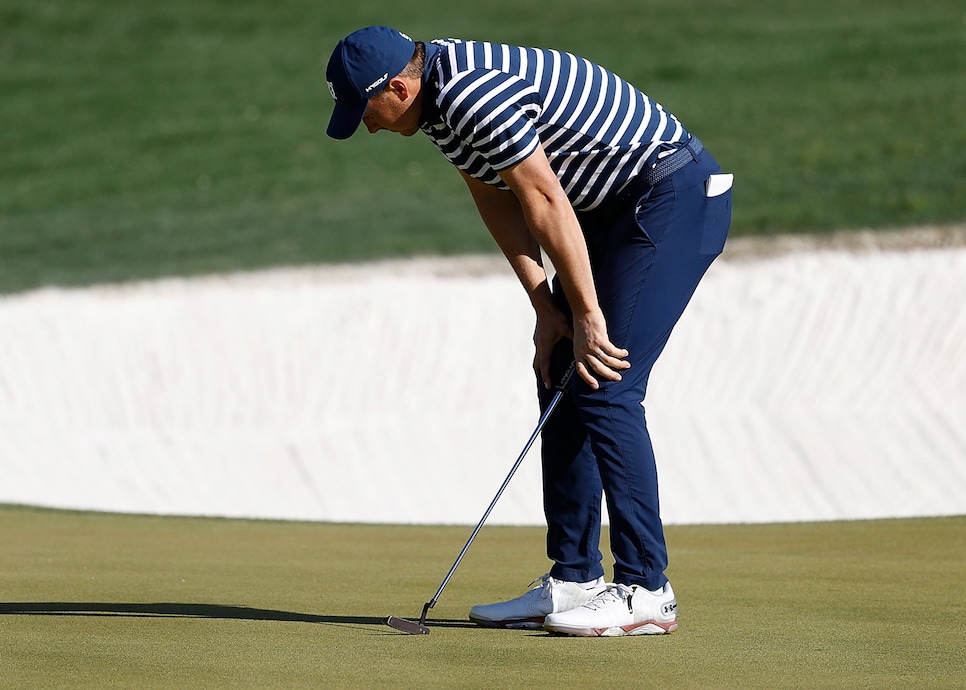 Turns out, the three-time major champ could have shot 9 strokes worse than what he did in the third round and still found himself in a playoff with the four-time major champ who won the tourney. But an ugly 72 dropped him to T-4. Still, considering his best previous result in seven starts this season had been a T-38 in a limited-field event, this was a very positive step. Spieth improved from 92nd in the Official World Golf Ranking to 69th, and his Masters odds were slashed in half from 50/1 to 25/1. I'm happy to report I snuck a bet in on him at that higher number on Saturday evening. Pretty savvy, right? We'll talk about that and Brooks Koepka winning us some serious cash on this week's Be Right. You're subscribed, right?
Xander Schauffele and Tony Finau closing: These guys never seem to flat-out choke (although both were spotty down the stretch on Sunday), but they also never win. It's crazy. Both have back-to-back runner-ups, are ranked No. 4 and No. 14 in the world, respectively, and yet have combined for seven years without a win. Again, it's crazy. I can't explain it, so here's Shane Ryan's take on Tone. Moving on. . .
Not calling "FORE!": Dustin Johnson left Saudi Arabia with a trophy, but one left tee shot almost killed a volunteer.
At least, we think that guy is alive. . . Anyway, when in doubt, just yell "FORE!" Just in case.
The field at Pebble Beach: Golf Twitter collectively rejoiced when the tournament announced there would be no celebrities, but now there are almost no stars at all after DJ's WD on Monday. According to Twitter OWGR guru @Nosferatu, the 30 points to the winner this week will be by far the lowest awarded in tournament history. Not great. It's almost enough to miss watching the likes of Kenny G and Gary Mule Deer. Almost.
The PGA Tour heads to Pebble Beach, AKA that event that showcases a great field, some big-name celebrities, and the most scenic golf course in the world. Well, at least we still have that third part. And hopefully, the guys who are playing there make things a bit more exciting for Jim Nantz than the Super Bowl was.
Random tournament fact: Tom Brady made an eagle in this tournament back in 2014. And speaking of Tom, perhaps this "golf" story from Trevor Immelman best explains why he's THE (NFL) GOAT:
RANDOM PROP BETS OF THE WEEK
—Jordan Spieth will get another fan arrested this week: 1 MILLION-to-1 odds
—Tom Brady will treat himself to a carb this week: 10-to-1 odds (Actual odds)
—Brooks is pissed Bryson was in more Super Bowl: LOCK
Spieth pointing at that fan being arrested: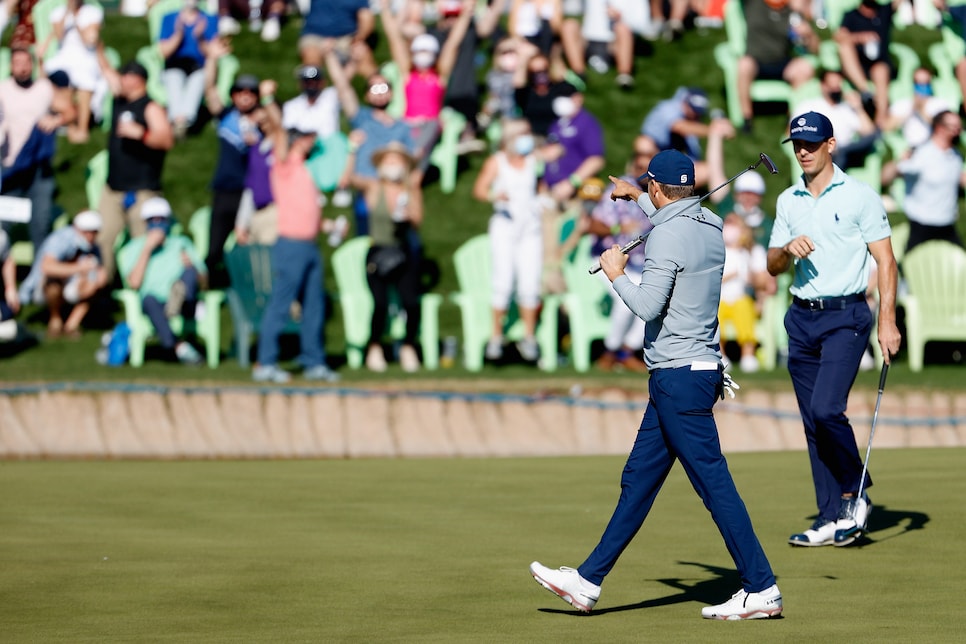 Not quite the level of "Go get that!" to caddie Michael Greller at the 2017 Open, but still, quite a moment.
VIRAL VIDEO OF THE WEEK (GOLF LEGENDS DIVISION)
Here's 85-year-old Gary Player holing a bunker shot like it's nothing. Oh, and teaching his grandson a lesson about betting against him as well:
VIRAL VIDEO OF THE WEEK (VOLUNTEER LEGENDS DIVISION)
Check out this marshal give Mattt Kuchar the most animated signal ever after Kuchar's golf ball found the water:
So good—especially since Kuchar clearly saw his ball get wet. After a week in which marshals were in the news for bad reasons, though, I'm not knocking this guy for taking his job seriously. And I might just steal that to mock my golf buddies. You know, if it ever stops snowing in New York.
"I was in a dark place. Not knowing if I was ever gonna be the same golfer. I questioned myself for the first time in my life, whether I could do this again," Brooks Koepka said. "There was a lot of pain, a lot of tears and frustration." Tears from Brooks! Wow. Again, you love to see the emotion. Good for you, Brooks. And congrats on finally having as many regular PGA Tour titles as majors!
THIS WEEK IN PUBLIC DISPLAYS OF AFFECTION
Brooks Koepka and Jena Sims were part of a blockbuster Super Bowl ad directed by none other than Spike Lee:
And which includes Serena Williams and Peyton Manning. Damn, that's big time. Here's the commercial:
THIS WEEK IN TIGER BEING TIGER
Or we could have gone with "This week in public displays of leg":
Find you someone that loves you like Tiger Woods loves wearing gym shorts.
THIS WEEK IN CELEBRITY GOLFERS
How about New York Mets infielder Jeff McNeil crossing Cypress Point off his bucket list—and shooting a smooth little 70 to boot!
Well done, Jeff. It's just too bad the Pebble Beach Pro-Am isn't happening this week. Especially since you're already in the area. Maybe next year.
The LPGA announced its changed its rules for qualifying for certain events after reigning Women's British Open winner Sophia Popov didn't get into a couple tournaments last year. It's about time. . . . The PGA of America announced its allowing the use of distance-measuring devices during its majors, including the PGA Championship. It's also about time. . . . Annika Sorenstam announced she'll play in her first LPGA event in 13 years at the end of February. Now that deserves a BACK! . . . Here's one final thought on Jordan Spieth, courtesy of my daughter:
I'll ask her later how much of the piggy bank she wants to put on Spieth at Pebble this week. . . . And, finally, with all the talk about whether to roll back the golf ball, I'm proud to announce that my re-treated root canal was filled with gutta-percha, which is the stuff they used to make golf balls out of. Funny world.
RANDOM QUESTIONS TO PONDER
How much does Gary Player charge for a bunker lesson?
How much was that Borat fan's bail?
Am I considered "woke" now?