News
Brooks Koepka says if announcers would 'shut up and listen,' players wouldn't need to wear mics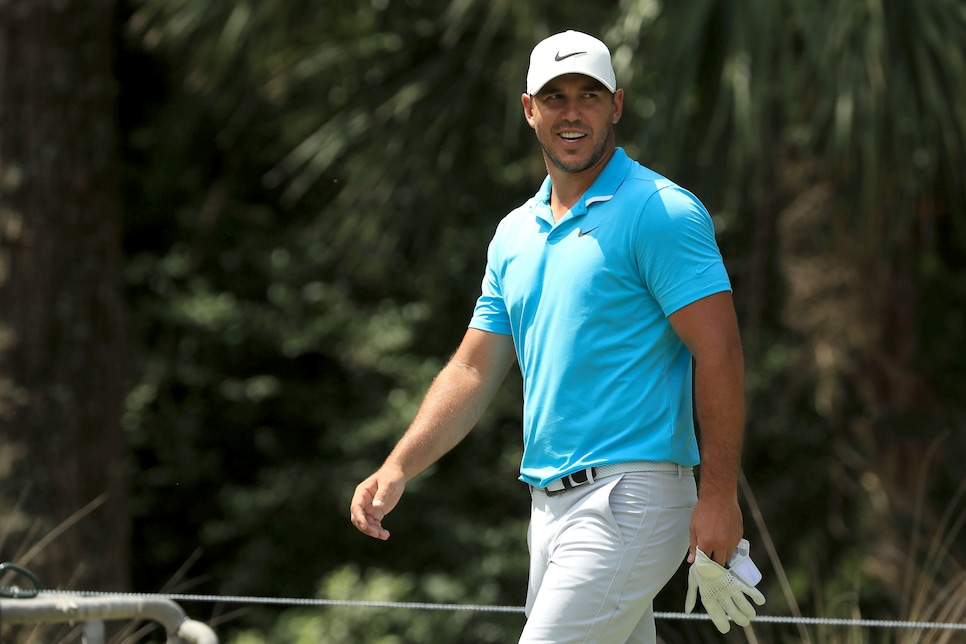 Judging by his first-round 67 that included a back-nine 32 at Harbour Town, Brooks Koepka didn't lose his fastball on the golf course during quarantine. He also didn't lose it in the press room, where he threw one 99 mph on the black Thursday afternoon at the RBC Heritage.
Following the success that both the TaylorMade Driving Relief event and The Match II had with mic-ing up players, golf fans hoped something similar could be adopted on the PGA Tour. Rickie Fowler, who was among those mic'd up at Seminole, agreed to wear a mic last week at the Charles Schwab Challenge.
Fowler brought the goods during the broadcast, but it was Koepka who actually made the most on-air noise at Colonial, and he wasn't even mic'd. A boom microphone captured him saying "pretty f---ing good there" to Rahm after Rahm had chipped in for birdie at the par-3 eighth.
Koepka could care less about an F-bomb being caught on a microphone (Jim Nantz did apologize to viewers, however), but that doesn't mean the four-time major winner wants to wear one during competition. Instead, Koepka offered up his solution on Thursday afternoon in Hilton Head, and it doesn't involve mic-ing up anyone. When asked his thoughts on the matter, Koepka didn't mince words, as is tradition.
"I don't understand why they want us to wear a mic when there's a boom mic that stands 10 feet away from every shot that I hit," said Koepka, before dropping the hammer.
"If the announcers would just shut up and listen, you could hear every word that we're talking about. I don't understand what the thing is. Half the time the lady's holding a boom mic, and she's listening to everything we're saying all the way down. If they would just shut up, they could hear everything."
Brooks Koepka laying absolute waste to everyone in his path. NOW golf is officially back.
He's hardly alone in his stance that mics are not necessary. Justin Thomas, who played alongside Fowler last week, simply stated "that's not me."
"What I talk about with [caddie Jimmy Johnson] and what I talk about with the guys in my group is none of anybody else's business, no offense," Thomas said. "If I want somebody to know what I say, I'll say it in a press conference, I'll say it in an interview or put it out on social media, whatever it is. I personally am not one that would care to get mic'd out there."
Additionally, Rahm last week said he didn't have any interest in wearing one during competition either.
For those counting, that's three of the top four players in the world saying "thanks, but no thanks" to being mic'd up. That doesn't seem good for the future prospects of the experiment. That said, Fowler has already stated he'd happily do it again, and a number of other players would likely give it a chance as well. Just don't expect Thomas or Koepka to be one of them.