News
Jordan Spieth remains golf's biggest thrill ride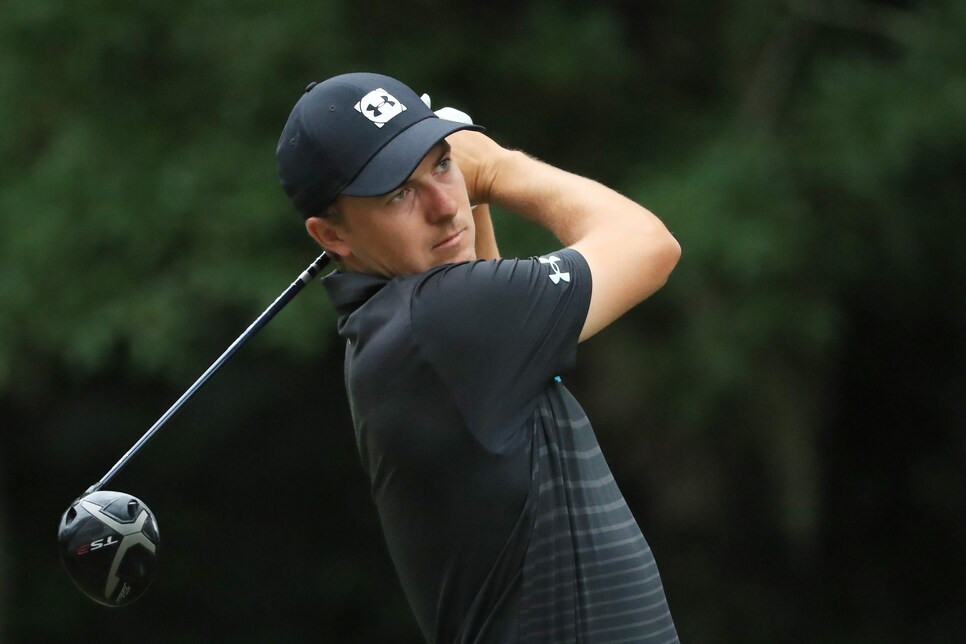 What do you do to feel alive? Solo climb El Capitan? Run with the bulls in Pamplona? Surf Shipstern Bluff? Please. Those adrenaline rushes barely register a heartbeat compared to the Jordan Spieth Experience.
What's that, is it a roller coaster? Well, of sorts, if said roller coaster hit a few banks and froze on its barrel roll. On second thought, it's more like whitewater rafting if the instructor stole the paddles. Actually, imagine the world's most dazzling fireworks display, with the caveat that a fourth of the rockets will launch into the crowd.
On Thursday at Harbour Town, those pyrotechnics exploded both in the proverbial sky and stands, Spieth bouncing back from an early triple bogey with eight birdies to shoot an anything-but-routine 66 at the RBC Heritage.
"I've been making a lot of putts. I've been making a lot of birdies in my rounds," Spieth said. "Just tried to position myself each hole to have a decent look."
"Decent look" is not how we would describe the start of Spieth's first round. On the 12th hole (his third), Spieth's tee ball went OB, and he followed that mistake with a three-jack.
"Yeah, you can't miss right on 12. I knew that. In the air, it was fine. It was just going to be in the trees, whether I could punch it to the green or punch out," Spieth said. "I hit a tree, and it went about 20 yards to the right across the cart path out of bounds. It wasn't really—it wasn't an out-of-bounds shot, it just got kind of a tough break.
"Then my three-putt was sloppy there. All of a sudden, I'm three over through three, and you start to see guys going two under through two, two under through three early. It's not a great feeling."
Coupled with Spieth's topsy-turvy performance last week—where the Texan was in the weekend mix in the PGA Tour's return to action at the Charles Schwab Challenge, only to make five bogeys on Sunday to finish T-10—well, in golf parlance, this sequence is often referred to as "not ideal."
A big number that early on a Thursday submarines the tournaments of lesser souls. But Spieth is a magician at making something out of nothing, which is how the 26-year-old proceeded to make the turn in two over before assailing Hilton Head with a birdie barrage. The three-time major winner posted six consecutive red figures from the second to seventh, adding the finishing touches with a second shot to three feet at the ninth for a seven-under 29.
"I knew where I stood. I knew what was going on," Spieth said of his en fuego stretch. "But I mean, it doesn't change the way you play. You're just hitting point A to point B on this kind of golf course."
For posterity, Spieth is one of the more candid and self-aware voices on tour. However, nothing about his game is Point A to Point B.
Watching Spieth is a ride, man, and that's not said in jest or ridicule. It is a ride that's been running for three years, since his last victory way back at the 2017 Open Championship, yet doesn't feel repetitive. Fact is, it's the most riveting thing in the sport.
Yeah, yeah, we hear you. The Tiger sightings and Rory runs and Bryson bombs, each and all enticing theater. But go down the hall and make a right into the Golden Child Auditorium, because that's where the action is.
Who else can drop 40-footers with ease but three-putt inside three feet? Lead the field in approach (gaining almost four strokes over the morning wave) one round only to look like he's playing with left-handed clubs the next? Be Dr. Jordan on Thursday and Friday (first on tour in Round 1 last year, ninth in Round 2 scoring ) and Mr. Spieth come the weekend (170th in Round 3, 187th in Round 4)?
In short, Spieth is an ever-changing Rubik's Cube. Someone who has conviction in who he is and what he is doing and where he is going while simultaneously expressing the pressure he faces and vulnerability he feels. And the constraints and clashes of these dynamics make him a fascinating study.
"Michael did a great job of reminding me [not to put too much pressure on myself] when it wasn't going well on my front nine," Spieth said. "So, yeah, it's definitely a trigger to get it going. The idea, like I mentioned a minute ago, is to work yourself into contention, get those experiences, start to feel more and more comfortable under the gun."
The sport desperately wants Jordan Spieth to revert to his 2015-'17 self. That player was on pace to be one of the greats, and such rejuvenation may ultimately come. Until then, this Jordan Spieth is pretty damn entertaining, too. Just remember to buckle up.