Ryder Cup 2023
Brooks Koepka and Dustin Johnson say they want to play in Ryder Cup if picked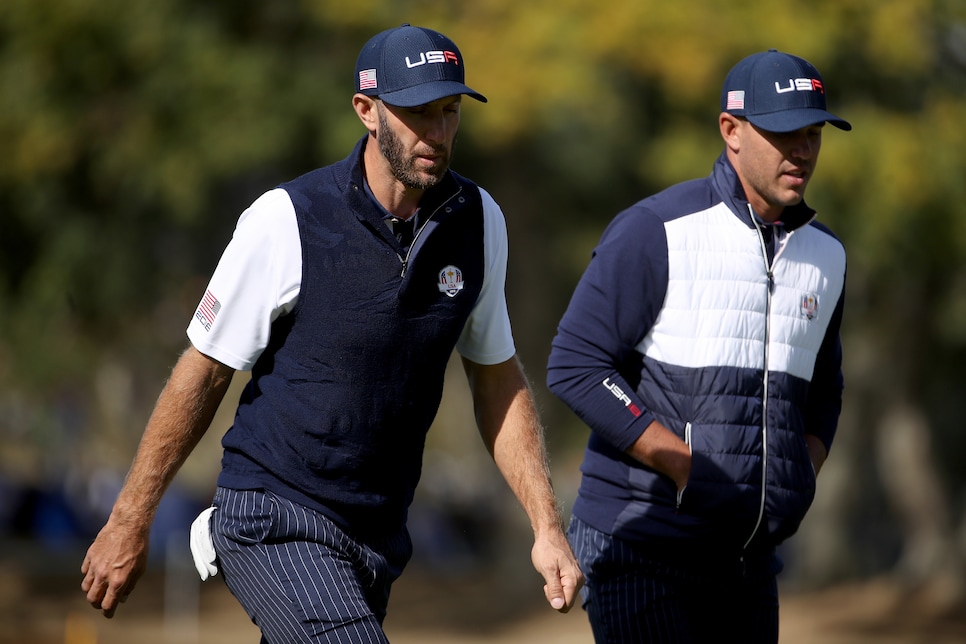 Dustin Johnson and Brooks Koepka walk during the afternoon foursome matches of the 2018 Ryder Cup in France.
Christian Petersen
It's only five months until the 2023 Ryder Cup in Italy, and we still don't know if Team USA captain Zach Johnson will choose any LIV Golfers among his six captain's picks.
We know Johnson can do so, because the PGA of America recently clarified that LIV players are technically eligible for consideration on the 12-man squad that will head to Rome to take on the Europeans in late September.
Why? In short, PGA of America membership is required to play on the U.S. team, and LIV golfers already had associate membership via playing on the PGA Tour. Despite leaving for LIV, they retain their PGA of America status until July 2024, due to a grace period within the organization's rules.
Johnson, however, said ahead of last week's Zurich Classic that he wasn't sure what the process will be in regards to LIV golfers. "There's still a lot of time left in that regard, and so many fluid factors involved," Johnson said.
Unsure of how the eligibility will play out, LIV star Brooks Koepka has been dropping not-so-subtle hints that he'd be ready to play if given a wildcard.
First, there was a joint runner-up finish to Jon Rahm at the Masters, which showed the four-time major winner can still compete with the world's best golfers. Koepka has also won two LIV titles since joining last summer. Then there was a comment Koepka made to reporters at LIV's event in Australia last weekend, which was more a verbal reassurance.
"I have no idea [if we'll be eligible] and it's not up to me so I can't make that decision. But if they choose us, we'll be ready to go," Koepka told the Sydney Morning Herald after finishing T-11 among the 48 players who competed at LIV Golf's Adelaide event.
Koepka and his fellow LIV recruits would almost certainly need one of Johnson's picks. Despite being able to earn U.S. Ryder Cup points through their performances in the major championships, LIV players are well outside the six automatic qualifiers. Koepka is the highest-ranked LIV player, at No. 17 in the Team USA standings, while Phil Mickelson, who tied with Koepka for second at Augusta, is 22nd. Previous Ryder Cup stars Dustin Johnson (30th) and Patrick Reed (34th) are even farther down the ladder.
Both Johnson and Europe captain Luke Donald will fill their teams with six qualifiers and six picks.
Johnson won all five of his matches at the 2021 Ryder Cup as U.S. brushed aside Europe 19-9 at Whistling Straits. Like Koepka, whose Ryder Cup record is 6-5-1 in three appearances, Johnson expressed his longing to be considered for a wildcard when Captain Johnson announces the six after the Tour Championship in late August.
"I would love to, absolutely," two-time major winner Johnson said in Adelaide. "It's something I've always enjoyed playing and in the last Ryder Cup I played pretty well. It's one of my favorite events to play in. I'd love to [do it again]. If I play well for the rest of the year, hopefully I'll get a consideration."
The Ryder Cup will be played for the first time in Italy from Sept. 29-Oct. 1 at Marco Simone Golf & Country Club outside Rome.