Major Tinkering
British Open 2021: Looks like Xander Schauffele's arm-lock putting experiment is over before it really started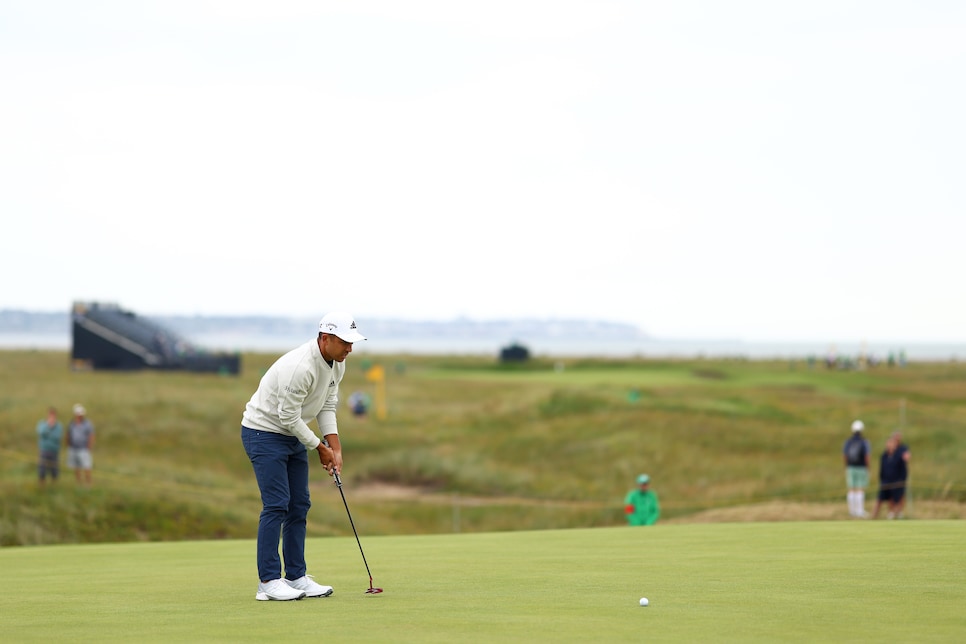 Xander Schauffele practices his putting using a conventional stroke during Tuesday practice round at Royal St. George's.
Charlie Crowhurst/R&A
Just weeks after marrying his longtime girlfriend, Maya Lowe, Xander Schauffele is experiencing another major life change prior to the Open Championship, albeit a much-less important one. He's ditching the arm-lock putting method.
No, it's not exactly as serious as tying the knot, but this is now the second time Schaffuele has done some major tinkering prior to a major championship. In early June, the four-time PGA Tour winner gave the arm-lock method a try in the first round of the Memorial Tournament, and experienced some swift success with it. Despite the fact he thought the method should be banned, his thinking immediately shifted to if-you-can't-beat-em-join-em mode.
Schauffele went on to tie for 11th at Muirfield Village, gaining +1.3 strokes putting for the week. Two weeks later, however, he had his worst putting performance of the year in arguably his biggest tournament of the year, the U.S. Open at his hometown course, Torrey Pines. Naturally, questions arose as to why he would mess with a good thing (Schauffele was already top 10 on the tour in SG/putting) just weeks before such a big event.
Now, he's tinkering once again, and once again before a major championship. In a screenshot captured by Golf Channel's Ryan Lavner from Monday at Royal St George's, Schauffele appears to be back to his standard putter and his standard left-hand low grip:
According to a few Twitter sleuths, including an account dedicated to all things Xander (@XanderLegion), Schauffele made the switch on the weekend at last week's Scottish Open. It proved to be the prudent move, as he went on to shoot 66-67 to tie for 10th.
For those wondering, here's what Xander's arm-lock grip looked like. Notice the longer grip that rides up his left arm (this picture is from the Memorial):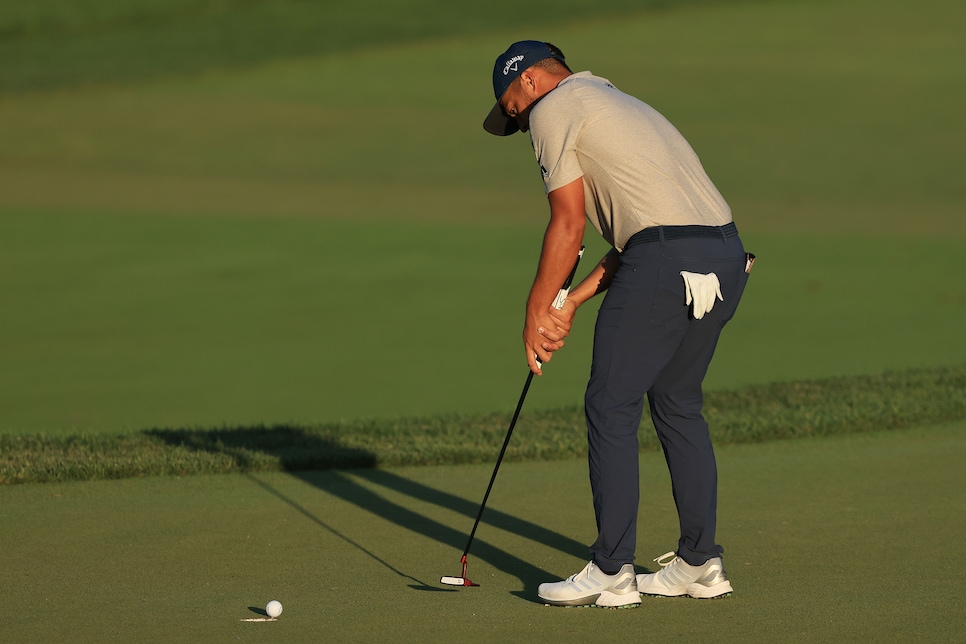 If you're keeping score at home, Schauffele gave this method all of 10 competitive rounds—four at Muirfield Village, four at Torrey Pines, two at the Scottish Open. The honeymoon phase is officially over.