The Loop
British Open re-enactments, Tiger Woods' major tease, and the shortest retirement in golf history
Welcome to another edition of The Grind, where after getting a chance to play Carnoustie on Monday, we decided to re-enact the key moments from this year's British Open instead of just writing about them.
Carnoustie is a ton of fun! If you're playing with no pressure and little wind, that is. Anyway, here are some more words to describe what happened there last week as well.
Francesco Molinari: The hottest golfer in the world (two wins and two runner-ups in his previous five worldwide starts) coming into the Open did the unthinkable over the weekend by not making a single bogey at Carnoustie. Now throw in the fact he did it to claim his — and Italy's — first major against a stacked leader board and while playing with Tiger Woods on Sunday.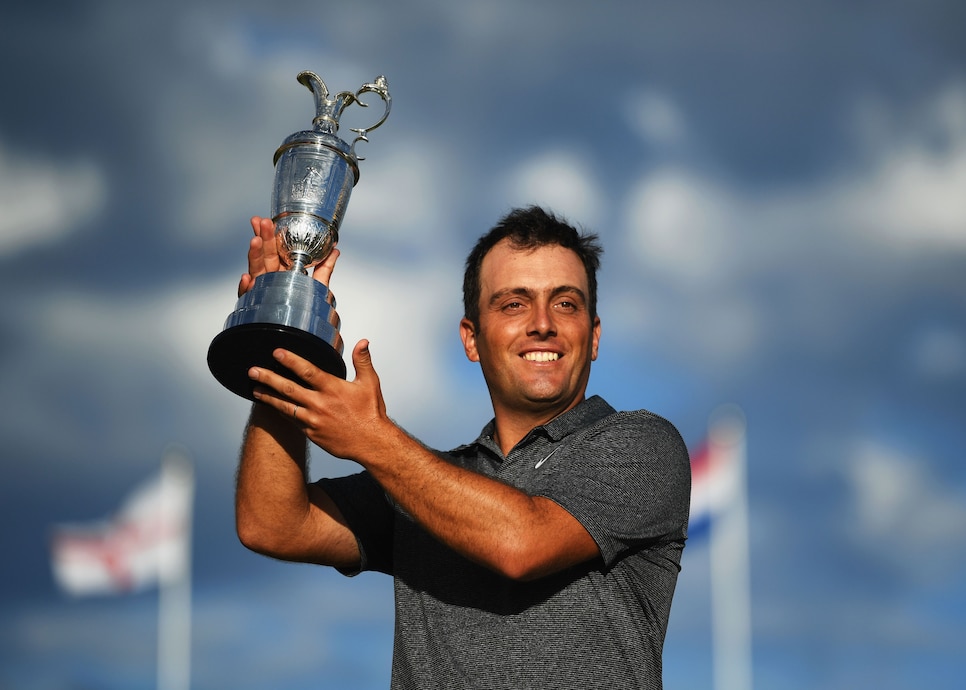 I hope he enjoyed a few Peronis from the claret jug, but I was sad that my three years of high school Italian did me no good at his winning press conference.
Tiger Woods: First of all. . . SIGH. After grabbing the lead heading to the back nine and hitting that absurdly good fairway bunker shot on No. 10, Tiger tumbled off the leader board quickly with a double on 11 and a bogey on 12. Still, Tiger Woods led a major late on Sunday. In 2018. At 42 and with a fused back. Hang in there everyone, it's going to happen at some point.
Xander Schauffele: Sure, there were three other guys who tied for second place, but I'm most impressed with Schauffele. The 24-year-old faced a lot of adversity in the final round, from playing in the final pairing with Jordan Spieth, finding a couple of absurd spots in pot bunkers, a brutal eagle lipout, and even a crying baby while facing a crucial chip. In six career major starts, the 2017 Tour Championship winner and PGA Tour Rookie of the Year already has a runner-up at the British Open and two top-six finishes at the U.S. Open. Golf fans should have known already, but the dude is legit.
Brandel Chamblee: The outspoken Golf Channel analyst put his own game on display for others to critique for a change and, well, there wasn't much to critique. Knowing that so many were out there hoping to rip him, Chamblee didn't just qualify for the Senior Open, he earned medalist honors. That's mighty impressive. And fellow Golf Channel colleague Gary Koch qualified as well, meaning, um, he's better than most. Sorry, couldn't help it.
Jordan Spieth's major Sundays: Spieth was one of three 54-hole co-leaders, but for obvious reasons he was the man to beat heading into Sunday. But he beat himself in a big spot. Again. It's tough to be too critical of someone with three major titles as he turns 25 this week, but a 76 on Sunday kept him from No. 4 — an even-par 71 would have done the trick — and adds to his list of Sunday stumbles at majors. Spieth was able to rally last year, but between this and the 2016 and 2014 Masters, he could easily have five or six majors by now.
Carnoustie's 18th playing downwind: Conditions kept the Carnoustie carnage down this year and no more so than on the closing par 4. Famous for Jean van de Velde's triple bogey to lose in 1999 and Padraig Harrington's double bogey on his way to winning in 2007, guys had little flip wedges for approaches during the final round. That being said, I was happy to have the wind at my back when I was fortunate enough to play Carnoustie on Monday. I still managed to make a double bogey, but a certain Frenchman would have been thrilled with that score in 1999. . .
John Peterson's retirement: I predicted it wouldn't last long, but ONE week?! Even Brett Favre is impressed. But seriously, good for John for getting another opportunity so quickly at the Barbasol Championship and for taking advantage with a T-21. We just hope he uses this week to finish that family vacation.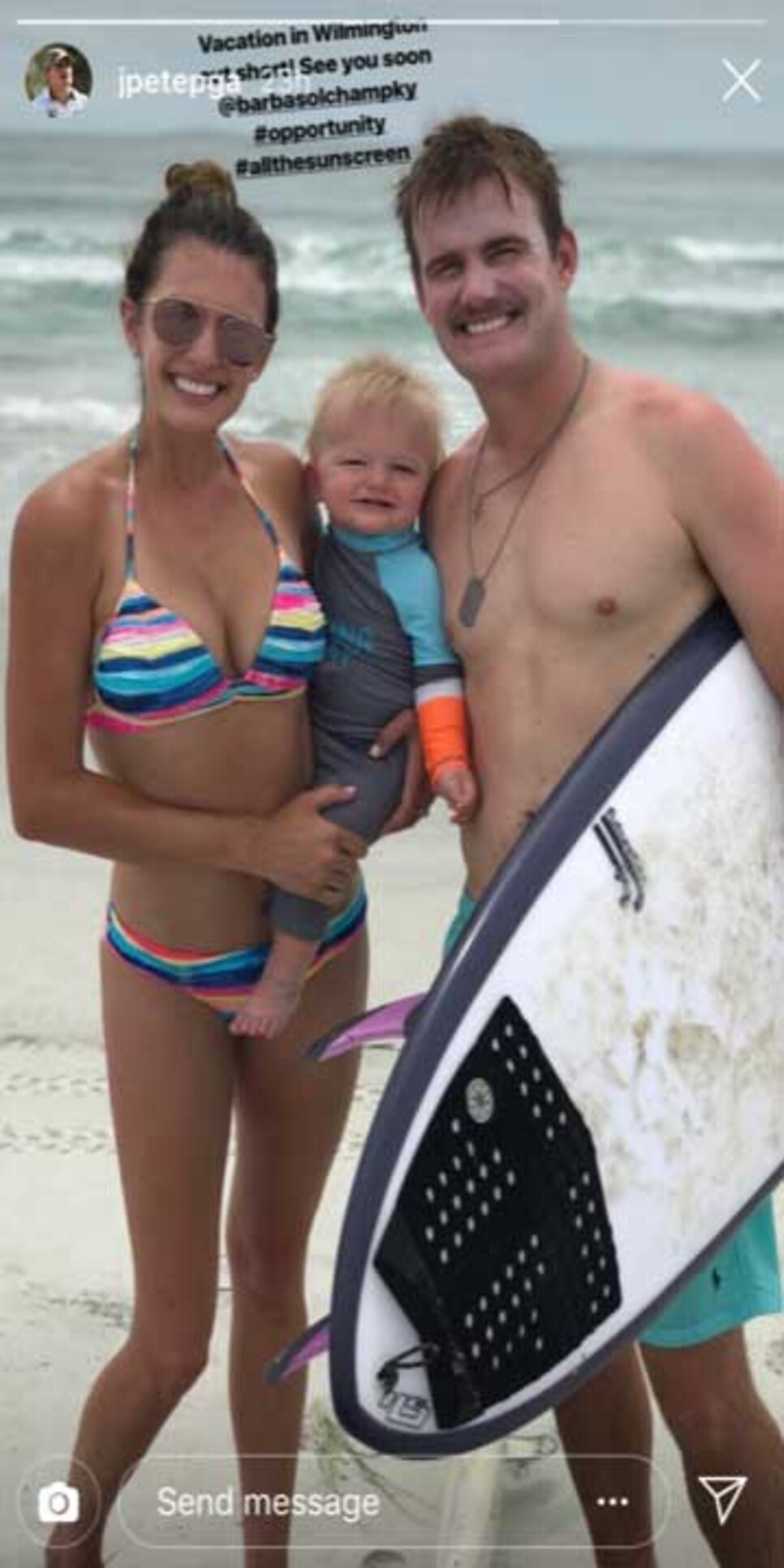 Open season continues with a trip to the Great White North for the RBC Canadian Open at Glen Abbey, AKA that course Jack Nicklaus designed, but could be bulldozed for houses, offices and shops in the near future.
Random tournament fact: Jhonattan Vegas, who had visa issues and nearly missed his first-round tee time at Carnoustie, has won the past two Canadian Opens. Jhonattan Vegas hopes Glen Abbey doesn't get bulldozed.
RANDOM PROP BETS OF THE WEEK
— Carnoustie will ever be bulldozed to make way for retail space: 1 million-to-1 odds
— Jhonattan Vegas will three-peat at Glen Abbey: 40-to-1 odds
— Jhonattan Vegas won't let his visa expire again: LOCK
Whether this was a message from the R&A or purely a coincidence, it was perfect:
We saw a lot of Jean van de Velde clips last week, but seeing his epic collapse in Lego form is a lot less sad:
Also, I saw a lot of Jean van de Velde, now a TV commentator, at Carnoustie this past week. I know it's been nearly two decades, but he's a good sport to return to the scene of his epic fail.
VIRAL VIDEO OF THE WEEK (TIGER WOODS DIVISION)
Turns out, the fan who got hit by Tiger's golf ball on No. 11 on Sunday also captured video of the incident. Sort of.
So he got a viral video and a signed glove out of it? Lucky bastard.
THIS WEEK IN DUSTIN JOHNSON-PAULINA GRETZKY FRANCESCO MOLINARI-VALENTINA MOLINARI PUBLIC DISPLAYS OF AFFECTION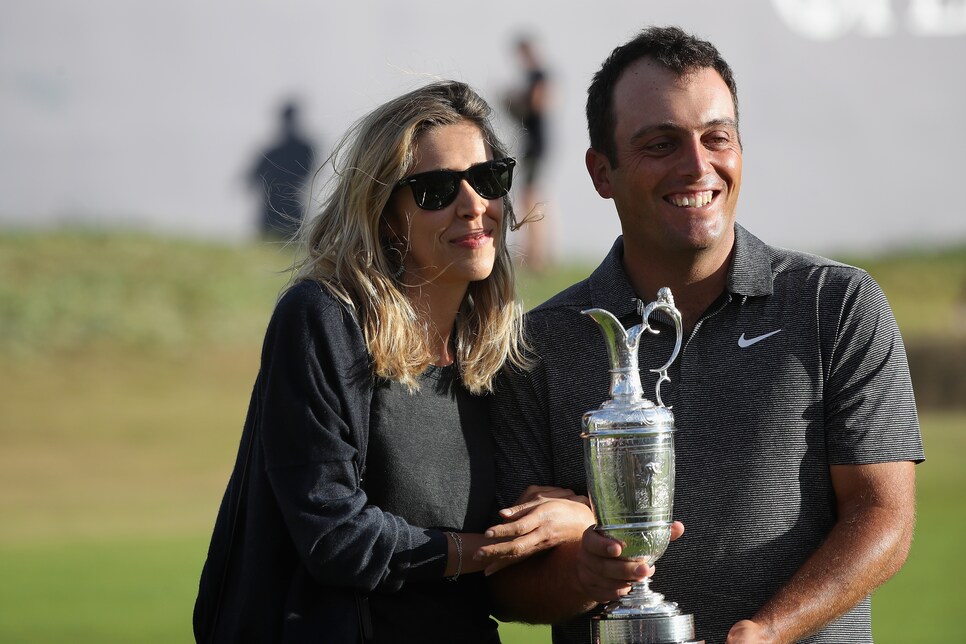 First of all, no golf couple has better names. Francesco and Valentina? That sounds straight out of a Fellini film. And then there was this after Francesco claimed the claret jug after admitting he was too nervous to watch the final couple holes. "So big credit to my wife that watches me all the time. I don't know how she does it. I couldn't do it." Well, Francesco, it's probably pretty easy considering you haven't missed a shot the past two months.
THIS WEEK IN TOUR PROS ARE JUST LIKE US!
Jordan Spieth walked into Carnoustie on Saturday, found a barber shop, and got a 9 haircut. That translates to $12, which is even cheaper than the $17 I pay for mine.
I dig Jordan's style, but next time, tell the guy to go easy with the clippers on the sides and back. . .
"I was a little hungover. I won't lie. I had too much to drink last night. And I was so frustrated yesterday, that today was really, I wouldn't say a write-off, but I didn't feel I was in the golf tournament. Whether I shot 69 or 73 today, it wouldn't have been heartbreaking. But as it happens, I shot 67. So, you know, it's a funny game." — Eddie Pepperell may not have wound up as The Champion Golfer of the Year, but he's the guy you want to partner with during a bachelor party trip.
TV ratings for the final round of the Open were up 38 percent from last year and matched 2006 for the highest since 2000. If only there was a connection between those three years. Hmm. . . . Troy Merritt won the Barbasol Championship, but Brittany Lincicome stole the show in Kentucky with five birdies and an eagle during a one-under-par 71 in the second round. Here's hoping the Barbasol-sponsored player gets another crack next year. . . . Congrats to Dave Coupland for winning on the PGA EuroPro Tour, his first victory in five years. Dave is the tour pro I wrote about investing in last year and I still own a couple shares of him, so congrats to me as well!
And finally, the only disappointing part about playing Carnoustie the day after the Open was that I wasn't able to go full Jean van de Velde and venture into the burn. I took off my shoes, but the caddies told me it was best to avoid the vicious, hissing swans. Not kidding.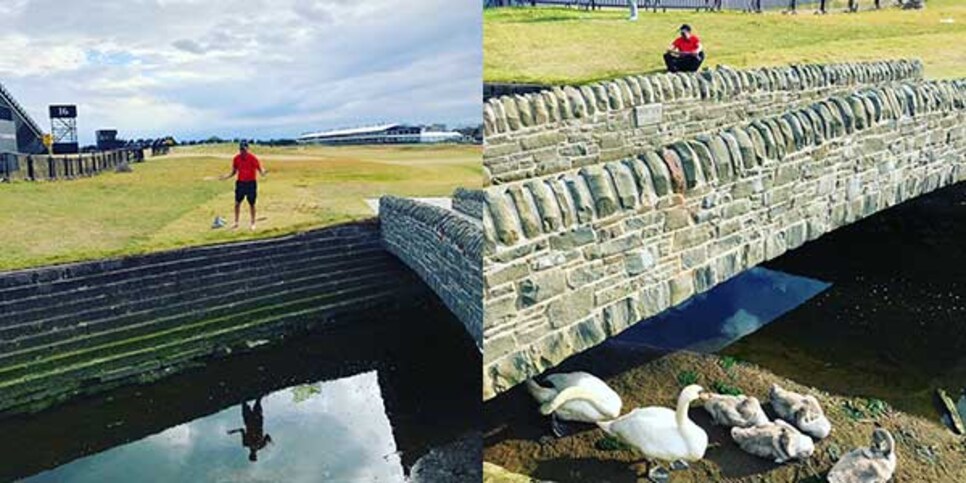 RANDOM QUESTIONS TO PONDER
What would TV ratings have been if Tiger held onto the lead?
Does Jordan Spieth not have a go-to barber at home?
Could I have even handled a Tiger Woods win?