Playing catch-up
British Open 2023: Tommy Fleetwood says it isn't over yet, but knows it will take a magical Sunday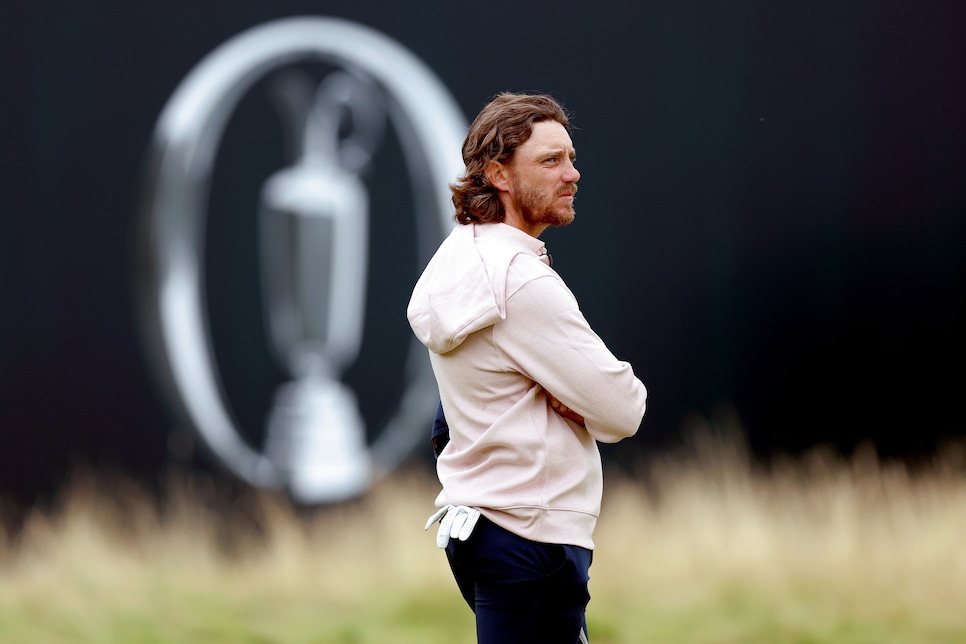 HOYLAKE, England — Whenever Tommy Fleetwood drives past the Southport Municipal course where he first played golf as a young lad, a broad grin lights up his famously bearded face. Every time, his eyes are drawn to a hump in the fairway about 50 yards or so off the first tee.
"I can still remember the day I hit my tee shot past it for the first time," he says. "I was so chuffed."
Now, only 32 miles down a not-so-long and winding road from his childhood base, Fleetwood has an admittedly outside chance of climbing over the biggest hump of all and be more than chuffed. This time, the rewards are a little higher than mere self-satisfaction, especially for someone who has yet to win a major title.
Through 54 holes of the 151st Open Championship at Royal Liverpool, Fleetwood is five under par and seven shots off the pace set by the distant speck on the horizon that is Brian Harman. Tied for fourth, Fleetwood is only two shots out of the consolation prize that would be second place.
Those are the facts. But Fleetwood's mildly down-beat post-round demeanor graphically betrayed his hope for more. Starting Saturday's third round, the margin between the hirsute Englishman and Harman had been only five shots. A further two-stroke deficit wasn't exactly the plan for Fleetwood, or the vast majority of a vocal and sometimes unruly home support. Not surprisingly, he was a little deflated after adding up his even-par 71, one that included 16 pars, one bogey and a lone birdie as early as the second hole.
All in all, that sort of steadiness was never going to get the job done on a day that promised much rain but trend out to be not far from ideal scoring weather.
"Frustrating," was Fleetwood's succinct and understandable verdict. "Would have obviously loved more out of it. I did a lot of good things. I played great early on. Overall, though, there were parts of the round where I sort of lost my swing a little bit. I didn't feel comfortable. Hit a lot of good putts, just didn't convert any chances from mid-range. They are the putts you make when you get on a run and hole everything. On those days they all seem like they are going to go in, but today was the opposite. It felt like nothing really happened and then the putter got pretty cold. "
Indeed, it was difficult for Fleetwood to be too critical of a performance that many would classify simply as "one of those days." On that basis, he wasn't quite ready to write himself off completely. He has shot low final rounds multiple times in majors, most notably the 63 with which he concluded the 2018 U.S. Open at Shinnecock Hills.
"Level par is not a disastrous score," argued Fleetwood. "It just feels worse because I felt like I did have chances and could have built on that. So it wasn't that bad. It's not like I'm sat here having shot 5-, 6-over and was really terrible. There was a lot of good stuff, and there's still another day to go tomorrow. The tournament is four days. It is clearly in Brian's hands, but I have to go out there, play the sort of golf I did today. You never know, the putts could start dropping again, I could have a good round, and we'll see where that takes me.
"I still think I can do it," he continued "Yes, it is down to Brian. But take him out of it, and I'm just two shots away from the next best contender. I just have to go out, play well, and shoot the best score of the day. Do that and there is only one person left. That's the way I have to look at it. I have low rounds to draw on. I'd take another 63, sit down right now and see if Brian can beat it."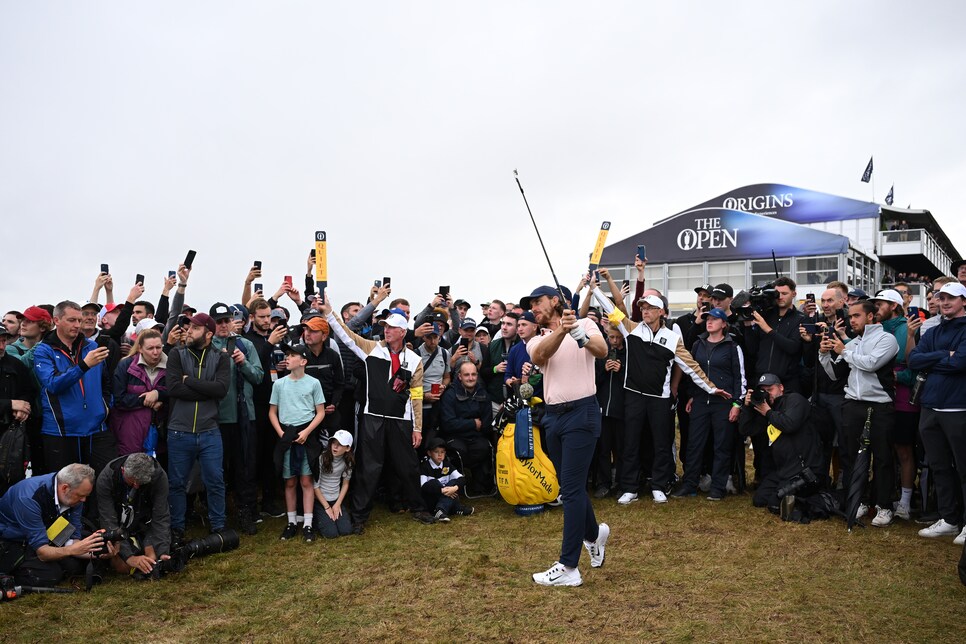 "Brian did really, really well," Fleetwood said. "He hit a ton of great golf shots down the back nine. He was really in control at that point. It was impressive to watch. There was two key putts he holed aside from the birdie ones. The par putts he made on the 7th and the last were real clutch putts. At this point he must be feeling great. I really can't fault anything he did."
Which is just the sort of performance Fleetwood will need on the final day. So it isn't over. Not quite. Think of it as one last big-boy hump.
Is it the British Open or the Open Championship? The name of the final men's major of the golf season is a subject of continued discussion. The event's official name, as explained in this op-ed by former R&A chairman Ian Pattinson, is the Open Championship. But since many United States golf fans continue to refer to it as the British Open, and search news around the event accordingly, Golf Digest continues to utilize both names in its coverage.