Caddie money
British Open 2023: The only man having a better July than Brian Harman is ... Kevin Kisner's caddie?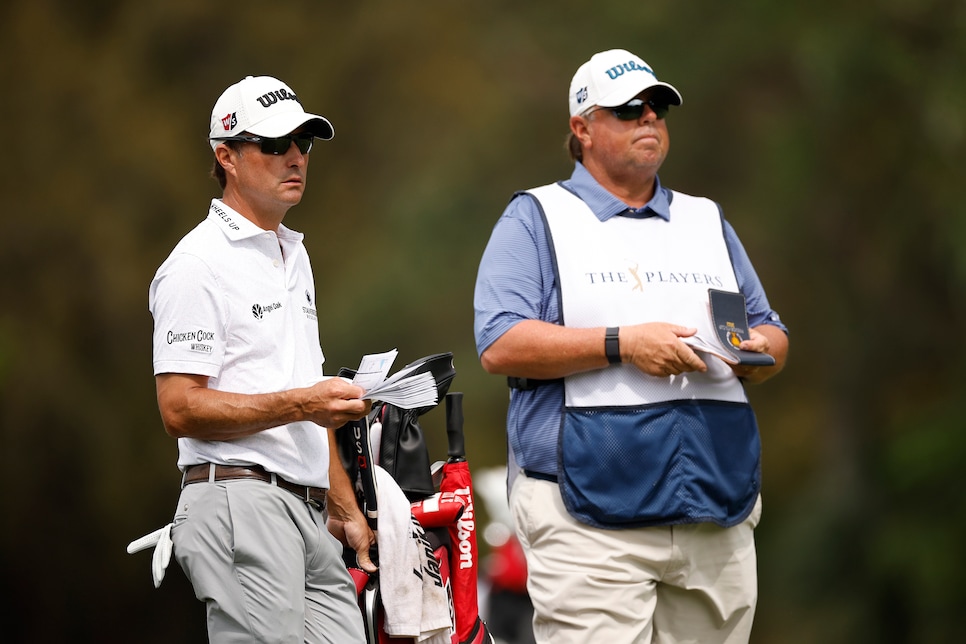 As far as recognizable tour caddies go, Duane Bock's calves alone make him one of the more well-known loopers among hardcore and casual golf fans alike. Those calves even have their own Twitter account, in case you're interested in that kind of thing.
Perhaps you noticed those mountainous calves trudging along at Royal Liverpool this week, which may have confused you considering Kevin Kisner was not in the field. But Bock was on the grounds this week looping for Sepp Straka, a fellow Georgia Bulldog who was in need of a caddie at the John Deere Classic earlier this month. With Kisner sidelined since the Travelers Championship "because I suck right now" as he put it on Twitter on July 1, Bock was available.
He linked up with Straka for a planned two-event stretch starting at the John Deere, which the six-foot-three Austrian promptly won thanks to a final-round 62. It marked just the second win of Straka's career, this one coming with a $1.332 million first-place check. If you go off the standard 10 percent of your winnings rule that most tour pros go by, that means Bock made a cool $130,000. With Kisner withdrawing or missing the cut in 10 of his last 12 starts, that had to feel like a million bucks for Bock.
But Straka and Bock weren't done making magic together just yet. Following rounds of 71, 67 and 70 at Hoylake, Straka positioned himself to make a Sunday run at a lucrative major championship top-five finish. He did exactly that, shooting a two-under 69 to earn a share of second with Jon Rahm, Tom Kim and Jason Day. If not for a bogey at the last, he would have finished in second alone.
Yet still, Straka's T-2 was enough for another million-dollar check, $1,084,625 to be exact. Again, going off the 10-percent rule, that's another six-figures for bock. A two-week, $200,000-plus stint for the man with the big calves. Outside of Harman (and Straka), nobody in golf is having a better July.
Now comes the hard part—do Bock and Straka continue to ride the wave, or does Bock go back to the man he's been teamed up with for years? For now, it doesn't sound like Kisner is rushing to get back any time soon:
For what it's worth, here's what Straka had to say on Saturday evening when asked if he knew how long he and Bock would be working together.
"Not sure, yeah. To be determined, but for the foreseeable future," Straka said.
Straka also explained that this is simply a "borrow" situation, though these things can change fast in golf, the ultimately what-have-you-done-for-me lately sport.
"I've known Duey for a while now since he caddied for a friend of mine, Kis," Straka said. "And Kis is taking a little break so I figured I'd borrow him for a little bit. It's worked out great. I love Duey. He's a great caddie, and I'm really happy to have him on the bag.
"He does a great job of just sticking with one shot at a time. He's a very professional guy and still likes to have a lot of fun out there, but whether I'm 2-over or playing great, he's unchanged."
Let's hope Kisner finds it soon, because this Straka-Bock bromance might be too good to break up.