Live Blog
British Open 2022 live coverage: Cam Smith completes record-breaking comeback win at Old Course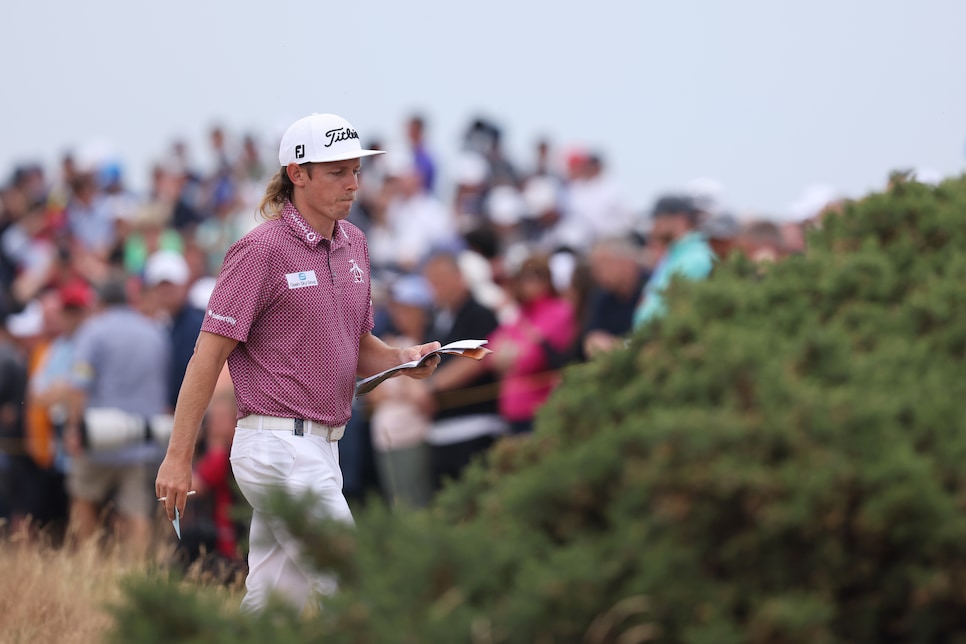 An incredible season of major championships ended with a memorable back-nine duel at the Home of Golf. In the end, Cam Smith beat Cam Young by one and Rory McIlroy by two, but A LOT more went into into it than that. Scroll down for our minute-by-minute recap of a historic day.
(Scroll down for the latest updates)
British Open 2022 live coverage (all times in eastern):
1:49 p.m.: There will be no shortage of post-morterms about what Rory McIlroy did wrong in surrendering the lead to Cam Smith. But really this was a tournament Smith won thanks to some of the best putting in major championship history. Consider what this stat says about what Smith accomplished on Sunday.
1:41 p.m.: It's official. Cam Smith is your champion golfer of the year after an incredible closing 64. Technically, the win was clinched when Rory McIlroy's eagle chip from short of the green slid past the hole, but really it was the series of missed birdie putts throughout the final round that was McIlroy's undoing. His closing 70 leaves him with a disappointng third-place finish, ultimately leap-frogged by Cam Young, who eagled the 18th to finish at 19 under, capping an incredible week for the PGA Tour rookie.
1:32 p.m.: In every way that Cam Smith can't do anything wrong on the greens, McIlroy, save for some deft lag putting, can't get much to go right. After McIlroy misses his birdie attempt on 17, Smith converts an incredible two-putt to make birdie and shoot 64. His 20-under finish breaks the Open scoring mark and give himself a two-shot cushion over McIlroy with Rory still on 18.
1:28 p.m.: Well, this is about as good as it gets. So let's catch you up. After Smith pars 17, he leaves his drive on 18 short and right of the green, leaving a difficult two-putt for birdie. Two off the lead, Cam Young drives the green and has about 15 feet for eagle. And behind on 17, Rory McIlroy hits a dart to about 10 feet, giving him a very rare birdie opportunity down the hill.
1:24 p.m.: Did we mention the 17th green is treacherous. Well, just ask Cam Smith, who pulled his approach left, but short of the Road Hole bunker. Forced to putt right of the bunker, Smith judges the speed beautifully to leave himself about 10 feet for par. And of course he made the putt because he's probably the best putter in the planet. So that means Smith has a one-shot lead going to 18, and Rory McIlroy still in the fairway on 17.
1:14 p.m.: We are getting nervous just typing right now. It's hard to imagine what it's like trying to navigate arguably the most difficult hole in golf. But so far, Smith has acquitted himself, finding the fairway off tee, and now facing a delicate approach into the treacherous 17th green.
1:05 p.m.: Yet another two-putt par for McIlroy on 15 after finding some wispy fescue off the tee. Up ahead, Cam Smith opts to lay way back off the 16th tee, but a crisp approach gives him another birdie look up the hill. He misses on the high side and takes par, and now has the ominous Road Hole next.
12:51 p.m.: McIlroy lets another opportunity slip on the par-5 14th, when his approach shot finds a valley in front of the green, and he can't get up-and-down for birdie. He's still one-shot behind Cam Smith, but if there's a consolation of sorts, it's that Smith's birdie streak ends at 5 after he missed the fairway on 15 and has to settle for a rare two-putt.
12:41 p.m.: Cam Smith is your new Open leader after an incredible two-putt from off the back of the 14th green. That makes FIVE straight birdies for Smith, but Rory McIlroy hit a promising drive on the par 5, so he doesn't appear to be withering away just yet.
12:35 p.m.: McIroy walks away with a par on 13 when his lengthy birdie putt died on the edge. If you were looking for nerves, they didn't seem to surface there. Meanwhile, Cam Smith's second shot on the par-5 14th initially hit the green but then rolled off the back edge, meaning he has some work to do for birdie.
12:28 p.m.: To this point, we haven't seen much in the way of nerves from McIlroy. But it will be interesting to see how he responds on the 13th hole, after Cam Smith just rolled in another birdie to pull into a tie for the lead at 18 under.
12:21 p.m.: As if you needed to be told this, this isn't going to be easy for McIlroy. His birdie attempt from 12 feet slides by the hole, and he walks off the 12th with just a one-shot lead over Cam Smith. Meanwhile, it took 12 holes, but Viktor Hovland netted his first birdie of the day, and is now back to within two of the lead.
12:12 p.m.: Flash back to Saturday, when Cam Smith made a mess of the 13th hole and the sense was his double bogey might cost him the Open. Maybe it will, but Smith has returned in a big way Sunday. Another birdie on the par-4 12th puts Smith back within one of Rory McIlroy, but McIlroy just launched another laser on the same hole, so he's still got a chance to rack up another 3.
12:03 p.m.: For the briefest moment, a Cam Smith birdie on the 11th pulled the Australian within one of McIlroy. But that was before a deft two-putt from Rory on the 10th gave him another birdie and returned his two-shot lead.
11:56 a.m.: Cameron Young's scorecard so far: bogey, par, birdie, birdie, birdie, par, birdie, par, bogey, birdie. It's been topsy-turvy for sure, but he's three under today and only two shots off the lead.
10:52 a.m.: If Rory McIlroy does not end up winning this thing, he's going to look at this recent stretch as being a huge reason. Look, he's in the lead by two shots after nine holes. But he just missed a 10 footer for birdie on the easy par-4 ninth holes and he's just put the finishing touches on nine straight two putts, a two putt on the par-5 fifth hole resulting in his lone birdie so far. A reminder: McIlroy is 17 under while Viktor Hovland, Cam Smith and Cameron Young are all tied for second place at 15 under.
11:34 a.m.: It once seemed like things were escalating quickly, but they have now come to a standstill as the leaders are all just making pars. But Cameron Young has found trouble on the par-4 ninth hole and Rory McIlroy and Viktor Hovland are now approaching two drivable par-4s. So, perhaps, business is going to pick up again soon. Please.
11:18 a.m.: Cameron Young = the hottest player on the golf course right now. See below, he's tied for second place. Remember, he led after a first-round 64.
11:08 a.m.: So Rory McIlroy just went driver, putter, putter, putter for a par, and no, it wasn't a three putt. On the par-4 sixth hole, Rory drive it 55 yards short of the green and he opted for, get this, putter. It was a good play and the ball ended 15 feet short of the pin. But he wasn't able to convert that one for birdie. He remains at 17 under par, two shots ahead of Viktor Hovland.
10:59 a.m.: There's something going on seemingly on every hole. Which is what you want on a Sunday at a major. Rory McIlroy just had a look at eagle on the par-5 fifth hole and settled for birdie. Viktor Hovland had to lay up, and was not able to get up and down for birdie and made par. So, yes, if you've been paying attention, McIlroy now holds a two-shot lead (-17) over Hovland with 13 holes remaining. Cam Smith and Cam Young are another shot back.
10:50 a.m.: OK, so, it's getting interesting. All of a sudden. The Cams Smith and Young both birdied the par-5 fifth hole and are within two shots of the lead. They are both two under on the day, 14 under for the championship and two behind Rory McIlroy, only one behind Viktor Hovland. It should be noted that Cam Young has now made three consecutive birdies.
10:48 a.m.: Is this any good?
10:40 a.m.: At exactly 3:40 in the afternoon St. Andrews time, Rory McIlroy took the solo lead in this 150th Open Championship. He didn't do it with a birdie, he did it via a three-putt bogey from Viktor Hovland. It's the first blemish from either man after the first four holes, but as the television broadcast has noted, the next few holes are all great scoring opportunities, including the par-5 fifth hole that they're on now. Onward...
10:38 a.m.: For all you Jordan Spieth fans out there, he's only four under after the first seven holes. Oh yes, he's lighting it up early with birdies on 2, 3, 5 and 7, the last after a laser wedge in to just three feet. He's at 12 under par and tied for fifth place. It's not likely he's going to win this thing, but he sure is doing his best. He's four shots behind. Could get nutty. Who knows?
10:32 a.m.: Both Cams are within three shots after Cam Young just made birdie on the fourth hole. They're at 13 under, three behind Rory McIlroy and Viktor Hovland. Hey, every little bit matters early on during a stressful Sunday at the last major championship of the year.
10:25 a.m.: Um, well, there's still a tie at the top of the leaderboard. It's still Rory McIlroy and Viktor Hovland, although both missed shortish putts for birdie on the third hole. Hovland's attempt from eight feet rolled just around the back of the hole, while McIlroy's from five feet missed left. Two big early opportunities for both men, but two opportunities missed.
10:21 a.m.: Well done, Filippo Celli. The Italian amateur birdied the last hole Sunday to shoot one-under 71 and claim the Silver Medal that goes to the low amateur at the Open Championship. Celli ends the week at five under par and was tied for 47th place when he finished his round. Aaron Jarvis, Barclay Brown and Sam Bairstow are the other three amateurs that made the cut this week. A great tradition of amateurs playing well during the Open.
10:14 a.m.: Pars to start on both the first two holes for Rory McIlroy and Viktor Hovland. Nothing to worry about so far. Just steady, easing into the respective rounds. They remain at 16 under, with Cam Smith three shots back. Smith is one under today.
10:02 a.m.: Rory McIlroy's birdie putt just slips past the left edge and he settles for par. Hovland, who had just 12 feet, guns it past and also makes par. Solid start for both. Ahead at No. 2, Cameron Smith nearly holes out for eagle and then pours in a nine-footer for birdie to reach 13 under.
9:55 a.m.: The leaders are off at long last, and Rory McIlroy and Viktor Hovland have both found the first green in two with ease, Hovland's ball coming to rest about 12 feet away and McIlroy's about 25. In the group ahead, Cameron Smith starts with a par to remain at 12 under while Cameron Young makes bogey to drop back to 11 under. Abraham Ancer and Sadom Kaewkanjana each make birdie at the last to post 65s, putting them in the clubhouse at 11 under.
9:26 a.m.: Wow, what a dagger for Kaewkanjana at the Road Hole, where he expertly putted his third from off the front of the green right of the bunker and got it to roll out to around seven feet. But the par putt would not go, dropping him back to 10 under. That's the first bogey of the day for him and the first bogey in his pairing. His partner, Abraham Ancer, is also torching the Old Course, playing the first 17 in six under as well. Ancer made par at No. 17. He and Kaewkanjana are 12 under combined, each 10 under for the week and tied for seventh.
Joining them is Tommy Fleetwood, who rolls in an opening birdie at the par-4 first. Tyrrell Hatton and Brian Harman are close behind, each two under through four and nine under for the week. Jordan Spieth is also at nine under thanks to a birdie at the second.
9:09 a.m.: Yet another birdie for Sadom Kaewkanjana, who is putting together one of the rounds of the week. He's now seven under through 16, climbing all the way to T-5. Now comes the real test: can he par 17 and keep this incredible round alive?
8:43 a.m.: A hell of a front nine from Chris Kirk, who had previously made just one of three cuts in his Open Championship career (2014). Not only did he make the cut this week, but he's making a push to grab just his second career major top-10 finish. He turned in four-under 32, his most impressive birdie coming from off the green at the par-3 eighth:
Unfortunately, Kirk did just make a crushing double bogey at the par-3 11th to drop back to six under for the championship. That drops him all the way to T-31, but he's just two birdies away from getting back into the top 15.
Among the group at eight under and tied for 12th is Tony Finau, who just made birdie at 18 to shoot a six-under 66. There's a lot of golf to be played, but that might be enough for a 14th top-20 finish in a major for Finau.
No one is making a bigger move than ... Sadom Kaewkanjana? That's right, the 124th-ranked player in the world from Thailand is six under after 14 holes, which puts him at 10 under for the week. As of now, that's tied for seventh, 28 spots higher than where he began the day. Safe to say that if he doesn't implode, he's on pace for the biggest result of his career.
8:17 a.m.: Schauffele finally cools off at the difficult fourth, where he made par. At the par-5 fifth, he was in a patch of rough green side, and he couldn't get his chip to stop close to the hole. From about 30 feet he comes up one revolution short and taps in for another par. X is three under through five, eight under for the tournament.
7:58 a.m.: Oh man, Xander narrowly misses a fourth consecutive birdie to start his round. According to former ESPN personality Trey Wingo, that would've been the first time Xander's ever started his round with four straight birdies? Wow, Trey is DIALED into some deep stats early on Sunday. It's tough not to be dialed for the final round of The Open. Xander remains at 8-under, which is tied for 12th currently.
7:43 a.m.: This is becoming a Xander Schauffele live update blog at the moment. Birdies at his first three holes have Xander at 8-under ... now T-11.
Xander is seventh on the PGA Tour this season in final-round scoring average (68.08), and he might just lower that number with how hot he is so far on Sunday at St. Andrews.
7:37 a.m.: Another young American stud who's looking to make a move is Will Zalatoris, who threw this absolute dime at the second hole:
7:32 a.m.: OK, there it is ... a birdie-birdie start for Xander Schauffele. He's at 7-under, good for T-13 right now. Post a 64 like Sam Burns did earlier, get it to 13 under and maybe X could register yet ANOTHER top 10 in his young major career. That'd be a great way to salvage an otherwise disappointing week for the winner of the Genesis Scottish Open and the Travelers in his past two starts.
7:21 a.m.: The burn is definitely in play on the first hole today with a VERY front pin position on this opening green. Victor Perez took the risk of taking on this hole location, and his ball got wet as a result. We saw Tiger do the same on Day 1 ... and we have a feeling Perez won't be the only one to rinse his first approach.
7:16 a.m.: Xander Schauffele starts his round off with a birdie at the opening hole to get to six under. Can X put up a special round to vault him into the top 10? We know he's as capable as anyone to put up a low one on Sunday.
6:45 a.m.: Harold Varner III starts his final round with a second birdie in his first three holes. He's got it to six under and is tied for 19th at the moment.
Justin Thomas delivered a pretty hilarious moment just before ... speaking to how these pros are at the mercy of luck of the bumps and rolls of a links course.
6:27 a.m.: Sam Burns just finished his final round with four consecutive birdies (!) and carded a final-round 64 to make a move up the leaderboard (T-18 at the moment, jumping nearly 40 spots). He really struggled with a third-round 77, but he just bettered that number by 13 shots.
6:02 a.m.: We are still a couple hours away from the last few groups teeing off, but some of the world's best are on the course early on Sunday. Justin Thomas is in a featured group this morning with Englishman Marcus Armitage.
So far, there are a bunch of low numbers out there. Out of the 40 or so golfers on the course, only eight of them are over par.
One of them is Cameron Tringale ... who just played the 13th hole and went into a full-on SPRINT to try to see where his ball would end up. C'mon, Cameron ... that's why y'all have spotters. Pretty impressive closing speed, though, from the former Georgia Tech golfer.
5:55 a.m.: This is what it's all about, folks. Amateur Sam Bairstow from England just completed his final round in the first game off ... and the camera crew caught his parents embracing off the home hole. How cool is this:
Though there was a tiny bit of moisture overnight and early this morning, there wasn't quite as much as some projected. And the Old Course should dry out a bit with some winds projected this morning into the afternoon.
We didn't see much wind at all on Saturday, but the final round should have a consistent 10-12 mph wind with gusts up to 18 mph. That should be enough to defend the Old Course and prevent a round of, say, 60 or 61 in the final round. In theory, at least.
Have a look at the final-round pin positions ... the placement on the Road Hole looks like it'll be quite the challenge.
MORE BRITISH OPEN 2022 STORIES FROM GOLF DIGEST: