FIRE PIT COLLECTIVE
British Open 2022: Covering his 97th major championship, the author was reinvigorated by his arrival into St. Andrews
Editor's Note: This article first appeared in Fire Pit Collective, a Golf Digest content partner.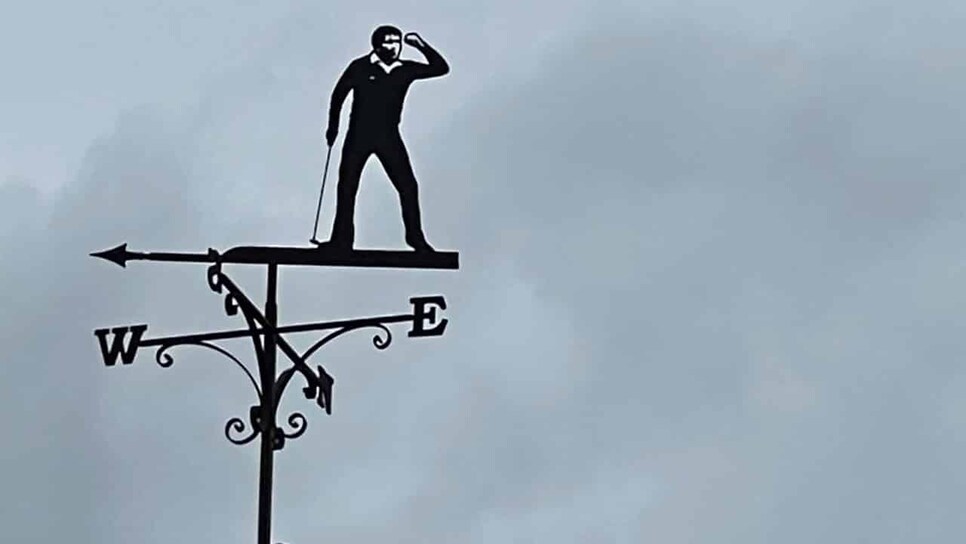 ST. ANDREWS, Scotland — At last month's U.S. Open, one of the young grasshoppers in the press room, Dan Rapaport, asked me a question I've been thinking about ever since: "Do you still get excited showing up at these?" He was referring to the major championships; this Open Championship is my 97th major, going back to 1994. I loved everything about The Country Club, and the back-nine shootout on Sunday was a thriller. As I was running around inside the ropes on the final holes, I felt butterflies in my stomach, both for the competitors and myself. Writing a Sunday game story on a tight deadline produces so much serotonin and adrenaline that the experience is highly addictive. I never take for granted how lucky I am to have these experiences, and spending every major championship connecting (and bantering) with fans and readers is a delight. But was I excited at the start of the week, when Rapaport posed the question? Maybe a little.
I think it's natural for anyone who does the same job for three straight decades to have his emotions become slightly muted. Professional golf has changed in recent years too, and not necessarily for the better. The way the game is now played has marginalized thinkers and artists in favor of oversized jocks who smash their driver like a caveman wielding his first tool. The rise of Trumpism cleaved America, and the PGA Tour was not immune. (Witness Grayson Murray's MAGA rants, which led to so much blowback he deleted his Twitter; alas, not forever.) The politicization of Covid frayed nerves and relationships. (Kevin Kisner commenting on an emotional tweet about the carnage of the pandemic: "Guess they can't follow the guidelines.") It feels like more than a coincidence that two young stars — Justin Thomas and Patrick Reed — used the same homophobic slur during a Tour competition to admonish themselves. And now LIV Golf, with its Saudi money, has torn the professional game asunder. These are rancorous times.
I left Golf Magazine in early 2021 feeling increasingly disenchanted with the compromises being made by the traditional golf media. Helping to launch the Fire Pit Collective and writing a warts-and-all biography of Phil Mickelson has restored my belief that there is still an appetite for real, raw, thoughtful storytelling around golf, but it has come at a cost: skirmishes with the PGA Tour about access and high-profile brouhahas with Mickelson and Greg Norman that inevitably led me into battle against various trolls hiding under their bridges. I am deeply proud of what we've built at the Fire Pit, but even that brings the underlying stress of having to run a self-sustaining media company without the support of a giant corporation or billionaire owner to cover payroll in perpetuity.
Like everyone else in golf, I had long been looking forward to the 150th Open Championship as a chance to leave behind all these troubles and celebrate the Old Course and the wondrous adjoining town. This is my fifth Open at the Old Course, and the pilgrimage is part of the experience; it took me 25 hours to get here, door-to-door. When I emerged from my rental home on Tuesday morning, I was still groggy from the Tylenol PM I had gobbled in the middle of the night in a futile attempt to ward off jet lag. I decided to walk to work to shake off the cobwebs.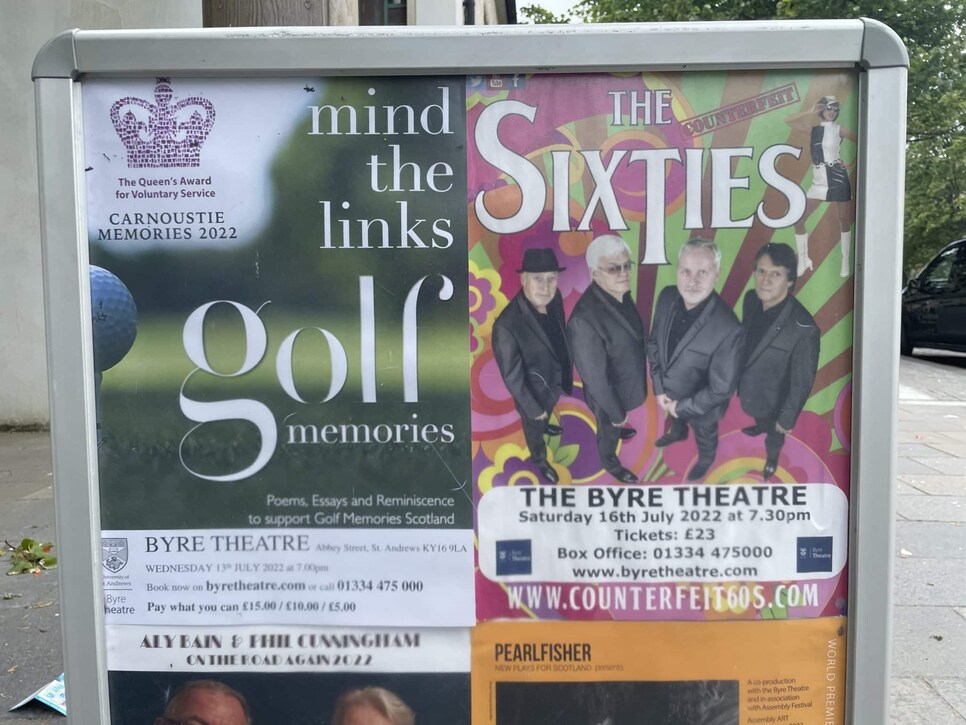 The stone houses in St. Andrews are so tidy and picturesque that I sent pictures to my kids back home. I swung by the ruins of the old cathedral, because its grandeur never gets old. A block away I spied atop an elegant house the coolest weather vane extant: Seve Ballesteros's fist-pumping exultation after winning the '84 Open, immortalized in metal. I passed the Byre Theatre, which was showing a play called Mind the Links Golf Memories. The streets were crowded and the air was alive with golf talk and golf memories, which made me smile. Every fella seemed to be wearing the logo of a great links course. I passed a modern-looking house on North Street with a large brass plaque above the front door that noted Old Tom Morris's four wins in the Open (1861, '62, '64, '67!) and that he was "Born in a house which stood on this site," way back in 1821. In California, the only things that old are the redwood trees.
On the street I bumped into a reporter I know and we traded gossip. I passed a couple of bagpipers, and then at the Dunvegan Hotel, I chatted with a pair of golf fans who were already on their "third or fourth" pints even though it was not yet lunchtime. It was their first visit to St. Andrews, and they were amazed by the simplicity of the Old Course, which evoked Sam Snead's famous line the first time he laid eyes on the auld sod in 1946: "It looks like an old abandoned kinda place." Snead found religion, winning that Open by four strokes.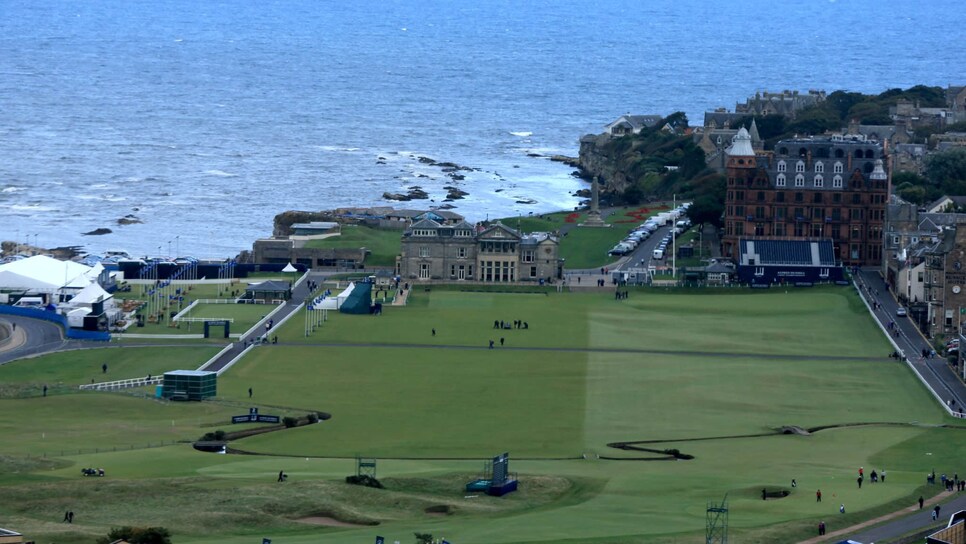 I made a right turn at the Dunvegan (more bagpipers!) and then a hard left down The Links Road. There, in all of its glory, was the Old Course, same as it ever was. It remains a fun machine and vehicle for time travel. I stood there for a long time, watching players hit crafty little shots and fans soak it all in under blue skies, their hair tousled by a fresh ocean breeze. At some point I realized, self-consciously, that I had a big, goofy grin on my face. It was time to go to work, so I quick-stepped over to the press tent. I hadn't felt this excited showing up at a major in a long, long time.