Coming Up Aces
British Open 2021: 6-foot-9(!) Jon Thomson just made all kinds of history with this hole-in-one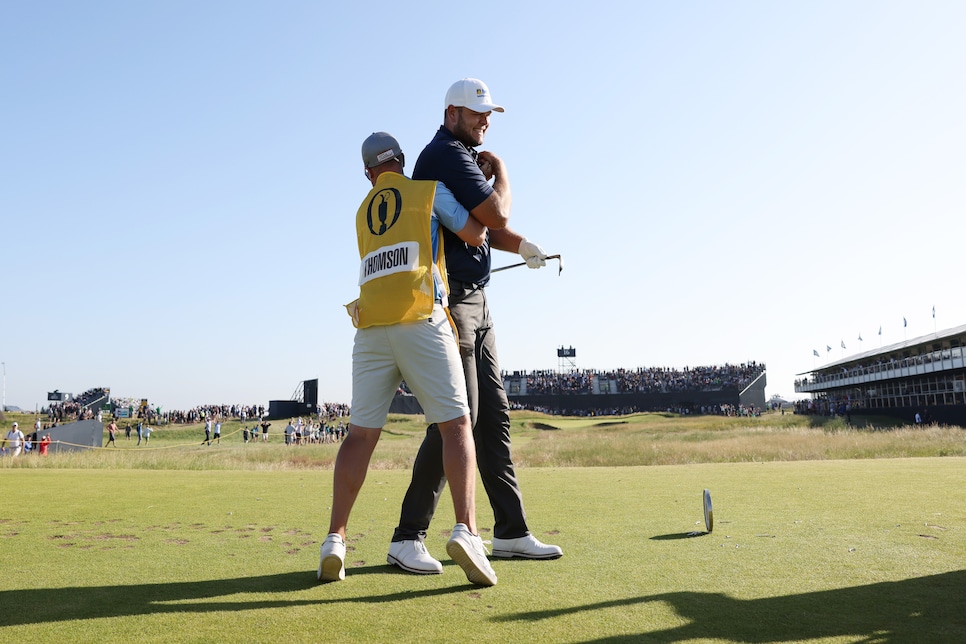 Jon Thomson became the tallest person to play in a PGA Tour event the moment he teed off on Thursday at the 2021 Open Championship. He made a bit more history with one more swing on Friday.
The 6-foot-9 Englishman was going along nicely at Royal St. George's when he arrived at the 16th hole during the second round. He left the par 3 almost assured of making the 36-hole cut.
That's because the big man produced one of the week's biggest roars by acing the 162-yard hole. Have a look:
Thomson moved to one under with the ace, then added a birdie on the next hole to get to two under and make the cut. So he's now the tallest player to make the cut in a major as well.
"Yeah, I mean, it's just phenomenal, to be honest," Thomson told reporters after. "Like the roar, the shot, everything about that hole, it's indescribable really. It sort of was a real booster because I was grinding out there as well, to be fair. It wasn't easy. I was playing good. I just couldn't seem to get anything going properly. Then that happened and it was like, you know, that's just awesome."
Obviously, he's also the tallest player to make a hole-in-one at a major, and we're guessing he's also the heaviest at a reported 19.5 stones (about 273 pounds). Oh, yeah, at No. 889 in the Official World Golf Ranking, the Challenge Tour pro is also likely the lowest-ranked player to pull off an ace at a major.
And as our Daniel Rapaport wrote about on the eve of the tournament, Thomson has quite the backstory, overcoming cancer and four years of being in and out of hospitals as a kid. Well, he's all grown up now with a highlight he'll certainly never forget. And with a weekend tee time, he's got the opportunity to make even more memories, and, yes, history.