News
British Open 2018: The secret "rematch" between Jordan Spieth and Matt Kuchar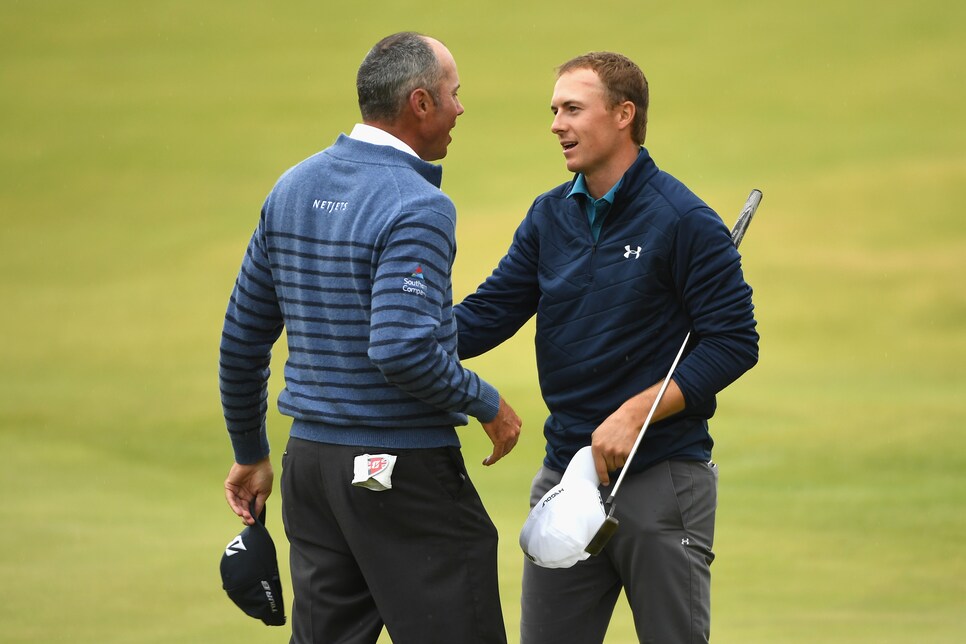 They've already had their rematch. It occurred in upstate New York in front of only a handful of witnesses instead of a global audience. But no matter. Matt Kuchar wasn't going to lose to Jordan Spieth again. He was determined. He knew he what he was doing and that he had a secret weapon. He would get his revenge.
"Oh, yeah, I got him back," Kuchar all but bragged, smiling that mischievous Kuchar smile.
Less than six weeks after Spieth summoned a transcendent rally to stun Kuchar in last year's Open Championship at Royal Birkdale, the two men had it out in a different venue. No major title was on the line, but each brought the same intensity reminiscent of their duel for the claret jug. Two of the nicest men in golf got nose to nose. Things got heated. Before anyone knew it, there ensued a lot of kicking and screaming.
And then a lot of trash talking. And laughter. Lots of laughter. And, yes, the tables had turned. This time there would be no rally for the young Texan. Kuchar owned him. He was king of the foosball table.
This is how it is in golf. This is how sportsmen comport themselves. They compete with jangled emotions and under withering pressure that only ratchets higher during a major championship. But when it is over, they put aside the outcome. Golf might be a global game, but it's a small world at the highest level. No room for petulance. Neither for conceitedness.
Aside from once engaging in an actual kicking contest, Arnie and Jack tried like hell to beat each other on the golf course and then later would play bridge together with their wives.
Thrown together with several other PGA Tour players at a charity golf event last August, Spieth and Kuchar might have felt some awkwardness, a sense that disappointment for one man lingered as the other still was receiving slaps on the back, still was hearing the awe-struck descriptions of what he had done on that mesmerizing afternoon in the coastal town of Southport the month before.
On that gray day in northwest England, Spieth resembled a teetering Jenga tower. And when his golf ball careened into the unkempt rough far right of the 13th fairway as the final round of the 146th Open Championship neared conclusion, he appeared ready to topple over. Yet he salvaged an uncanny bogey. He was still standing. Who could guess he was ready to erect a monument to tenacity.
Now one stroke in front, Kuchar played the next four holes in two under par. And lost three shots to his compatriot.
"I kept thinking, 'I'm still in good shape'," Kuchar recalls, "but after each hole, even though I was playing well, I was not in as good a shape as I was before."
Spieth won by three and hoisted the claret jug, his third major title. Kuchar swept up his wife and children in his arms, his three most prized possessions, and struggled to conceal the depths of his disappointment.
Yet weeks later there they were at the Silo Ridge Pro-Am Invitational at Silo Ridge Field Club in Amenia, N.Y., not a hint of unease between them. In fact, perhaps not surprisingly, they were fine in the moments after the last putt dropped at Birkdale.
"Right after I finished my media session, we were kind of crossing paths," Kuchar recalled. "I was walking out, and he was walking in. I wanted to show the kids the claret jug. I wasn't sure how familiar they were with what that trophy is. Jordan was great with it. He always is so good to my kids. Right then and there just a very, very gracious, humble winner."
"You know," Spieth said. "We went through a lot together that last day. It was just us. He and I are similar type guys. We play a bit similarly. We've played together in the Presidents Cup and the Ryder Cup. I think we had a pretty decent understanding of what each was going through."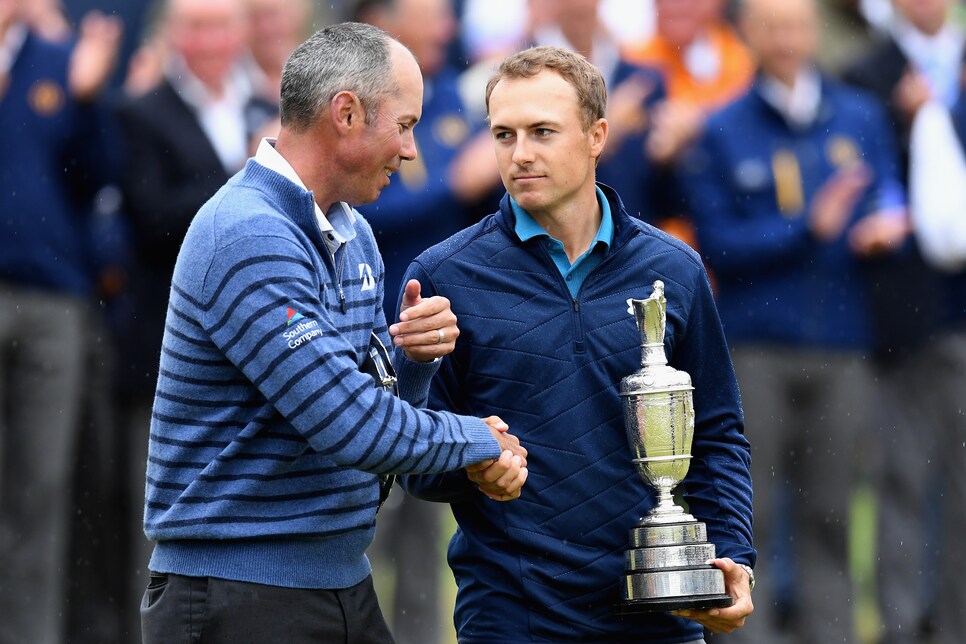 After golf at Silo Ridge, Kuchar and other players, Spieth among them, retired to a rented farmhouse on the grounds nearby. While Matt raced his oldest son, Carson, in go-karts on the sylvan property, Spieth took the younger boy, Cameron, for a spin in a four-wheeler. When they returned to the house, they headed out to the barn where there was a ping-pong table. And there was foosball.
"There were other people around having dinner, drinking, relaxing, but Jordan was just being a kid with me and my kids," said Kuchar, who recently turned 40. "It just felt like that was his element. He didn't need to go drink and party. He wanted to be that 10-year-old kid, which I think all of us still do. And it was a fun situation, just having kind of the four of us in there."
It was all fun and games until the elder son took over.
The score was in dispute but the result was not.
"Carson was my secret weapon," Kuchar said proudly. "We won pretty handily."
"I was on defense. Kooch pretty much rode the talents of his son, so I don't know how much credit he could actually take for the win," said Spieth, 24, not ready to concede anything. "I think Cameron has a definite future on the professional foosball circuit or whatever they might have. He was pretty unstoppable."
The proverbial shoe was on the other foot.
"I suppose so," Spieth allowed.
It's not like sportsmanship is a foreign concept in other athletic endeavors, but we witness plenty of examples of churlishness and antipathy bubbling over. Spieth wants no part of that world. "Frankly, I don't want to know how it would be different, how it is in other sports," Spieth mused. "I wouldn't want that."
"I think golf, to a certain degree, has always been different. That's not really a new concept," Kuchar said. "But in this day and age, I think we're all a little closer. It's a very healthy, respectful competition out here."
Perhaps that's because the competition is as much – or more – one that rages within, against oneself, rather than an opponent. Spieth is right. Each knows what the other has been through. Empathy and understanding are virtually inescapable, regardless of which side of the ledger one falls in a given week.
Currently, neither man is showing the kind of form that would suggest another showdown between them next week at Carnoustie Golf Links. That's OK. They've already shown their best form. And it wasn't at Birkdale.