News
British Open 2018: Matt Kuchar in eerily familiar position, now eyes better result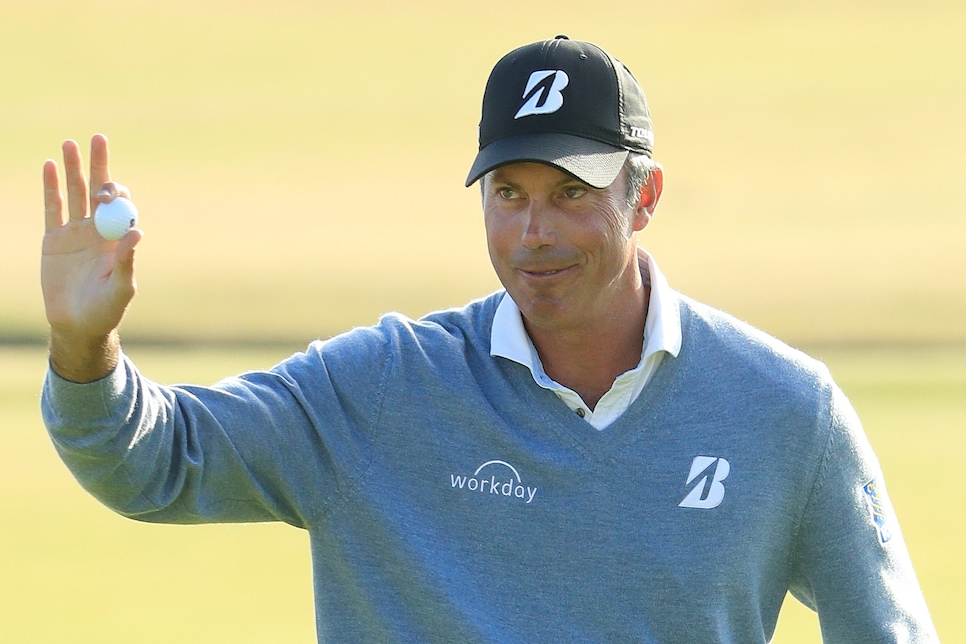 CARNOUSTIE, Scotland — Matt Kuchar wasn't pleased to be on the losing end of an historical run by Jordan Spieth in last year's Open Championship at Royal Birkdale, not surprisingly. But he has come to accept it and even embrace it.
"I wasn't real excited to get the silver salver last year, but it's something I'm proud of, now that a year's gone by, to have it in the trophy case," said the American veteran. "I played great golf. I got beat by a great champion. To have a small part of that history is nice."
It goes without saying he'd like to have a bigger slice of history and add a major title to his resume that includes the 1997 U.S. Amateur title. His resiliency has put him in position to do just that.
On the strength of three birdies over Carnoustie's difficult closing stretch, capped by a 30-foot surprise at the punishing 18th, Kuchar rose into contention Friday in the 147th Open Championship—and above the disappointment he absorbed just a year ago. A 3-under 68 in the second round has Kuchar at 4-under 138, just two behind co-leaders Kevin Kisner and Zach Johnson.
Incredibly, Kuchar finds himself in the exact same position he was at Royal Birkdale—four under and two back through two rounds. Having few chances to win this season (just three top-10 finishes in 18 starts), Kuchar's return to contention is a remarkable development.
Perhaps the experience of a year ago has been beneficial. Perhaps he can use that over the final 36 holes.
"I don't know exactly how to use it," Kuchar, who turned 40 last month, said with blunt honesty. "I know that I'm playing well at the moment. But that's about all I can control. So I'm certainly pleased with the state of my game. I'm pleased to find myself back in contention. That last year was awfully close. I had a taste of it. I'd certainly like on Sunday to be right back in that same position."
His rebound is all the more surprising given his resume in the championship. Before last year, Kuchar had posted just one top-10 finish in his first 12 appearances while missing the cut in his first five and six of his first seven. Like many U.S.-born players, Kuchar has needed a long learning curve to prosper on links golf courses. He has broken par in nine of his last 13 rounds, including both days here at Carnoustie.
"My track record wasn't great early," he agreed. "It's certainly gotten a whole lot better. I do enjoy it and always have. Awfully nice to be making cuts and more than making cuts, being in contention, having chances to win. So much history, and such a big part of the game coming to the British Open. To do well, it's a thrill."
A thrill is fine. But he's poised to do more. Winner of seven PGA Tour titles, he also knows he's capable of doing more, regardless of age. And a look at recent winners, like Johnson, Phil Mickelson and Darren Clarke tells him that his recent elevated performance in the Open should buoy his confidence.
"I certainly feel like I'm a better golfer than I was 10 years ago, 15 years ago," Kuchar said. "I'm playing some great golf. Yeah, I'm excited to be back in the picture."