Geaux Tigers
The last coach to pull off the improbable move Brian Kelly just pulled off was ... Brian Kelly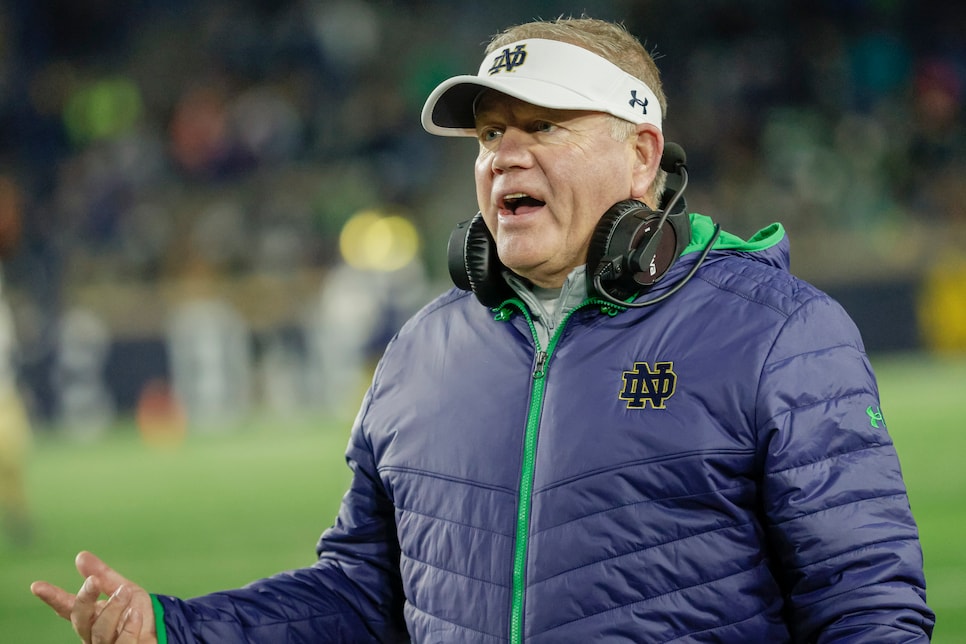 On Monday, news of Brian Kelly leaving Notre Dame for LSU sent shockwaves through the college football world. As for Kelly himself, though, the massive career move was hardly a shocking one.
That's because it's an eerily similar career move to one Kelly has already made before. Let's set the stage - 12 years ago, Kelly was coming off a remarkable 12-0 season at Cincinnati, where he'd gone 34-6 over three seasons at the helm. Before the Bearcats played in the Sugar Bowl against Florida, Kelly accepted his dream job at Notre Dame.
During his time in South Bend, Kelly led the Irish to a BCS National Championship Game (2012), plus a pair of appearances in the College Football Playoff (2018, 2020). While Kelly never achieved the ultimate goal—winning the whole thing—the job was his for life if he wanted it. Apparently, he did not, as he bolted for LSU to the tune of 10 years and $95 million.
According to ESPN Stats and information, there have only been 12 instances in the last 30 years of a head coach winning at least 11 games in their final season at the helm of a Power 5/AQ school. Of those 12, five coaches left for the NFL, five either retired or resigned due to NCAA violations or scandals, and two took a job at a different program. Those two coaches are Brian Kelly and .... Brian Kelly: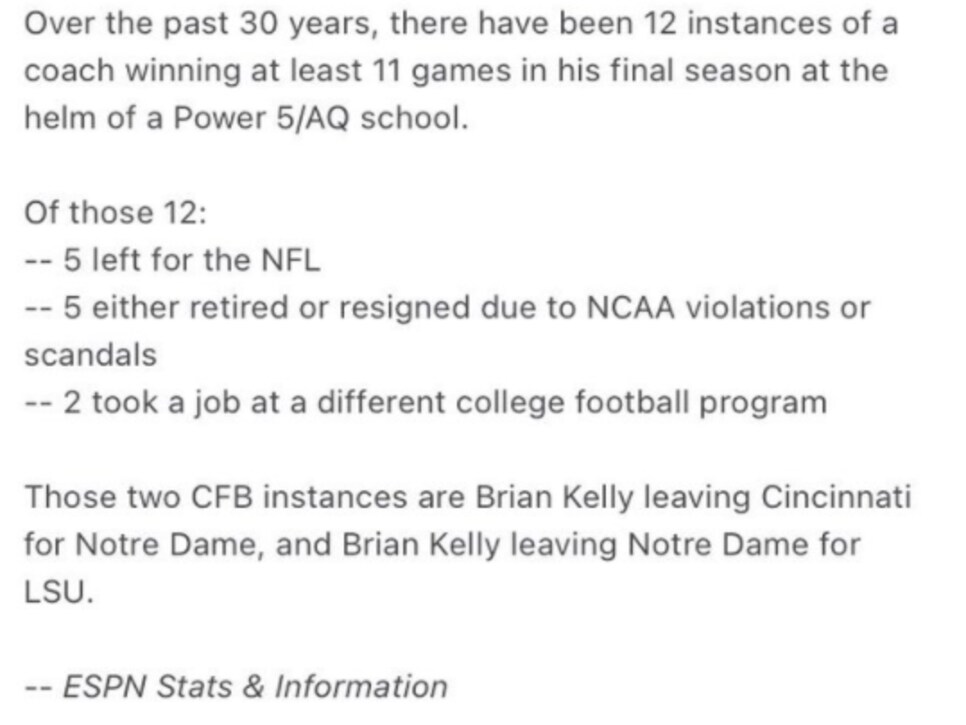 Of course, when we call these "eerily similar" moves, we should point out that they are also extremely different. In the first instance, Kelly was leaving a "Power 5" school in Cincy that was nowhere near on the same level as Notre effing Dame. As we've come to find out this year, Cincy, like UCF and Boise State before them, is still fighting for College Football Playoff relevancy. At ND, Kelly always had a direct line to the CFP by going undefeated, or even by losing one game like the Irish did a year ago. Now, Kelly seems to be making a bit of a lateral move, though it is one that could prove more fruitful than his time at ND. At LSU, as many have pointed out, he'll have no academic restrictions when going after players, plus he has some of the best players in the country in Louisiana without much in-state competition. One could also argue he got everything he could out of the ND job and he was simply ready to move on. Either way, it's still a shocking move to everyone, everyone except Brian Kelly.