Takeaways
Brandt Snedeker's encouraging day, a ball-striking clinic and postseason golf looms large at the 3M Open
Sometimes all it takes is returning to a familiar place for a golfer to find something in their game.
Such was the case Thursday at the 3M Open for Brandt Snedeker. The 42-year-old's first professional victory came in the Land of 10,000 Lakes in 2006 and a decade later, returned for his first Ryder Cup appearance, where he contributed three full points in three matches for Team USA.
Perhaps it should be no surprise, then, that Snedeker went low Friday morning, posting a seven-under 64 in Blaine, Minn. Though that leaves him one shot behind leader Lee Hodges, the bogey-free round has to be an encouraging sign for Snedeker, who is continuing his return from a scary sternum injury and an experimental surgery to fix it.
He played first at the Memorial Tournament in June, where he tied for 41st. Since then he has missed the cut in all four events he's played. One of the nicest and most positive guys on tour, Snedeker didn't let the string of bad results get him down.
"I knew coming back, it was going to be a lot of excitement, I was going to have a great attitude, everything's going to go as good as it possibly could, and there's going to be a lull after that just from lack of competition and lack of playing," Snedeker said. "I was anticipating it. It's never easy to go through it. The hardest thing is making sure you stay positive knowing that when you do turn around, you're able to take advantage of it.
"Just kind of a lot of hard work, a lot of hitting balls and practicing when I'm home and missing cuts and going home on the weekend and practicing my tail off. That's the only thing I know to do to get better. So hopefully, kind of all the work's kind of paid off and ready to go now, start playing some good golf."
He played some good golf Thursday, indeed and will head out at 2:05 EDT Friday to try to continue his upward trend.
Taking advantage of the conditions
Hideki Matsuyama was also able to take advantage of lower winds in the morning at TPC Twin Cities. The 2021 Masters champion put on a ball-striking clinic in the first round en route to a bogey-free, seven-under 64, which tied him for the lead at the time.
He led the field in strokes gained/tee to green and strokes gained/approach, picking up more than four strokes on the field in the latter category. Matusyama's average proximity to the hole on his approach shots was 13 feet, 10 inches Thursday. For reference, the average proximity on approach shots for tour players from the fairway is right around 30 feet. So, yeah, that was pretty good.
Matsuyama tied for seventh at this event two years ago after opening with a 64. He'll be hoping for a slightly better result this time, especially after withdrawing after the first round last year with a wrist injury that has nagged him at times over the last couple of years.
Postseason golf looms large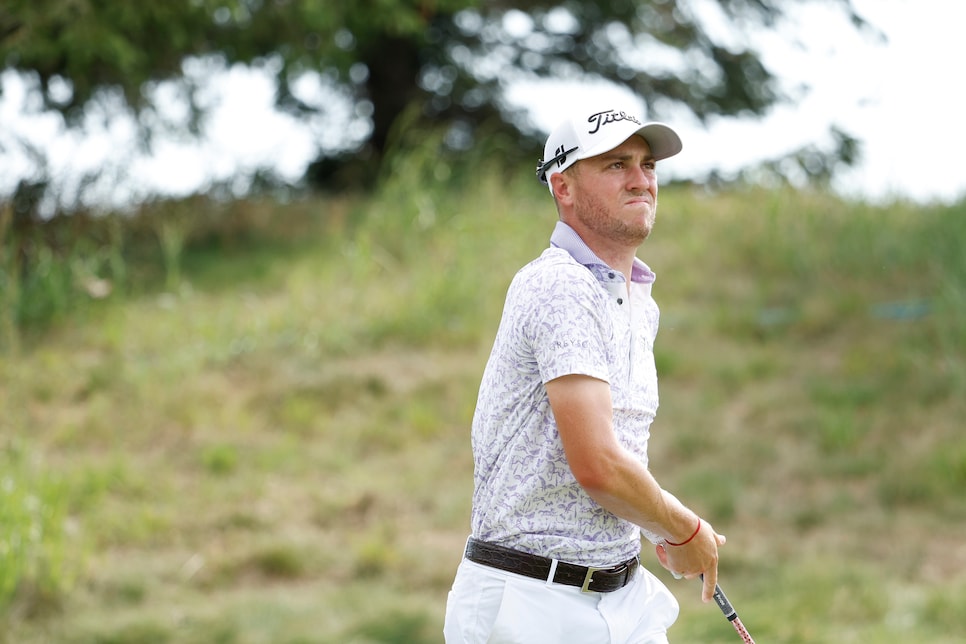 Justin Thomas was not planning to play this week. But the threat of missing postseason golf—something Thomas has not done since the 2013-14 season—is very real. The former World No. 1 has missed five cuts since the Masters, his best finish in that stretch a T-9 at the Travelers.
This is unfamiliar territory for Thomas, who has finished in the top 10 of the FedEx Cup standings every year since he won the FedEx Cup in 2017. He was No. 75 entering this week, which, in past years, would have been safely inside the top 125 threshold for making the playoffs. But the elimination of the first playoff event means that only the top 70 make the playoffs going forward, hence Thomas's presence in Minnesota this week.
Much has also been made of the possibility of Thomas missing out on the Ryder Cup in Rome. A U.S. stalwart, Thomas has been on every winning Presidents and Ryder Cup team since 2017, and even put up 4 points in five matches during Europe's runaway victory in France in 2018. He'd be a big loss, on paper, for the Americans should he not qualify or be one of Zach Johnson's captain's picks.
Playing Thursday afternoon in whipping winds, Thomas closed strong with two birdies in his final five holes to post a two-under 69, a pretty good round in the afternoon wave. He's five shots off the lead heading into Friday. If the winds are as calm at the beginning of the second round as they were in the first round, Thomas could well find himself in contention come the weekend, something he desperately needs this week.
Thomas is not the only player in the field jockeying for position in various standings as the regular season winds down. Defending 3M Open champion Tony Finau is well outside the automatic qualifying spots for the Ryder Cup, entering the week at No. 19 for the U.S.—only the top six qualify for the 12-man roster.
Finau started on fire Thursday morning, starting on the 10th tee with four birdies and an eagle in his first six holes.
He wasn't as clean coming home, carding two bogeys and a birdie, but was still able to card a five-under 66 in his title defense.
Cameron Young, who has risen to No. 15 in the World Ranking without winning a PGA Tour event is another Ryder Cup hopeful. The 26-year-old is in much better form than his aforementioned compatriots, with back-to-back top 10s entering the 3M and only two spots outside of an auto-bid into the Ryder Cup. He also struggled in the afternoon winds, fighting to stay at even par after one round.
Young has a good case for a captain's pick, but Johnson may want to see some more elite form from the would-be rookie, especially with the matches taking place on European soil.
Another former FedEx Cup champion in danger of missing the playoffs is Billy Horschel. The 2014 champion matched Finau with a morning 66, but needs excellent results this week—and likely next—to make the playoffs.
"I've never not been outside the top 70 … that I can think of, so I wasn't really too worried about it," Horschel said Tuesday. "But now that I've looked at it, it is a really daunting task. You have to play well to be able to be in the top 70.
"I think, talking with some guys and, you know, I was a part of those PAC meetings at the time and I was part of the top players group discussing some of these changes. You know, I think we all thought 70 was a good number. Now looking back at it and talking with some guys, we're thinking maybe that number needs to be a little bit more, maybe it needs to be around 100, maybe it needs to be around 90."
A few more rounds of 66 may do a bit to quell Horschel's concerns.