The Loop
Brandon Ingram hits game-winner against 76ers, gets roasted by teammate Jordan Clarkson anyway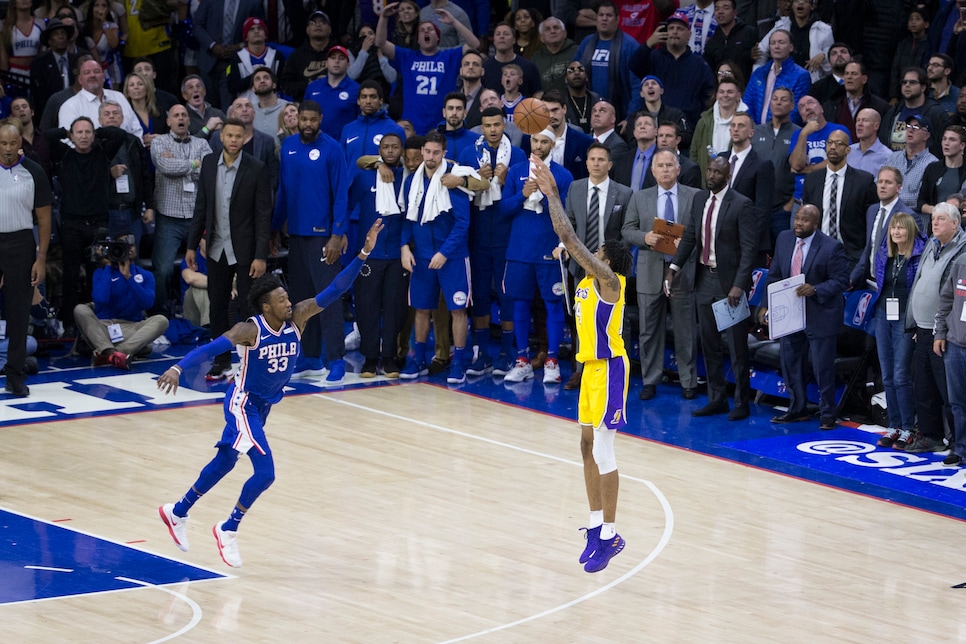 For casual NBA fans, it's hard to get excited about games in early December, especially if they don't involve the Cleveland Cavaliers or Golden State Warriors. But this doesn't mean the rest of the league isn't worth watching. There are plenty of young exciting stars and teams worth your full attention.
Many of these up-and-comers were on the court Thursday night when the L.A. Lakers played the Philadelphia 76ers, including fan-favorites Lonzo Ball, Ben Simmons and #TheProcess himself, Joel Embiid. But the star of the night was Lakers forward Brandon Ingram, the 2016 No. 2 overall pick in the draft. While everyone loses their collective minds over other young studs like Kristaps Porzingis, Giannis Antetokounmpo and Embiid, Ingram is quietly beginning to come into his own. The former Duke Blue Devil is averaging over 16 points per game, three assists and 5.5 rebounds this season.
On Thursday, Ingram hit by far the biggest shot of his young career, with the help of a beautiful assist from LaVar Ball's son. With the game tied 104-104, Ball drove to the hoop and kicked it out to a wide open Ingram with a few seconds left:
Bang. The three ball capped off a 21-point night for Ingram, and earned the Lakers their ninth win of the season. Anyone that sends a Philly crowd home in disarray is good in my book, but apparently the game-winner wasn't even good enough to impress his own teammate Jordan Clarkson, who absolutely roasted Ingram after the game:
Just absolutely ruthless. Your boy hits a buzzer beater and this is how you treat him? To be fair, he was wide open, and that hairstyle is pretty questionable. Solid burn all around from Clarkson.