KORN FERRY TOUR QUALIFYING
Bo Hoag wins Korn Ferry Tour Q School, Willie Mack III among 43 others who earned differing status for next season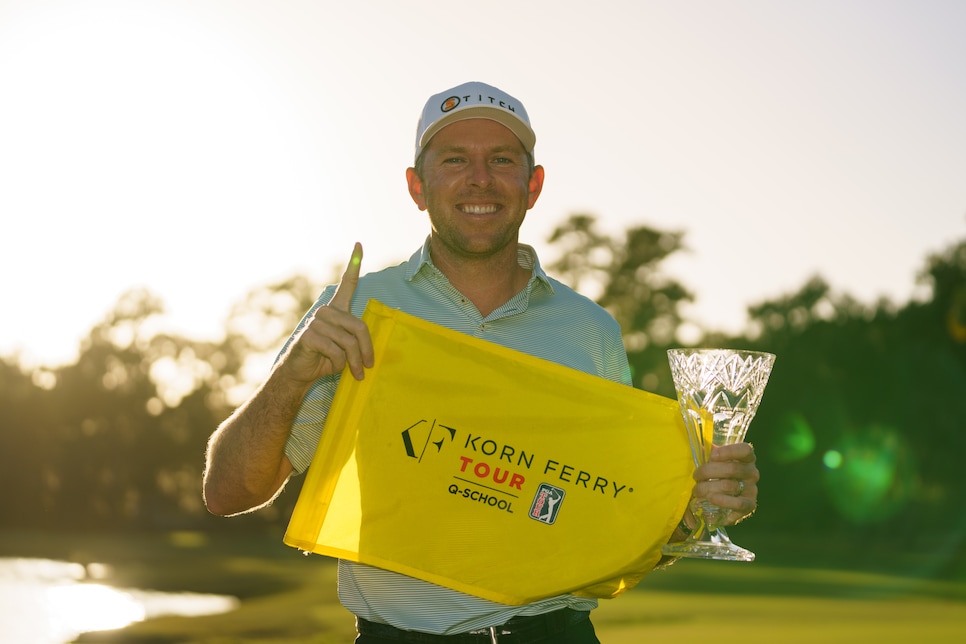 Bo Hoag poses with the Carman Cup trophy after winning the final round of the Korn Ferry Tour Qualifying Tournament at Landings Club's Marshwood Course in Savannah, Ga.
Rankin White
Bo Hoag has been a member of the PGA Tour for the past three seasons, but the pressure of trying to get through Korn Ferry Tour Qualifying School, and even trying to win, is something he hasn't felt much during his professional career.
During Monday's final round at The Landings Golf & Athletic Club's Marshwood Course in Savannah, Ga., it was smooth sailing early when Hoag opened with five consecutive birdies to settle his nerves. He added another one at the ninth hole to turn in six-under 30 and, after beginning the day five shots behind leader Chan Kim, all of a sudden found himself in contention.
Bogeys on Nos. 10 and 12 made the 34-year-old Columbus, Ohio, native more queasy, but he rebounded with birdies on 14 and 17 to shoot 65 and earn medalist honors by one shot over Kim, who shot a final-round 71. Hoag shot 67-67-71-65 for a 14-under-par total.
For winning Q School, Hoag earned $50,000 and fully exempt status for the 2023 Korn Ferry Tour season
"That kind of sticks with people when they've won Q School," Hoag said. "Whether it was PGA Tour or Korn Ferry Tour, you can say you won a stressful event. It's cool that you can say, 'Not only got my card, but I won.' It's different. It's a stressful thing."
Hoag won the Portland Open in 2019 on the Korn Ferry Tour, which helped him earn status to the PGA Tour the following season. He advanced to the FedEx Cup Playoffs his rookie season but was a conditional member this past tour season after dropping to 129th in FedEx Cup standings. He ended 176th on the list this year, which gave him a trip back to the final stage of Q School.
After victory Monday in Georgia, Hoag believes he's where he needs to be at this point in his career.
"I think as much as I want to be on the PGA Tour right now and playing out there, I probably need to go to the Korn Ferry Tour and spend the season out there and re-establish my game," Hoag said. "Hopefully I come back out on the PGA Tour and have my game ready to compete when I get back out there."
Those who finished in positions 2-10 (and ties) earned entry into the first 12 event of the 2023 Korn Ferry Tour season and are exempt from the first two reshuffles. Kim made two birdies and two bogeys in his final round to finish in solo second place, while Chris Gotterup and Chase Seiffert tied for third at 12 under par.
Gotterup, 23, the former University of Oklahoma star, birdied five straight holes on the front nine to take the lead, then made seven consecutive pars. He made a disastrous double bogey on the par-5 15th hole when he had an awkward lie in a greenside bunker, pitched it over the green, then had chipping difficulties from there. He ended two shots behind Hoag.
Also among the group in the top 10 was Frankie Caplan III, who was one of eight players who advanced through every stage of Q School this year, although he was the only one who did so with his mother on the bag as his caddie. He birdied the last hole of the final round and shot 69-69-68-69 for the week to earn entry into the first 12 events next year.
Finishers 11-40 (and ties) will receive entry into the first eight events of the season and will be able to skip the tour's first reshuffle.
Notables among that group are Willie Mack III, a Michigan native who shot a final-round five-under 66 to vault up 29 spots on the leaderboard and ultimately into a tie for 12th place. Mack, 34, has had success on the APGA, which was formed in 2010 to give minorities better professional playing opportunities, and has collected more than 70 wins on various professional tours. He slept in his car for a while after turning professional and became an icon in the Black golf community while steadily honing his game over the past decade.
On Monday at Q School, Mack was five under after the first seven holes—including a birdie, eagle start—and parred his final 11 consecutive holes to earn eight stars next year on the Korn Ferry Tour.
Cooper Musselman, a 28-year-old alum from the University of Kentucky, made the biggest leap Monday when a 65 propelled him from an 84th-place tie into a tie for 29th.