Golf Is Hard
Tour pro delivers painfully honest message after 82 at Q School: 'That's probably the end of it for me' (UPDATE: Blayne Barber shoots 64 in final round)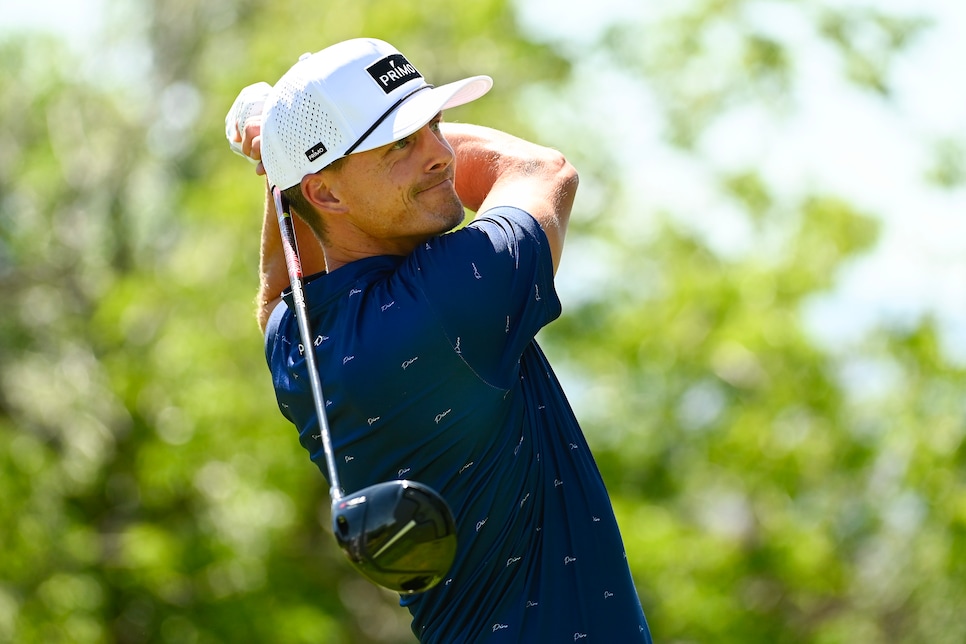 Seven years ago this week, Blayne Barber was part of a five-man playoff at the 2016 RSM Classic that bled over into Monday morning on St. Simons Island. He was ultimately one of the "losers" of that tournament, with Mackenzie Hughes draining an 18-footer for par to claim his first of two PGA Tour wins. It could have just as easily been Barber, a former Florida State Amateur winner and Walker Cupper who also won on the Korn Ferry Tour in 2014.
Unfortunately it was not meant to be that week for Barber, and it has been nothing but a struggle since. His results pages from 2017 and beyond feature a slew of missed cuts and the occasional top 10. At one point in 2021, the Florida native dropped as low as 1,423rd in the Official World Golf Ranking.
At the end of 2022, Barber decided to step away from professional golf. He had just lost his card and had also just had his fourth child, making the decision a bit easier. "After a lot of conversations, I just decided to step away and go after some other things," Barber told PGATour.com in April 2023.
Little did he know he still had some conditional status on the Korn Ferry Tour from back in 2014, so the game pulled him back at the Hometown Lenders Championship. He tied for seventh that week in Alabama, then picked up a T-12 three starts later at the Wichita Open. The good vibes faded quickly, however. Barber withdrew from his next event and then posted finishes of T-72 and T-63 before missing five consecutive cuts to close out the year on the KFT.
Barber decided to give it one last run this week at the second stage of Q School, which he was exempt for. Despite feeling very good about where his game was at, he opened with a brutal 10-over 82 at Robert Trent Jones Golf Trail in Dothan, Ala. The 33-year-old then took to Instagram to deliver a painfully honest message about what happened and where he goes from here.
"I am in last place by three shots. I shot what I believe is the highest round of my professional career today," Barber says at the beginning of the first clip. "Five years ago, 10 years ago, 15 years ago, I would have not been able to handle today. I've put 60ish days of really, determined, precise, thoughtful preparation into this week. I've seen some really good, quality golf lately. All my practice has been going well. I've turned some corners with my pitching and short game around the greens. I've been driving it really well. Truly firing on all cylinders. Came into this week maybe more prepared and ready than I've felt for an event in a really long time.
"And today I had nothing," he added.
Barber went on to explain that it wasn't even anything that crazy. It didn't go haywire. He never gave up. He just, straight up, played horribly. It happens, even to a once-decorated amateur player who was one shot away from a life-changing PGA Tour victory seven years ago this week.
"Sometimes, you put the work in and you try really hard and you really want to do something," said Barber.
Boy, if that's not the dictionary definition of golf, we're not sure what is. Barber finished off his message with a hard-to-hear admission.
"That's probably the end of it for me, unless I do something wild and crazy the next three days," he said. "Q School's more than likely over, and I came into this with the mentality of this being the last go. And so, I just want to say in summary, change is accessible. Dealing with disappointment and frustration and not having an answer, which is something we crave in our culture today. I know I want an answer for everything. I wish I could give you an answer for why today didn't go well.
"I'm going to wake up tomorrow, I'm going to go through my routine and I'm going to fight like hell and finish this thing strong. And if that's 82, 82, 82, 82, so be it," he said.
We now know it will very much not be 82, 82, 82, 82, as Barber bounced back with a one-under 71 on Wednesday. Instead of owning dead last on his own, he's now T-75 out of 79 players, which is what you call progress, folks. Fifteen players, plus ties, will advance to the Final Stage. With two rounds to go, Barber is 13 shots out of the top 15, a seemingly insurmountable deficit that would take a miracle 36 holes to erase. Stranger things have happened, though, and it's clear in his message that Barber won't be going down without a fight.
UPDATE: Just three days after shooting what he believed was the highest round of his professional career (82), Blayne Barber finished the second stage of Korn Ferry Tour Q School with a final-round, eight-under 64.
"That was probably one of the best rounds of golf I've played in a long time," Barber said afterward.
Earlier this week, in a video posted to his Instagram account, Barber looked like he had seen a ghost after shooting 10 over. "That's probably the end of it for me," he said. "Unless I do something wild and crazy these next three days."
It wasn't wild and crazy enough to advance to final stage and keep hope alive, but Barber's rounds of 71, 70 and 64 got him back under par for the week, resulting in a T-34 finish after beginning the second round in 79th, AKA dead last. He said he was going to keep fighting, and he meant it.
It would be in very typical professional golfer fashion for Barber to now change course and say that he might still have some left in the tank, which he clearly does. You don't jump 45 spots up a leader board over three days without some game. But, by the sound of it, it does seem like he's content with his decision to call this the end.
"I have prayed for a long time for clarity and discernment to know what the next steps are for me and for my career and my family," he said. "And prayers get answered a lot of times in ways that I wouldn't answer them. I think that 82, as sucky as it was, is a good answer."
As for what's next, Barber simply stated "stay tuned."