SPONSORED
Birddogs doesn't make just popular gym shorts, but also comfortable golf pants
*In partnership with Birddogs. All products featured on Golf Digest are independently selected by our editors. However, when you buy something through our retail links, we may earn an affiliate commission.*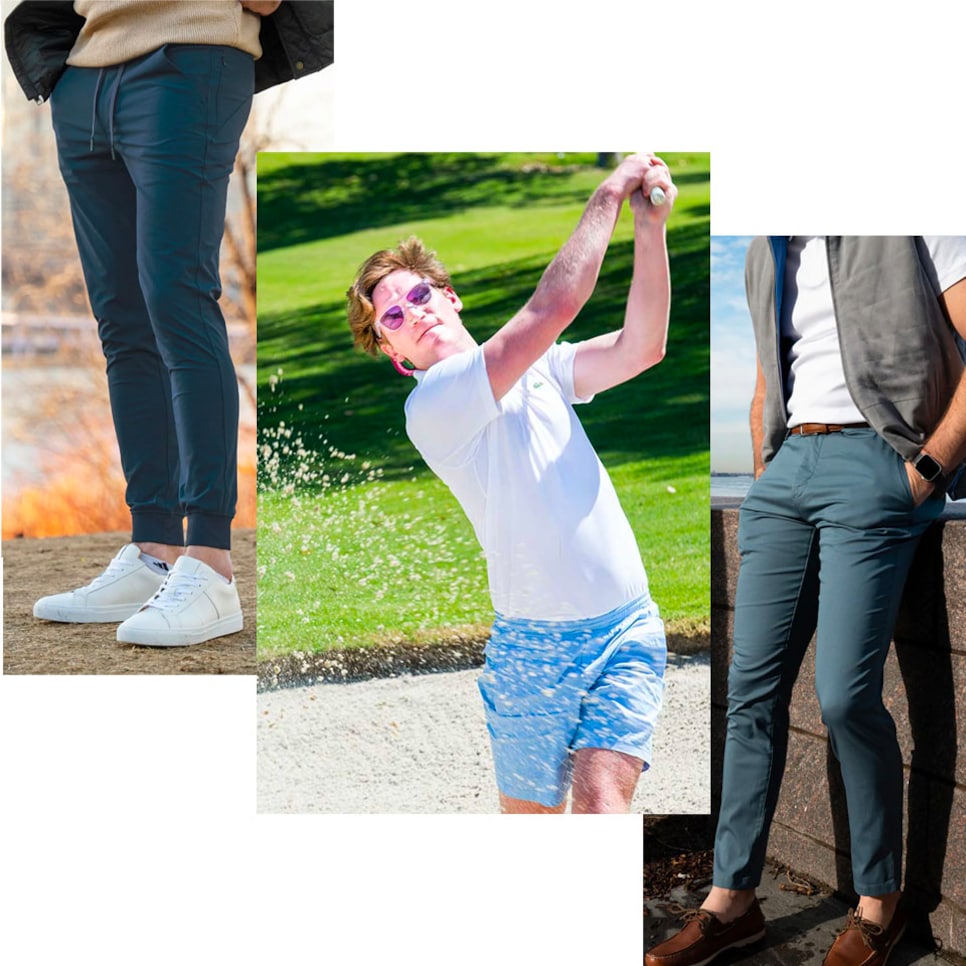 Maybe you've heard of Birddogs from its outrageous marketing videos and social-media presence. Or perhaps you're familiar with its popular workout shorts, which feature the brand's trademark built-in liner. Golfers, however, will come to appreciate that the menswear brand also offers a solid lineup of golf pants and shorts as well. Here's a look at the Birddogs collection, including two pant styles and two shorts that can easily be worn on the golf course, and their marquee lined gym shorts.
RELATED: 11 items you need to wear on the golf course this fall
Birddogs initially launched in 2014 with a focus on creating a more comfortable gym short. Each pair has a interior liner to provide snug support in place of underwear. The liner is made with a blend of polyester and spandex that is lightweight, breathable and contains a fair amount of stretch while maintaining its shape and elasticity after several washes. The shorts come in three inseams—6-, 7- and 9-inches—and 21 color and pattern variations ranging from simple navy or gray heather to bolder tie-dyes, neon prints and camo options.
Building on the popularity of the gym shorts, Birddogs expanded the collection to include four golf-ready styles that mimic the comfort and design of the athletic version. Unlike the gym shorts, these Khaki Shorts, Oxford Shorts, Khaki Pants and Joggers all come with lined or unlined options.
Despite the name, the Khaki Pants come in navy, a greenish-blue shade, three shades of gray and, of course, a light khaki colorway. It's a slim-fitting dress pant with a touch of stretch that gives the cotton fabrication an athletic feel while still having an upscale appearance. The brand recommends sizing up if you are between sizes. The pants are the collection's most natural golf piece with a traditional look, tailored fit and simple colorways that are easy to match.
RELATED: 7 pairs of pants you need for fall golf
Available in similar staple colorways, the joggers are another option for those accustomed to putting together golf looks with the cinched leg pant style. The stretchy material makes the close-fitting silhouette look tailored without feeling constricting. With an elastic waist, drawstring closure and more athletic-feeling fabric compared to the Khaki Pants, the joggers may not be a fit for every golf environment, but with the right styling will look great at courses with casual dress codes and for trips to the driving range. You can pair them with a low-profile sneaker-like shoe and a fitted quarter-zip pullover for an on-trend and fall-ready golf outfit.
While it may not be shorts season anymore for golfers up north, we'd be remiss not to mention the Khaki Shorts and Oxford Shorts. With a similar construction to the gym shorts, they come in 6-, 7- or 9-inch inseams with two roomy side pockets and two zipped pockets. One of our editors who tried the shorts applauded the placement of the zipped pocket at the back right of the short as a great phone holder because it is positioned slightly to the side, so you don't sit on the phone while seated.
The Khaki Shorts have a silky, stretchy feel while maintaining the look of cotton twill fabrications you typically see in golf shorts. Available in six colors—light khaki, caramel brown, navy, dark gray, light gray and white—these shorts have styling that's upscale enough for golf but come with an athletic feel that's great for tennis as well.
RELATED: 10 tennis looks we love for fall golf
With a stiffer construction, the Oxford Shorts have a more cotton look and feel, which allows the summery baby blue and Nantucket red options to shine. With both the Khaki and Oxford Shorts, you'll want to wear an untucked golf shirt to cover the elastic waistband—which is the only external giveaway that these aren't your traditional golf shorts.