SPONSORED
11 items you need to wear on the golf course this fall
*In partnership with Bonobos. All products featured on Golf Digest are independently selected by our editors. However, when you buy something through our retail links, we may earn an affiliate commission.*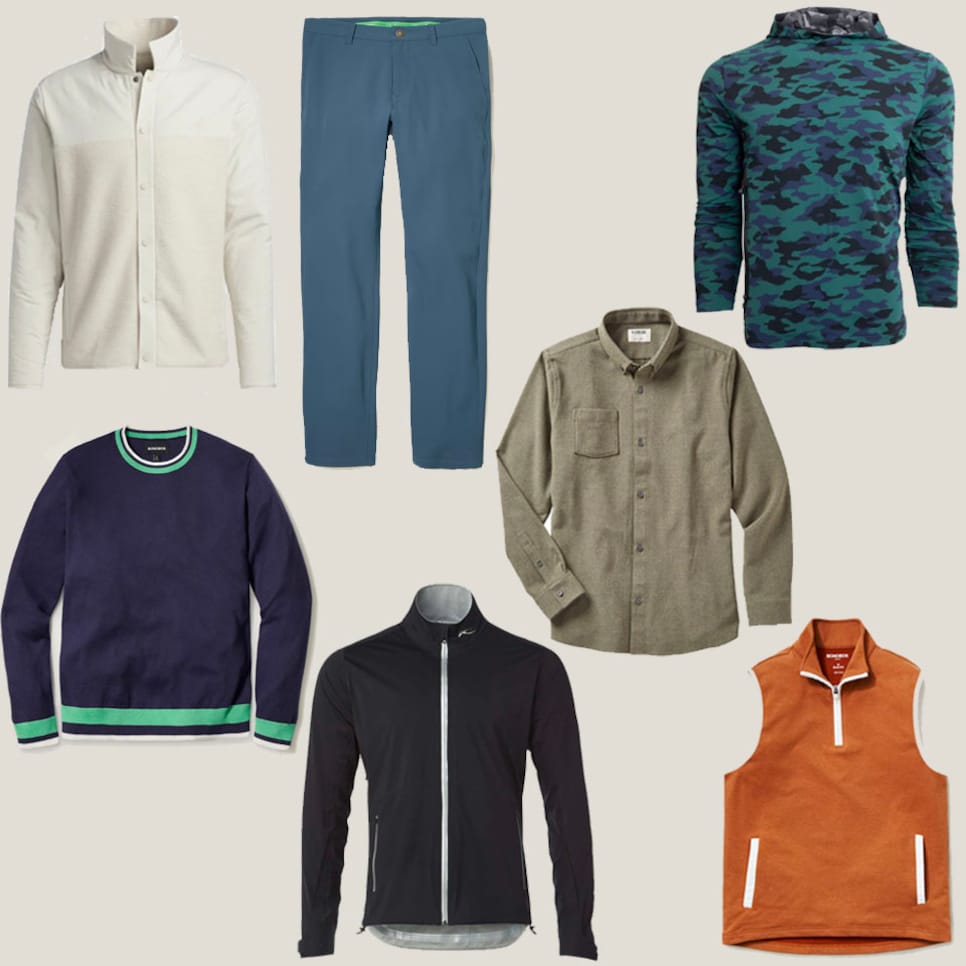 Layering season is finally here, and it's time to embrace (and maybe even celebrate) cooler temps by throwing on something more than a run-of-the-mill half-zip pullover or unnecessary rain jacket just to stay warm. Fall style is an opportunity to update your wardrobe, and we've rounded up the best offerings you can buy right now. Whether you're looking for a statement piece to splurge on or a modern basic that won't leave you broke, we've got a variety of options covered in each of the 11 categories of items you should consider wearing this fall.

Layer-able Sweater
When it comes to layering during the transitional seasons, the key is to find warm pieces that will enhance, not cover up the outfit. Enter the golf sweater. The right sweater will be lightweight, breathable and add warmth when you need it. It also will add versatility to your golf wardrobe so that you don't have to bring a change of clothes for post-round plans. Look for sweaters with a touch of stretch in the fabric split so that you're able to swing a golf club in it. We like this Soft Air Golf Sweater from Bonobos because it is machine-washable, so you don't have to worry about ruining it in the wash.
RELATED: How to prepare for inconsistent golf weather like the pros did in Scotland
Casual Full-Button Layer
Long-sleeve button downs have been a fall golf trend for a while now, with golfers sporting everything from flannel to corduroy options on the course. The fashion world has evolved the trend into something many refer to as a "shacket" or a shirt jacket. It's got the styling and casual look of a shirt, but with the warmth and insulation of a jacket. These jackets typically are not rain-resistant, so don't pack it when rain is in the forecast, but are a way to add effortless style to your golf look of chillier days.
Tech-forward Trousers
Don't just go shopping for your average golf pants this fall. There are so many options on the market that provide a sleek on-course look and weather-ready benefits. From UPF technology to water-repellent fabric and fleece lining, it can't hurt to invest in some pants with a few helpful details built in.
RELATED: 7 pairs of pants you need for fall golf
Puffy Down Jacket
A lightweight down jacket isn't just a stylish way to add warmth to your fall golf outfit, it's extremely practical. These streamlined puffer coats are often so lightweight that they can be easily stuffed into any size pocket in your golf bag. If you're walking, you won't add too much weight to your bag by carrying one of these along, and you'll be prepared for any sudden weather change. 
Vest
Vests are an essential piece in any golf wardrobe. It's the perfect way to add a bit of warmth and protection from the elements without impeding mobility when it comes to swinging the golf club. It's easy to take on or off (as demonstrated by Scottie Scheffler at the 2022 Masters) and will store compactly in most golf bag pockets.
Versatile Golf Shirt
While we always encourage golfers to try new colors and patterns in their on-course ensembles, when it comes to layering or trying out fashion-inspired looks, sometimes it is best to stay with the basics. Simply designed golf shirts in classic colors like white, navy or black are great to have on hand to keep matching easier. If you already have a closet full of staple polos, branch out to light blue and soft pink and purples to stay in the easy-to-match realm without overcomplicating things.
Light Rain Jacket
A lightweight waterproof jacket is a staple you'll need all year round if you're an avid golfer, but especially during the fall season. When sneaking out on the course during inclement weather, having a raincoat that you can stuff in the side pocket of your bag will save you. When temperatures are still in the mid-60s, make sure you look for ventilation and breathability when you're searching for the perfect lightweight rain jacket. 
RELATED: Best raingear for golfers
Hoodie
A good hoodie can become your go-to fall golf layer, but you have to find the right style and shape for you. Many golfers might find that a tighter fitted hoodie will be better for golf than anything that has unnecessary additional fabric. Plus, it's nice to have a hood that's on the smaller side, so if you're playing in the wind it won't interfere with your swing. Drawstrings are also something you should consider when investing in a golf hoodie—stylistically, they add a cool, casual touch, but they might be distracting to your game. 
Joggers
Every golfer should have a pair of joggers in his or her wardrobe, especially during the fall season. When temperates begin to drop, you'll be grateful for the comfortable lounge-wear feel of these pants. The tapered ankle isn't just a style feature: It can also keep your legs sealed off from chillier weather. 
RELATED: The best joggers for golf
Belt to match your pants
A durable, sophisticated-looking golf belt can instantly elevate any outfit—especially if it matches your pant color and not your shoe color. We know it can be tempting to go the white shoes-white belt route but trust us: Pairing your fall golf pants of choice with a belt that matches makes for a much more upscale outfit. 
A statement piece or two
Throw some stand-out clothing items into your cycle of fall golf outfits. A printed pullover or funky sock can instantly turn an otherwise basic outfit into a memorable one. The more layering pieces you're working with, the more opportunity you have to experiment with some new styles.