Major Style
How to replicate the best looks from the LPGA's first major for your own on-course look
*All products featured on Golf Digest are independently selected by our editors. However, when you buy something through our retail links, we may earn an affiliate commission.*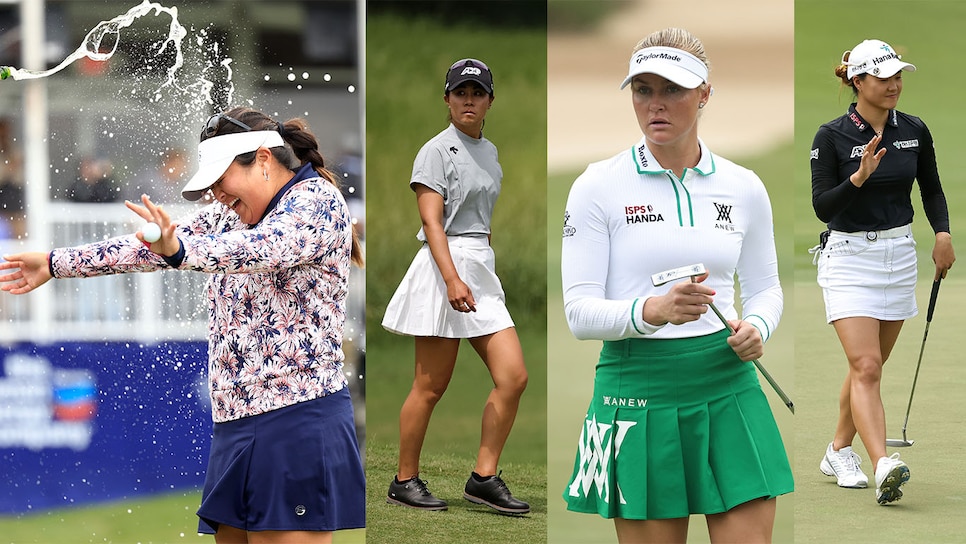 The bold colors and floral prints we saw at Augusta didn't end at Magnolia Lane, they seemed to have traveled to Houston, where the first major of the LPGA season — the Chevron Championship — took place. Women's golf fashion has evolved quite a bit over the last few years, players have gotten creative with their on-course looks, and brands are continuously pushing the envelope with new designs. The pros were decked out in their best for the tournament's new home, some wearing our favorite brands and others sporting brands we'll soon add to our bookmarks. Here are our favorite looks from the Chevron Championship and how to replicate them.
RELATED: These women's knitted polos bring a stylish (and warm) upgrade to a golf staple
Lilia Vu (Final Round)
The first-time major champion dawned a fun, floral-like patterned sweater from Foray Golf during Sunday's final round. Upon closer inspection, the florals are actually made up of an Americana firework motif that proved a perfect celebratory piece for Vu. Paired with a simple navy skirt that complemented the blue details in the pattern and at the collar, it was a feminine-yet-athletic look with a lot of versatility.   The Italian knit material on the Foray top creates a relaxed fit that allows the sweater to be worn by itself, layered under a jacket, or over a polo, like Vu did. The explosive top is also 50-percent-off on the Foray website currently.
Charley Hull (Round 1)
Green is always a popular color in golf attire, but has become trendier in the fashion industry recently, which has infused even more fashion-forward options for golfers. A quick look at Charley Hull's Instagram will tell you that she is a fashion lover and one to stay on trend—if this first-round look wasn't convincing enough. Her current apparel partner, Anew, is a luxury Korean golf brand that blends high fashion, streetwear, and extreme sportswear. Hull debuted her new partnership with the brand in January 2022 and has been sporting head-turning designs, which often blend country club attire and runway looks. The green pleated skirt she wore during the first round, with the massive Anew logo definitely caught our eye. Allowing the shamrock green skirt to do the heavy lifting, the English golfer topped off the look with a ribbed, long-sleeve polo with green trim around the collar to tie in with the skirt. We couldn't find the exact polo that Hull was wearing, but the brand has a similar perforated-sleeved shirt that would serve as a great base layer to any outfit you style.
Minjee Lee (Round 2)
This denim-like skirt moment from Minjee Lee is not something you'd typically see on the golf course, but we're certainly intrigued.  WAAC, Win At All Cost, is another Korean-based brand that pushes the envelope with its collections—and it usually pays off stylistically. The double stitching across the cotton twill material of this skirt offers a bit of dimension to what is otherwise a fairly simple design. It's simple and clean, and the contrast between the stitching details and the cotton material elevates the outfit.. She complimented the skirt with a simple black, long-sleeved polo and the new Adidas ZG23s that were released in March.
Christina Kim (Round 2)
Christina Kim has been making bold fashion choices her entire career, mainly for her collection of driver's caps, and in her 20th season on tour, things haven't changed—and we're so glad she continues to bring a pop of color everywhere she goes. During the second round of the tournament, Kim pulled out this show-stopping multicolored ombre polo from Oahu Golf Apparel. The brand has become known for its bold collection of golf shirts with floral motifs and bright colorways inspired by different elements of tropical environments. More than half of their polos are currently on sale, available in sizes XS to 3XL. And though none of us can rock the driver's cap like her, this straw visor from PXG would be a great way to enhance tropical theme in your own renditions.
Danielle Kang (Round 2)
Formerly with adidas, Danielle Kang's new clothing partner Descente Golf now has us on board with nylon golf shirts as a fashion piece. This was one of the more muted looks of the tournament, but the details of the shirt and skirt DK wore during the second round are too good not to mention. The zipper closure on the back of the shirt created a stylish structured windbreaker vibe to give the traditional mock golf T-shirt look a refreshed look and feel. The skirt's pleated mix minimal design, blending pleats on one half of the front of the skirt and across the back of the skirt, offered a clean silhouette with feminine charm. Kang topped off the look with the FootJoy Premiere Series Issette shoe in a custom all-black design with her initials on the heel.
Lexi Thompson (Round 1)
Lexi Thompson also got the patriotic-florals-for-spring memo with her Puma Mattr Artwork Golf Polo. She kept her outfit in a simple navy-led colorway, sporting simple solid navy accessories to allow the polo take center stage. The PWRMESH (power-mesh) golf skirt is an all-new proprietary fabric of Puma. This new technology features a breathable mesh waistband with shape retention and a high-rise knit skirt designed to fit close to the body without flaring. If you're looking to invert her outfit, Puma offers the Vented Artwork Golf Shorts in the same pattern.