News
Bernhard Langer on the eve of a new season faces an old question: Will time finally catch up to him?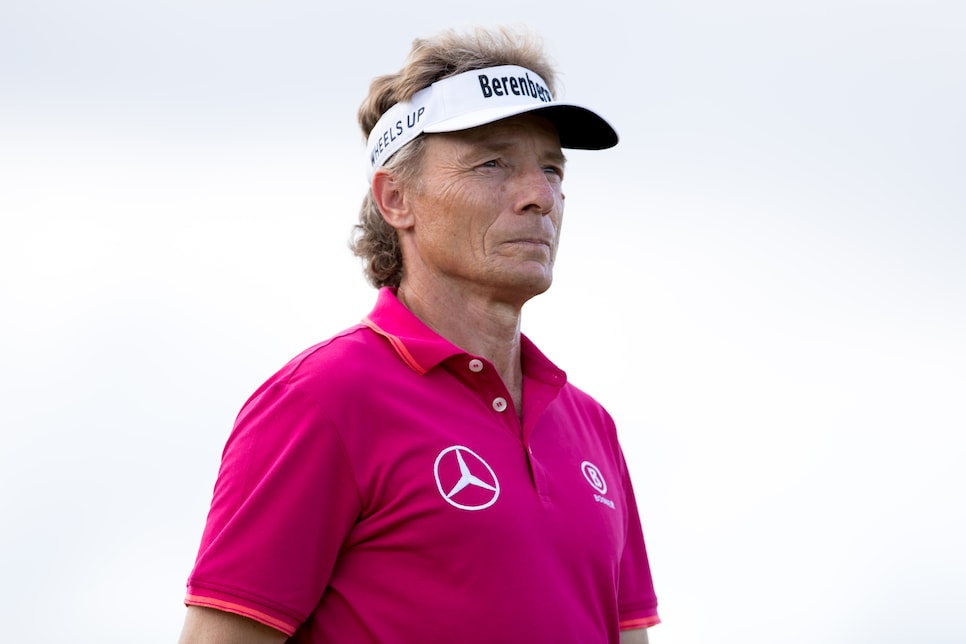 Sixty is not the new 50, notwithstanding Bernhard Langer's immaculate deception last year. The golf ball, contrary to the old saw, does in fact know how old you are, though in Langer's case the ball hasn't gathered sufficient evidence to ascertain it.
Langer turned 60 last August, after which he won three more times, running his season win total to seven, three of them major championships, in the best year of his decade on the PGA Tour Champions. On Wednesday, he officially was named 2017 player of the year.
Yet on the eve of a new PGA Tour Champions season that begins at the Mitsubishi Electric Championship at Hualalai on the Big Island of Hawaii on Thursday, the most pertinent question is whether this is the year the ball determines that Langer's use-by date has arrived.
Though no one is interested in hastening his decline, perhaps other than the competition previously unable to dethrone him, let us nonetheless stipulate that history is not on his side.
Langer, already a World Golf Hall of Fame member, has 36 senior victories, second only to Hale Irwin's 45. Behind him are Lee Trevino with 27 and Gil Morgan with 25.
Irwin won four times the year he turned 60. He won only once more, at 61. Trevino and Morgan both were 60 when they won for the last time.
His own decline already well underway, Irwin at the U.S. Senior Open in 2007 attempted to explain its genesis.
"There are other things in my life that are more meaningful than just playing golf," he said. "I love playing, I love the competition. But at the same time, there's a point where you at least temporarily want to stop and smell the roses a little bit, and I think that takes away a little bit of that competitive edge.
"The mental process that you have to go through to get ready to play an event like this, or for that matter any event, often times there are other interests you have, other things in your life that are meaningful. It could be business, it could be family, it could be just to say, hey, I'm tired. Who knows? I don't know what it is.
"As you get older, things start falling apart, whether it be physically you just can't compete the way you once did because of strength or injury or whatever it may be, or it could just be interest. Most of us have been at this thing for 35 or 40 or 45 years. Sometimes you don't mind a little deep breath.
"But putting those aside, I think each individual has to assess how they want to go about their business and are they disciplined enough to dedicate themselves to what you have to do to compete at this level, because there will be guys out there that do make that sacrifice, that do have that discipline to do that.
"A long answer to a short question, but I don't know as there's a real answer to that."
Inherently an issue for those for whom the years are mounting is that the tour's rookies don't age. They're always 50, often still young and capable enough to compete on the PGA Tour. This year's class includes Chris DiMarco (turns 50 on Aug. 23), Dudley Hart (Aug. 4), Robert Gamez (July 21) and Brent Geiberger (May 22), all of whom won multiple PGA Tour events.
Meanwhile, Langer's stiffest competition in 2017 was Scott McCarron, who is only 52 and won four times last year, while Jerry Kelly, 51, won twice.
Still, a precipitous decline for Langer would seem far less likely than a gradual one. Last year, he led the tour in scoring average (68.03), total driving, ball striking, all-around ranking, putting average (1.683), was second in greens in regulation (78.2 percent) and still a respectable 24th in driving distance (280.4 yards).
The end is out there somewhere, but it's not likely that Langer can see it from the first tee at Hualalai Golf Club on Thursday. There, history is on his side. He's the defending champion and three-time winner.