News
The Bernhard Langer I know
Former PGA Tour pro Bobby Clampett, a close friend of the German Hall of Famer, explains what makes him as remarkable off the course as he has been on it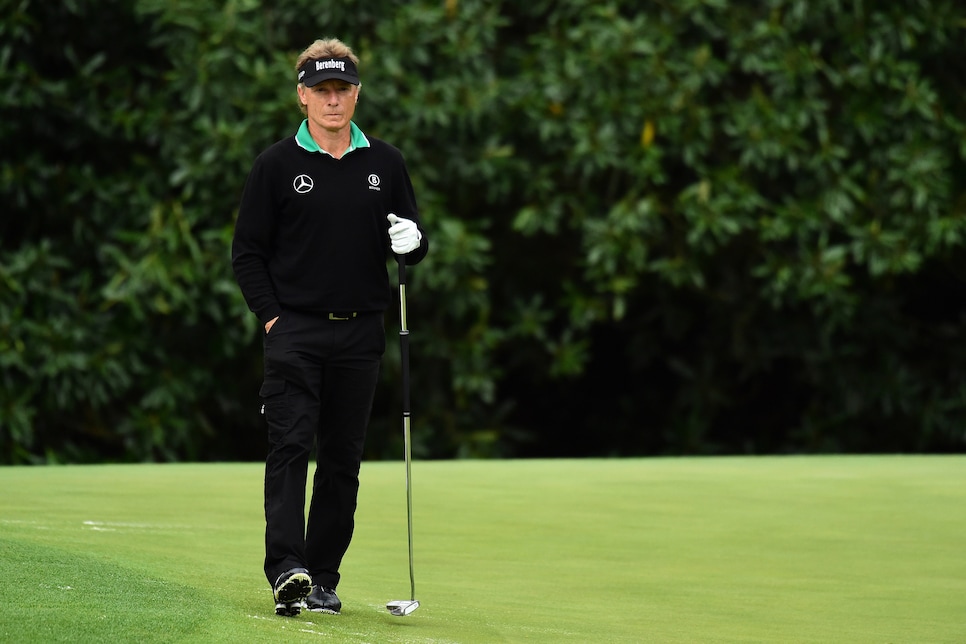 I got up at 5 a.m. last Sunday, tuning into Golf Channel's live internet feed from Wales, eager to watch Bernhard Langer win the Senior British Open for the third time. He didn't disappoint. I'm blessed to call Bernhard one of my best friends.  Over the years, we've spent a lot of time together, both on and off the course.  We share a love for the mountains and we are both avid skiers. Our families have had many winter ski trips together. We've also played a lot of practice rounds together, even though both of us otherwise prefer to play practice rounds alone.
We first met in 1980 when John Cook and I traveled to France to play in the Cacherel World Under-25 Championship, a tournament in which Bernhard had a breakthrough win the year before. Winning by 15 strokes was noteworthy enough, but more important was that it meant Bernhard had overcome his first case of the putting yips.
When we were paired together in the first two rounds in the 1982 U.S. Open at Pebble Beach, his yips were returning. Bernhard missed the cut, I finished third (behind Tom Watson and Jack Nicklaus). It was there that people noticed we looked alike. We both had long, curly, dirty blond hair and a similar build. Bernhard still laughs how often people would approach him and ask, "Hey Bobby, can I have your autograph!" It didn't take long before the reverse became much more common.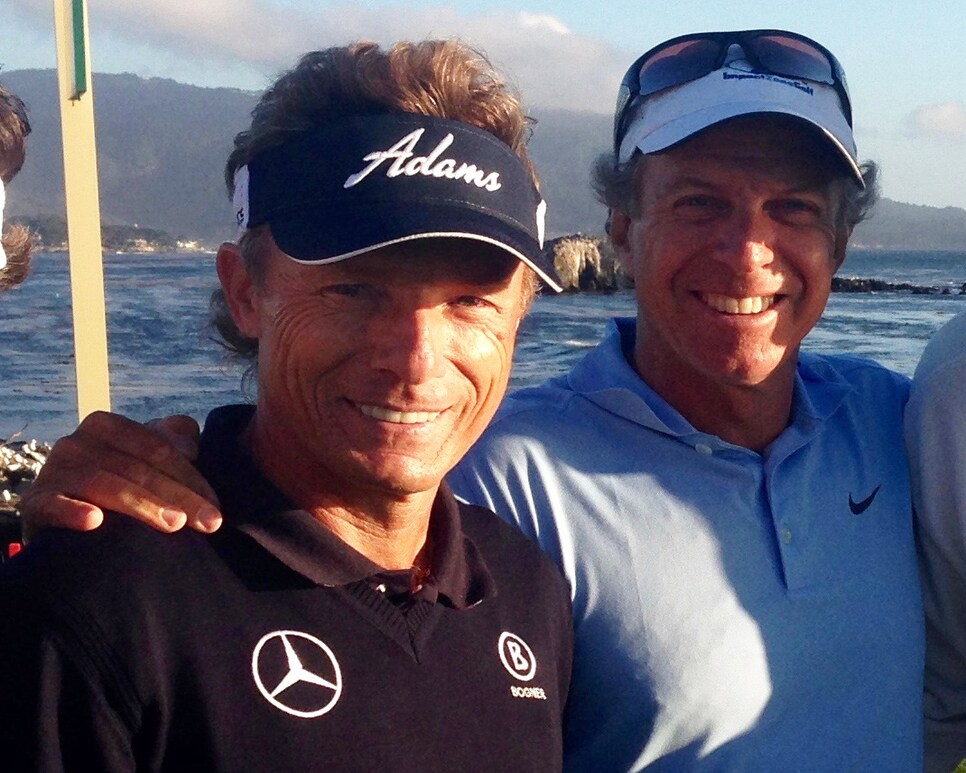 Courtesy of Bobby Clampett
That summer of '82, Bernhard failed to qualify for the British Open at Troon, and loaned me his caddie, Peter Coleman. We proved to be a good combination, as I went on to set the then 36-hole Open scoring record with a 67 and 66 that gave me a five-stroke lead. Unfortunately, I struggled on the weekend and finished four strokes behind Tom Watson.
In April 1985, Bernhard and I had made a date to play a practice round together on Tuesday at 10 a.m. at Hilton Head, which is the week after the Masters. I had not qualified for the Masters that year, and when Bernhard won, I wasn't sure he would remember. But true to Bernhard, he showed up at 9:55 a.m., a big entourage following the first No. 1 player on the Sony Rankings, which would become the Official World Golf Rankings. Several tour players asked to play with us, but we politely told them our group was full. We both liked it that way because then we could get some good work done. There would be more time to hit extra shots, especially around the green.
Not only have discipline and perseverance played a very important role in Bernhard's success as a golfer, his faith has given Bernhard a grounding and steadiness that explains the deepest "why" for what he does for a living and who he is as a person.  I've never seen Bernhard upset or angry. I've never seen him throw a club. I've never seen him treat a human being unkindly. I've never even seen him raise his voice at his children. He lives his life in a very consistent fashion, full of routine, discipline and a focus on healthy things. He gets his eight hours of sleep every night, he works out everyday, he drinks his vitamin smoothie every morning and reads his daily devotional.  No wonder his golf game is so consistent. It is a mirror of his life.
When I think of Bernhard, the word "humility" always comes to mind. He fully appreciates everything good that ever happens to him. I believe that the fear of being poor again has served Bernhard well and explains partially why he works so hard at his golf.  He's always thinking about ways to get better. It also explains why he never quits. I've never seen Bernhard not give a shot 100 percent, no matter what. He could be missing the cut, in the middle of a bad slump, and he's still giving every shot his all.
Looking at Bernhard's success, my opinion is that his character has been the leading contributor. How this carries over to his golf game gives us five key principles that we can all benefit from to improve our own games:
1. Analyze your game
Bernhard isolates the variables of his game and studies each one. He knows well his strengths and weaknesses, and practices his weaknesses the most. Over the last two years, he had to figure out how to adapt to the "no anchoring" policy set by the USGA and R&A. He made an inordinate effort trying at least a dozen different styles of putting before settling on the one he uses now, the closest to his putting form before the anchor ban. No one makes a higher percentage of six-foot putts in the game currently than Bernhard. Perhaps that missed six-footer at the 1991 Ryder Cup has motivated him to never let that happen again!
2. Analyze the course
Bernhard, along with his caddie, Terry Holt, out-prepare other players when it comes to charting the course and detailing the greens. They both work separately with their notes, then come together when playing the course. In 2013, I encouraged Bernhard to play the First Tee Open at Pebble Beach, a tournament he hadn't played since his rookie year on the PGA Tour Champions. Bernhard knew I was knowledgeable about the course, so we played a practice round together. After the round, we headed back to my house where Bernhard sat at the dining room table with his yardage book and mine. My wife and I had to leave for a dinner, so we left Bernhard by himself, working at the dining table. When we returned four hours later, Bernhard was still at the table. "Where do you think the grain is on the back left of the 17th green?" he asked. That was a classic Bernhard moment!
3. Match your clubs with your swing
Bernhard spends a lot of time working on his equipment, especially when it comes to the driver. Over the years, driving was a weak point in his game and explained his lack of success on the narrow fairways of the U.S. Open, PGA Championships and British Open. In addition to refining his swing after turning 50, he has found a driver configuration that allows him to work the ball both ways, and launch at just the right trajectory (12.5 degrees) and produce just the right spin rate (2300 rpm).
4. Perfect your short game
Bernhard spends a lot of time chipping around the greens and hitting bunker shots in practice rounds. He is continually working on how to best use the bounce of the wedge, creating the ideal angle of attack to increase consistency around the greens.
5. Focus on impact
Bernhard knows his swing style is a bit unusual and he doesn't care. His focus is on his impact. He is always aware of his angle of attack, his path, his clubface and where he is hitting the ball on the face. His swing adjustments are always related to creating better impact. He exemplifies what it means to be an impact-oriented player.
Of course, the brilliance of Bernhard Langer goes beyond his greatness as a golfer. He is also one of the best humans I've ever known.