The Loop
Before Lionel Messi took over, Sergio Garcia -- and his green jacket -- starred at El Clasico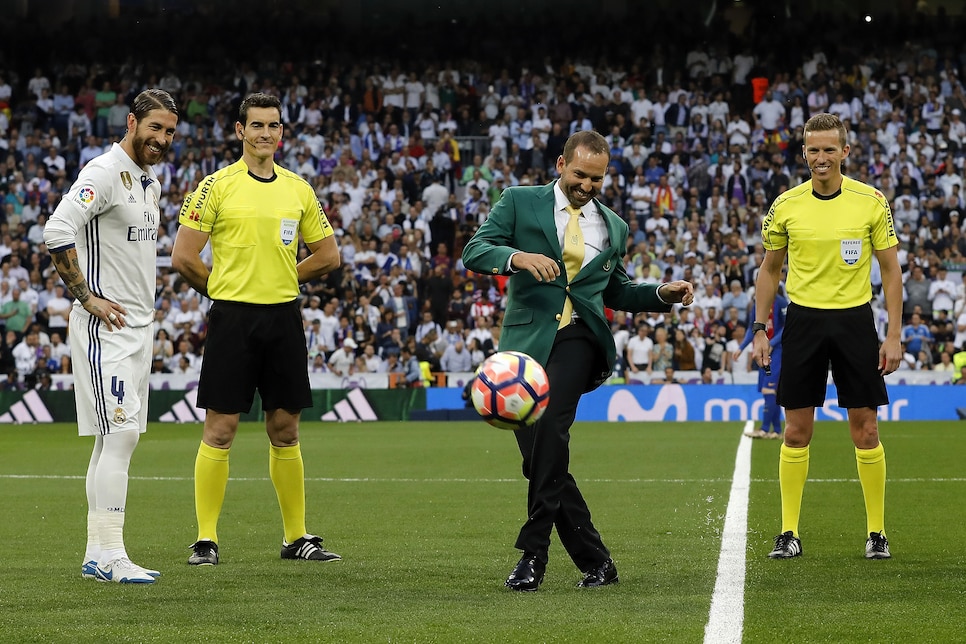 Sergio Garcia's green jacket tour made a special stop on Sunday at El Clasico, the latest match between two of the world's biggest football (AKA soccer) powerhouses: Barcelona and Real Madrid. Garcia did the ceremonial kick-off, an honor he had been promised by Real Madrid Florentino Perez if he ever won a major championship.
Garcia cashed in on that promise pretty quickly, eh?
"For me, as the superfan of football that I am, to be able to take the kick-off in a Real Madrid-Barcelona is something incredible. And to do it with the green jacket on, and that everyone can enjoy it, is something very nice," Garcia told El Pais. "Florentino Perez promised me I could do it many years ago, that when I won a major he would let me take the kick-off, and now it has coincided with a Clasico. Couldn't be anything better. I'll have to be careful and breathe slowly so I make good contact with my foot!"
And did he ever. Check out this lefty strike from the Spaniard:
And here's a different angle shared by countryman Jon Rahm:
Unfortunately for Garcia -- and the rest of the Real Madrid faithful around the globe -- Lionel Messi wound up being the day's biggest star, scoring twice, including this game-winning goal in extra time:
Still, it was a great weekend for Sergio Garcia, who also reportedly attended Rory McIlroy's wedding in Ireland on Saturday. But since he's obviously not a Real Madrid good luck charm, we'll have to see how many more majors Garcia needs to win before he's invited back.