PGA Tour
Beau Hossler can quiet his doubters with a big finish at Pebble Beach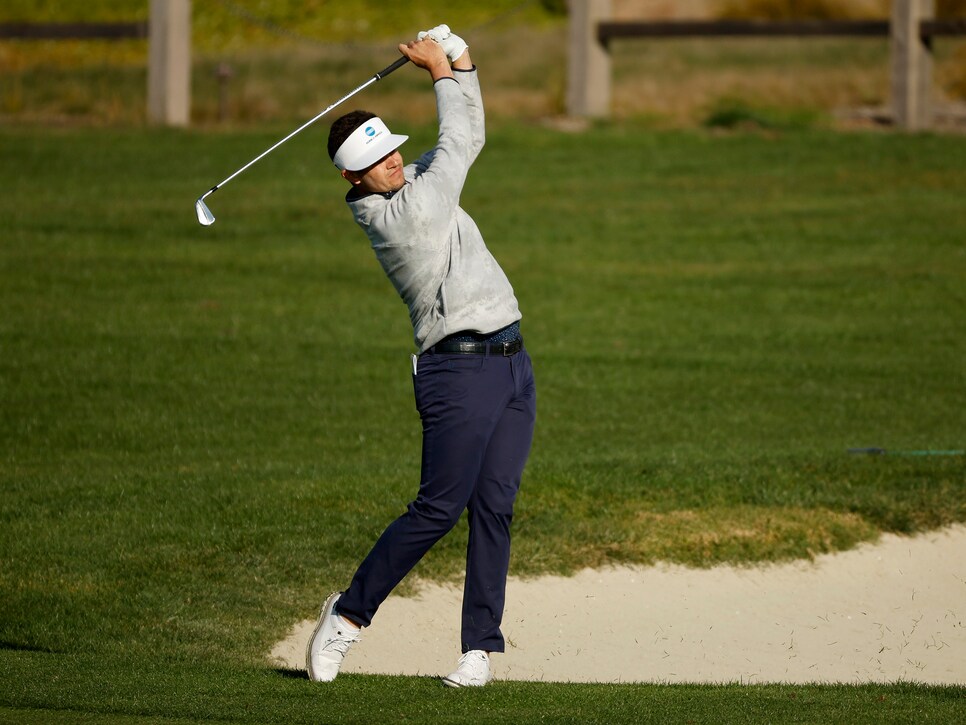 Beau Hossler plays a second shot on the second hole during the third round of the AT&T Pebble Beach Pro-Am.
Cliff Hawkins
PEBBLE BEACH, Calif.—Don't ask Beau Hossler if he thought he'd be in a different place at this stage of his professional career, as one reporter did on Saturday at Pebble Beach Golf Links. People in Fresno probably heard his teeth grinding. The question has been posed more often than he can remember, and his short answer was basically, "Duh. Yeah."
After a third-round seven-under 65, Hossler was more focused on his place on the leader board at the AT&T Pebble Beach Pro-Am. At 15-under 200, he finds himself in a place—tied for the lead—that is much different than where he has resided in recent weeks. And if he keeps it up, his career definitely will move into new territory.
"With my status, I don't have the chance to play as much as I'd like, so I'm definitely pleased with the opportunity I've given myself," said Hossler, who has only conditional status this season after failing to make the FedExCup Playoffs and has made just four starts this season. "My game feels solid. When you're in contention out here, you know you are playing well."
Hossler, who holds his third 54-hole lead on the PGA Tour, is tied with Andrew Putnam and Tom Hoge. That is the highest number of co-leaders in tournament history.
Putnam put on a late push with five straight birdies to rally for a 68 while Hoge, who was just two shots behind Jordan Spieth at this juncture last year before falling to T-12, had a 68 at Spyglass Hill. Putnam, who didn't play for a month after contracting COVID-19 during the short offseason, seeks his second tour title, while Hoge, second two weeks ago at The American Express in La Quinta, is looking for his maiden victory.
"My game feels good. I was just in the final group in Palm Springs a couple weeks ago, so that helps being in that situation," Hoge said. "I've just, my goal coming into the year was try to put myself in this position a little bit more and here we are another chance."
"It's been an interesting start of the year for me just health-wise … so I had pretty low expectations coming out to start the year," said Putnam, who won the 2018 Barracuda Championship. "It's been a lot better than I expected, and obviously to win at Pebble Beach would be incredible."
Trailing one stroke behind is the aforementioned Spieth, who already has locked up PGA Tour Daredevil of the Year, reigning FedExCup champion Patrick Cantlay and Joel Dahmen, who also holds a share of the lead in the team portion of the event with David Capobianco.
Spieth fired a jaw-dropping 63 at Pebble Beach, so labeled for a high-risk shot (to life and limb) at the edge of a cliff at the par-4 eighth hole that resulted in a miraculous par. Oh, he also had eight birdies and an eagle after trailing second-round leader Seamus Power by 11 shots. Cantlay, who like Spieth finished T-3 here last year, carded 68 at Pebble while Dahmen, seeking his second win, came home with a bogey-free 66 at Spyglass. Power, who set the 36-hole aggregate scoring record of 128, struggled to a three-over 74 at Monterey Peninsula Country Club and is alone in seventh.
Coming off three straight missed cuts, Hossler, a decorated amateur out of the University of Texas, hasn't tweaked his game or prepared differently this week after his slow start to 2022. There have been no epiphanies. And no calls to his coach or a psychiatrist or a psychic. He just made the most of a game that has been solid for months and this week he isn't wasting it.
"I've played well and just really have not gotten much out of it," Hossler, 26, said. "The margins between playing excellent golf, playing good golf and playing mediocre golf, it just not that significant most of the time. It's a good break here and there, a couple of putts that fall."
And good course management, too. Which Hossler was proud to say he exhibited throughout his bogey-free round. An eagle and five birdies, including on the final two holes, put him out front alone until Hoge and Putnam caught him. A native of Mission Viejo, Calif., Hossler rose to fame as a teenager when he briefly led in the second round of the 2012 U.S. Open at Olympic Club in San Francisco. He eventually ended up T-29.
Plenty was expected of him when he turned professional in 2016, but no more than he expected of himself. Twice he has qualified for the FedExCup Playoffs and twice he has fallen short of the top 125 on the points list. His best chance to win came at the 2018 Houston Open, but he lost to a red-hot Ian Poulter in a playoff that also cost him a Masters berth.
"I've not played as well as I would like, but what are you gonna do? I'm working as hard as I can," he said. "I always have. I know that my career is hopefully going to be very long, and I know what I'm capable of doing. It's just a matter of doing it."
And knowing what not to do, too.
"You can't force it out here. You have to play within yourself, play intelligently, which I have been doing this week," Hossler said. "The depth of the fields is spectacular out here. You play with players that you've never heard of from different parts of the world that are excellent, excellent players. And the difference between winning golf tournaments, finishing top 10, finishing top 30, making cuts isn't as big as the score may show.
"You can play some pretty good golf and make a couple small mistakes and you're in trouble," he added. "And you can play some average golf and play smart and play the appropriate shots and be efficient. So, that's what I'm trying to do. I'm trying to make sure that no matter what form my game's in that I'm getting the most that I can out of it."