The Loop
Baker Mayfield met one of his linemen for the first time in the locker room prior to kickoff on Sunday night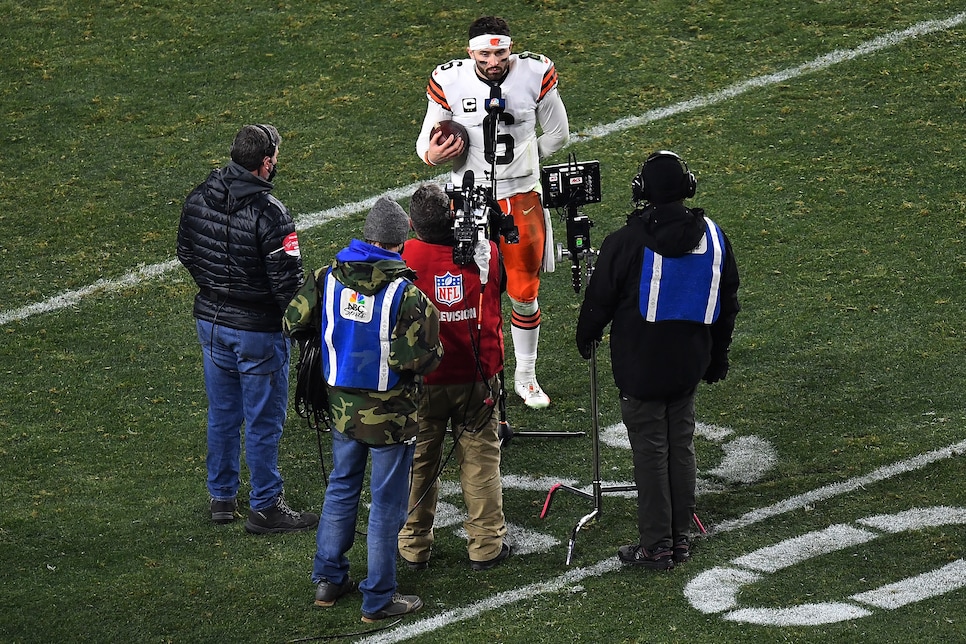 On Sunday night, Baker Mayfield and the Cleveland Browns exorcised 26 years of playoff demons with their 48-37 thrashing of the AFC North rival Pittsburgh Steelers. Despite the 11-point margin of victory, this was a thorough beatdown, which was particularly stunning with all the issues the Browns faced in the week leading up to the game.
To recap, COVID-19 knocked out their head coach Kevin Stefanski, their tight ends coach Drew Petzing and their defensive backs coach Jeff Howard. It also knocked out multiple players, including starting guard and Browns lifer Joel Bitonio, and cornerbacks Denzel Ward and Kevin Johnson. In addition to losing multiple key players, Cleveland couldn't even practice with the ones that could play until Saturday afternoon. In the franchise's first playoff game since 2002, the deck could not have been more heavily stacked against them, which is the most Browns thing ever.
Then, in a blink, they took a 28-0 lead in the first quarter, and it only really got hairy when the Steelers had 4th & 1 at midfield down 35-23. Steelers head coach Mike Tomlin then decided he hated momentum, punting the ball back to Cleveland and watching his defense allow them to march down to truly put the game out of reach.
Perhaps the most impressive job was done by the Browns offensive line, which kept a clean pocket for Mayfield all night and opened up huge holes for Nick Chubb and Kareem Hunt. And again, the line without its most dependable piece in Bitonio, and then it lost Bitonio's backup Michael Dunn in the middle of the game. That's when the team turned to Blake Hance, who Mayfield literally met in the locker room before kickoff:
If you think this story is exaggerated, that couldn't be further from the truth. Hance was signed off the New York Jets practice squad last weekend, and when that happened he jumped in his car and drove to the team hotel. This, lifted from Peter King's Football Morning In America column, is wild:
One of the great football guy sayings is some variation of next man up, you never kno when your number is going to be called, etc. In Hance's case, his number was literally called while he was a seven-hour drive away, and a week later he was in the midst of winning one of the biggest games in the history of the Browns' franchise. You really cannot make it up. Now, the Browns move onto Kansas City. If you thought the COVID issues and beating the Steelers on the road was a tall task, hoooo boy are the Browns in for an even taller one next Sunday.