USA! USA!
Auston Matthews is an absolute filth factory and he knows it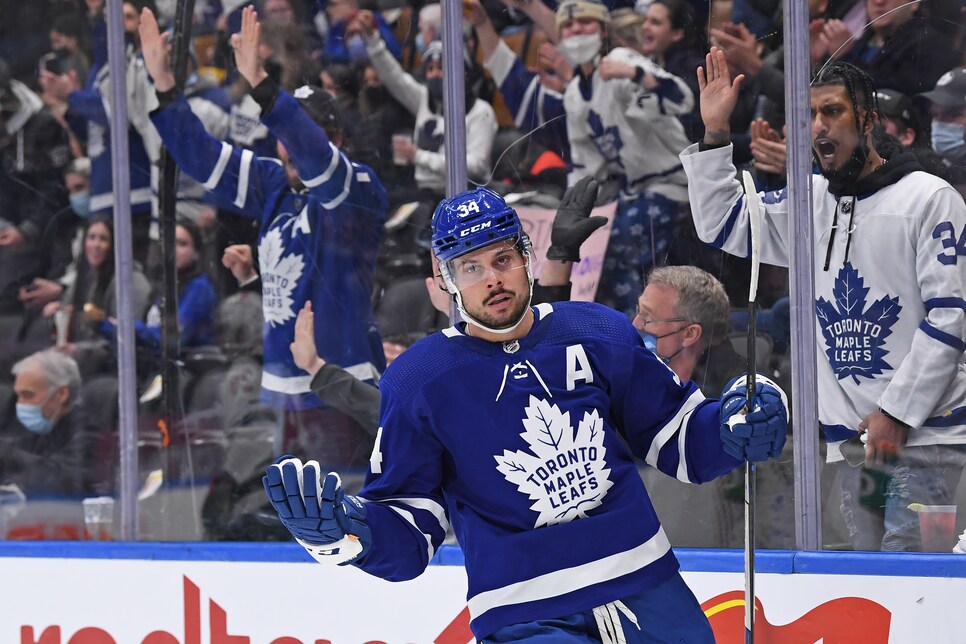 Given their team's propensity for first-round playoff disappointment, it's hard for Toronto Maple Leafs fans to be optimistic about the 2022 postseason. However, it's impossible to not at least be a little excited about what their superstar player, Auston Matthews, is doing right now.
On Thursday night, just one week after smashing his face into the crossbar against the Pittsburgh Penguins, Matthews scored two goals in Toronto's much-needed 3-1 victory over the Minnesota Wild. That gave him 36 on the season, which currently leads the league despite Matthews playing the least amount of games of anyone in the top eight. Even more impressive - dating back to last year, Matthews has now scored 77 goals in his last 100 games. It's bananaland behavior.
Matthews, who we should remind you is an American hero, caused jaws to drop with his first goal of the night, which tied the game at 1-1. Even better was his casual celebration, invoking the Jordan shrug:
Oh yeah, that man is an absolute filth factory and he sure as hell knows it. Here was goal No. 2, which included a sick takeaway by Matthews himself and then a tasty give-and-go with his boy Mitch Marner:
If the 77 goals in his last 100 games stat wasn't nasty enough, Matthews has also now scored 29 in his last 31, almost a goal per game pace. The only thing that can stop him right now is a crossbar to the mouth, and even that hasn't worked.
The Matthews haters are already out in full force, retreating to the usual "has he won a playoff series?" takes. While that may be true, he definitely deserves a little more appreciation for the heater he's on right now. God-willing, the Leafs actually make some noise in the 'yoffs this year, which would be great for the sport.