The Loop
Aussie gambler hits on HUGE (and totally random) parlay involving Brooks Koepka's PGA win from August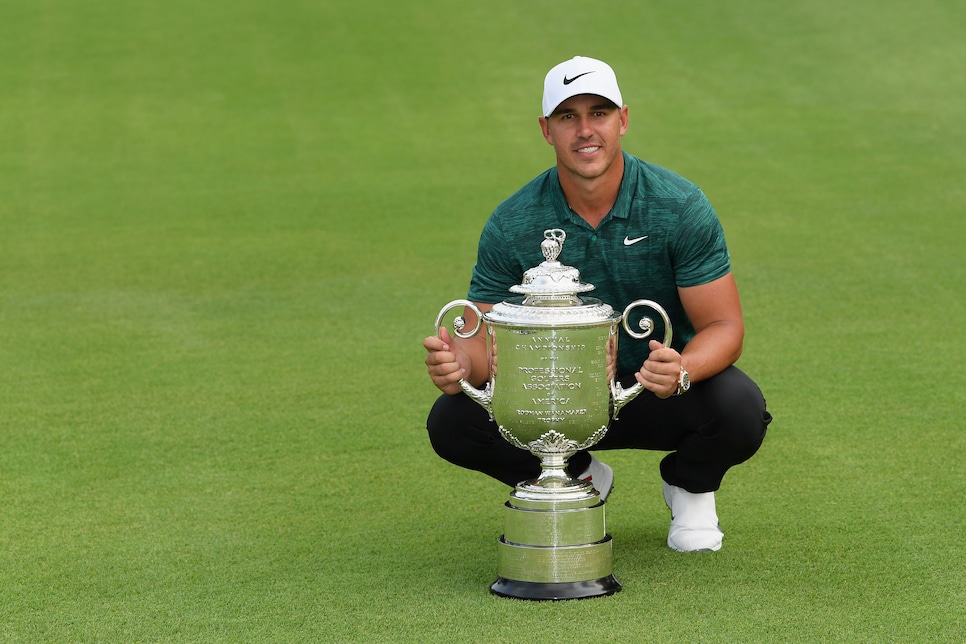 Ross Kinnaird/Getty Images
The problem with most gamblers is they have no discipline. When they get hot or (even worse) cold, they load up on dumb bets to try to capitalize on a heater or win it all back quickly. Poor suckers. But one Aussie gambler appears to be not only incredibly lucky, but incredibly patient.
Australian online sports betting website Tab.com.au shared a remarkable — and totally random — successful parlay bet that was nearly three MONTHS in the making. In correctly hitting on three sporting events starting with Brooks Koepka winning the PGA Championship in August, this unidentified person turned $10 into $76,440! Check out his wide-ranging (both in dates and sports) picks:
In case you're confused, the price of each bet are the odds, which when multiplied explain why he got 7,640 times what he wagered. Not a bad ROI, huh? But it was a willing to wait for a payoff that would impress even the most savvy of investors.
Koepka won the first leg of this wacky parlay on Aug. 12 when he held off a charging Tiger Woods to claim a third major title. But then this mystery punter waited for the final two legs. And then waited some more. The second part, a Melbourne horse race called the Caulfield Guineas came a full two months later on Oct. 13. And then after nearly another month, Cross Counter won the Melbourne Cup, another horse race, on Tuesday (Nov. 6) to complete this triumphant triumvirate of wagers. Wow.
What perception. And again, what patience. This dude waited a quarter of a year to complete a bet. Now I want to know which cricket matches he has already parlayed with Tiger Woods winning the Masters.