Augusta National Women's Amateur
Gina Kim among ANWA contenders who want more than just a fond memory at Augusta National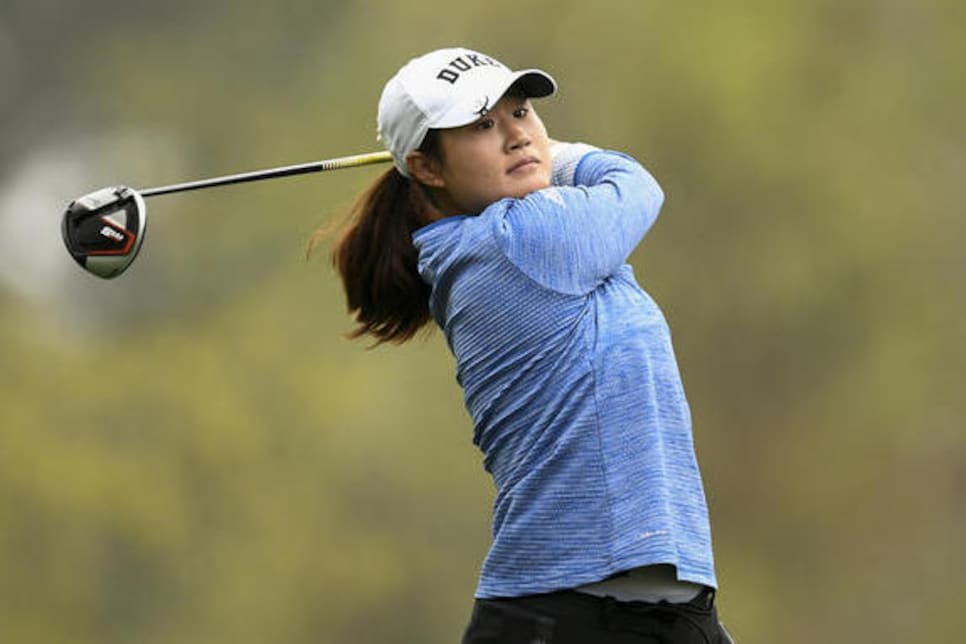 Gina Kim hits a shot during the first round of the 2021 Augusta National Women's Amateur.
AUGUSTA, Ga. — Women's golf has a brief history at Augusta National, and Gina Kim can truly claim to be one of the pioneers.
In 2015, Kim reached the Drive, Chip and Putt National Finals in only its third iteration. Kim's 14-year-old self couldn't have known as the time that when she was in college, she'd actually return to compete at the home of the Masters. Not in a kids' competition in which the little ones get to putt on the 18th green.
This would be on the course. Amen Corner and everything.
The club inaugurated the Augusta National Women's Amateur in 2019, and Kim earned her spot in the field. It was a scenario ripe for a feel-good ending—DCP competitor to ANWA champ.
It didn't work out that way. Kim struggled to a 76 in the 2019 opening round at Champions Retreat, and though she recovered nicely on the second day with a 73, she missed the cut by three shots. That meant only a Friday practice round awaited her at Augusta National, rather than chance to compete for the inaugural title.
"It was pretty high," Kim said of her disappointment. "When you miss the cut you get slapped in the face by reality."
Kim, 20, and others will tell you that she doesn't take defeats lightly—"The best teacher you can have is failure," she says—and that makes her a very dangerous player heading into Saturday's final round of the ANWA.
Back at Augusta after a stellar two years that included her leading the 2020 U.S. Women's Open with a stunning opening-round 66, the Duke junior is getting her true shot at the trophy. After rounds of 74-71 at Champions Retreat, Kim is tied for fifth, two shots off the lead of Rose Zhang and Ingrid Lindblad.
Knowing better than most Kim's dogged nature, she has a teammate and fellow ANWA competitor predicting she has a great shot at winning.
"She's going great. I would totally bet on her to win. She's got it in her," said Duke sophomore Erica Shepherd, 20, who is tied for 21st heading into the final round. "It was kind of struggle at the beginning of this season, whether it was putting or whatever. Nothing came together for her. I think that's happening this week. I think it could be really special for her."
Shepherd has competed alongside and against Kim since they were in their early teens and contends, "If she isn't happy with something in her game, that's going to be the strongest part of her game the next week. She really goes after it."
That was the case with Kim's first experience in the ANWA. It made her examine her deficiencies, and one of those was being "reckless" on demanding holes and learning to not just fire at every pin. She was rewarded with that new approach on Thursday at Champions Retreat, when Kim hit only half the greens in regulation and, remarkably, didn't card a bogey.
Another advantage this year is that Kim says she understands the Augusta course better. She admits that after missing the cut in '19 she played her practice round goofing around as if she was at home with friends. This time, in contention, she noticed intricacies on Friday she'd never even fathomed before.
Even having some fun at the par-3 16th was educational. The group tried skipping balls across the pond like the Masters players do in practice rounds—Kim's try hit into the bank just short—but her local caddie also showed her how wild the breaks can get there.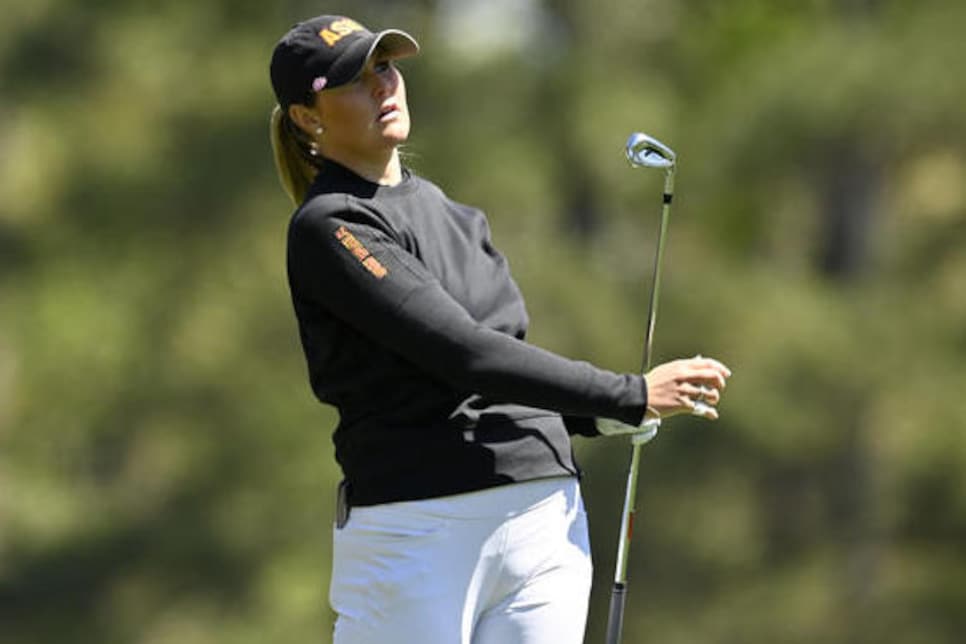 Olivia Mehaffey hits a shot during her practice round on Friday for the final day of the Augusta National Women's Amateur.
"There was a lot of interesting things I found out there," Kim said. "I think that's what makes this place so special."
The top of the ANWA leader board is mix of returners and newcomers to the event. Four of the top nine are playing for a second time, including co-leader Rose Zhang, the current amateur World No. 1 who, at 15 years old, tied for 17th in '19. Tied with the Californian this year at one under is Ingrid Lindblad, a 20-year-old Swede in her first ANWA.
The other returners three strokes or closer to the lead: Kim, and Arizona State teammates Olivia Mehaffey (Northern Ireland) and Linn Grant (Sweden).
Two years ago, Jennifer Kupcho claimed victory by shooting a five-under 67 in the final round. With windy conditions that have dried out the course considerably after Wednesday's rain, the players are expecting an extremely difficult challenge on Saturday—one that might be a war of attrition rather than encouraging any dramatic charges.
Those who already took this test in 2019 feel like they have an edge. Like Kim, they're still enamored of the setting, but less awestruck by the task ahead.
"I've been to Augusta before," Mehaffey said, "and it's incredible, and I had that on every single hole [in 2019]—'This is incredible.' Today, I was more focused on my golf, preparing what to expect, where to be, some of the putts. I think having that experience allows you to kind of focus a little bit more on the golf course and where you want to be [Saturday]."