Takeaways
A different kind of 'mad' for Tyrrell Hatton, Scheffler stumbles late and the home-game narrative we all overlooked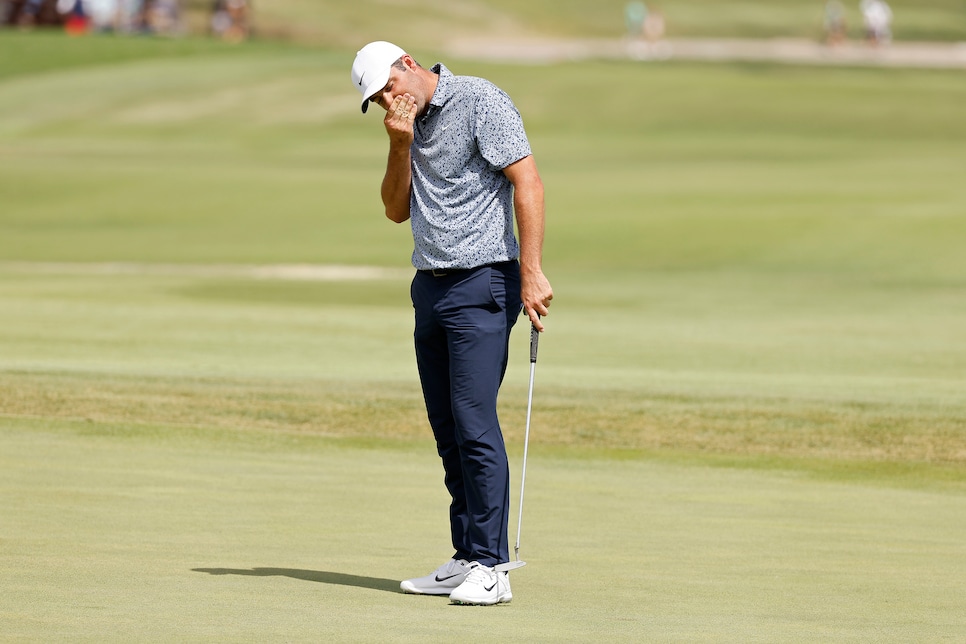 The shot that summed up Scottie Scheffler's entire third round of the AT&T Byron Nelson came at the par-5 18th at TPC Craig Ranch, which is the type of hole where par feels like bogey and bogey feels like triple bogey for PGA Tour-level players. Up to the point Scheffler arrived at the tee, only three players had bogeyed it all day.
Scheffler, who began the day at 14 under, was only one under on his round, though despite not taking it deep he was still just one off the lead. After finding a fairway bunker with his drive, the World No. 2 faced a staightforward 8-iron layup shot, the kind you don't really think twice about as a player of his caliber. When it hit the lip and came rolling back toward his feet, it was like watching a Michelin-starred chef screw up scrambled eggs.
"I just thinned it," Scheffler said. "I wasn't even thinking about the lip, I just hit a terrible shot. Then the next one settled into—when it hits the lip like that, it kind of spins into a hole, and I didn't have much of a chance after that."
The stunning mishap led to a bogey-six on the easy par 5, dropping Scheffler back to 14 under and causing him to fall out of the final and penultimate groups for Sunday's final round. It was a microcosm of a round where not much went right for the 2022 Masters winner, one that began with two bogeys in his first four holes and had him playing catch up from there.
Fortunately, he did catch up enough where the final-hole dropped shot only put him two off the leaders, keeping Scheffler firmly in striking distance. It's a virtual certainty that he'll be better on Sunday, when a victory would secure the No. 1 spot in the Official World Golf Ranking for Scheffler, a spot he most recently held before Jon Rahm won the Masters in April. Win or lose, there's a strong chance Scheffler manages a top-10 finish regardless, which would continue a remarkable run of 13 consecutive finishes of T-12 or better on the PGA Tour. Whatever happens Sunday, it remains Rahm, Scheffler and everybody else right now.
A different kind of 'mad' for Tyrrell Hatton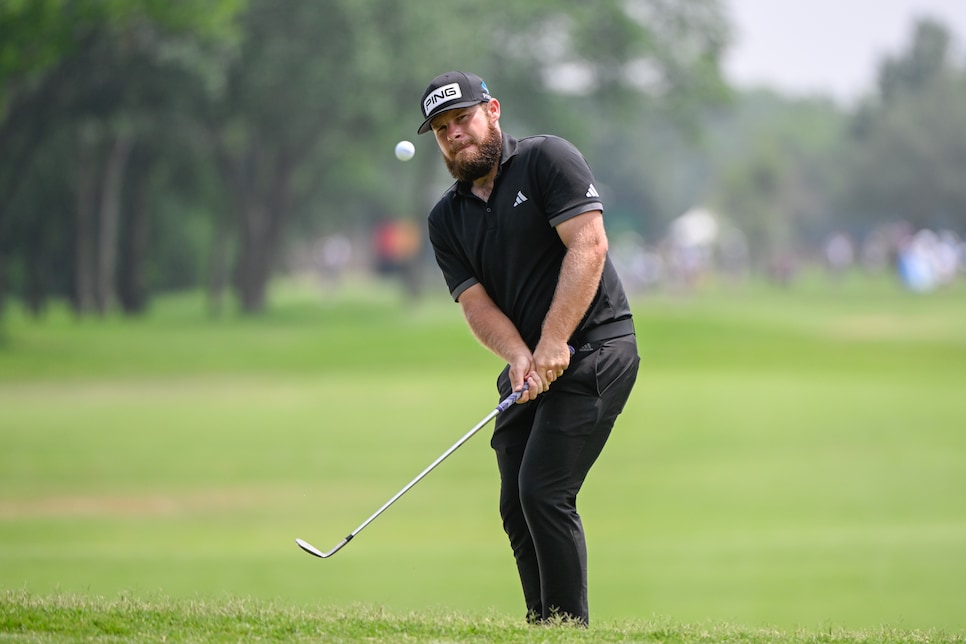 Outside of that time he smiled on 18 at the Players Championship this year, you won't ever catch Tyrrell Hatton in a good mood on the golf course. His demeanor remains the same whether he's six under or six over.
The Englishman was six under on Saturday in Texas, posting a 65 that helped him vault into the top 10 at 13 under heading into the final round. The way he spoke about the round, though, you'd think he shot 73.
"In my head, I thought I was absolutely awful around here today," he said on CBS afterward.
He was anything but, getting around Craig Ranch without making a bogey and gaining 3.382 strokes putting. Therein lies Hatton's issues with how he played—he lost strokes both off-the-tee and on approach, saving himself with a scorching-hot putter. It was, as he called it, mad, but not the kind of mad you're thinking of.
"I mean, it's mad that that was a bogey-free round," Hatton said. "Holed some nice par putts on the front nine. Really didn't feel comfortable with my swing today, which I feel like my last sort of 12 holes yesterday I found something again and hit it really nice. I tried to take that feeling into today, and, yeah, just felt like a bit of a struggle. Holing par putts kind of kept me in it.
"But six-under is quite a flattering score certainly with how it felt for me anyway."
Not to steal every golf dad in America's line, but they don't ask how, just how many. Naturally, Hatton will probably stripe it on Sunday and he won't be able to buy a putt. It's a mad sport.
The home game we didn't know was happening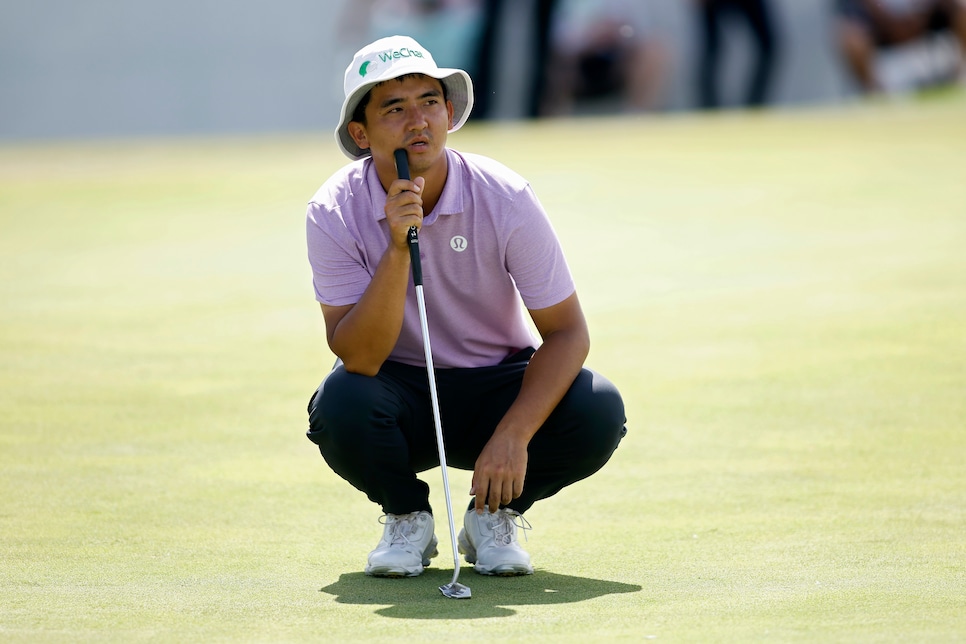 Those of us who bet on this impossible-to-predict sport will use any angle or narrative as to why we bet the guy we did each week. "Home game" and "sleeping in his own bed" is among the most prominent, and rarely, if ever, does that actually lead to picking a winner.
Yet still, we'd all rather bet on the home-game angle and lose then not know about a home-game angle and lose, which just might happen on Sunday with Zecheng "Marty" Dou. Dou, who shot a seven-under 64 to get in the final pairing, lives in Allen, Texas, just a seven-minute drive from TPC Craig Ranch. Oh, right, he's a member at the course, too, having joined when he first moved to the Dallas area six years ago. Boy, would this have been some good information to know this past Wednesday.
"My coach [Cameron McCormick], he's in Dallas," Dou said when asked why he picked Allen as his residence. "Then the city is major because playing on the Korn Ferry back then it was easy travel everywhere and it has direct flights to China, which I often go back. There is great Chinese food, so everything kind of fits me here. It's a great city, too. Yeah."
Dou, a three-time winner on the Korn Ferry Tour, has not registered a single top-10 finish in 44 career starts on the PGA Tour. He only has one top-20 finish this season, and it came back at the Butterfield Bermuda Championship in October. In 13 starts since he's missed seven cuts and has a high finish of T-49. To call this week out of nowhere would be the understatement of the year, but that's what happens when something finally clicks, as Dou explained.
"Swing has been on and off this year, and this week just kind of everything went really good," he said. "I think that could be something, because this is my home course and knowing the fairways and knowing the mistakes that left and right is and off the tee, like I had more confidence hitting that shot. Actually helps my swing to perform."
Will his swing hold up? Nerves will be impossible to avoid with a career-altering win on the line, but Dou has been here countless times on the KFT before, and he's been able to close the deal. Outside of Scheffler and Jason Day, some of the names at the top of this leader board give off a KFT vibe, not to mention the fact you'll need to make a ton of birdies to pull this one out Sunday. This should be right in Dou's wheelhouse.
"I think nerves is the same thing as me playing on the Korn Ferry," he said. "Everybody gets in the lead not that even, and you get into it and you're going to be nervous no matter what. Like I won't be more nervous just because this is PGA Tour and back then it was a Korn Ferry. I think it's just the same thing. Trying to get adjusted the same way I did on the Korn Ferry, and hopefully I can do good out of that."
High school putter working serious magic for Austin Eckroat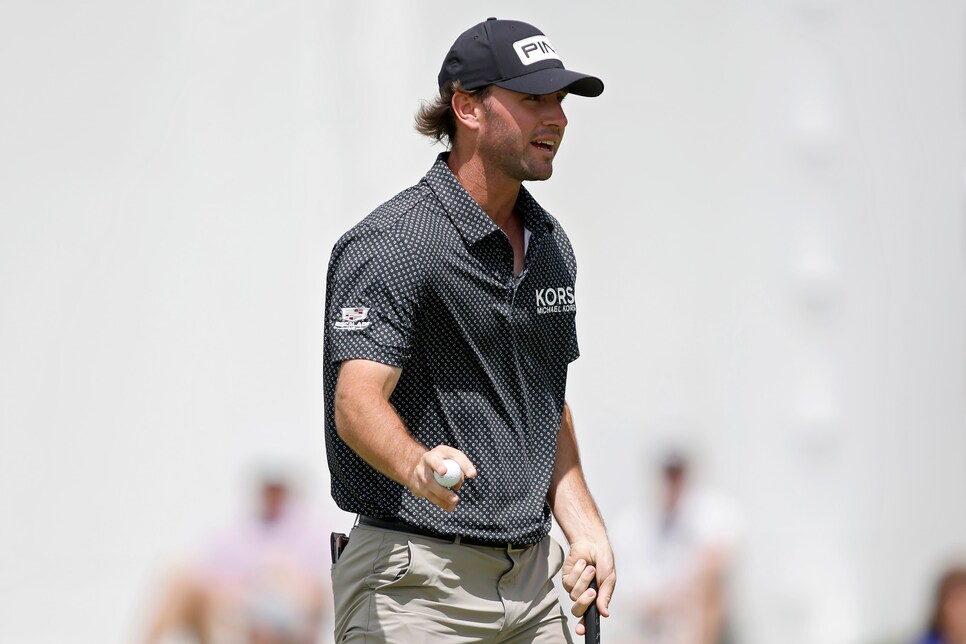 Much like Dou, Austin Eckroat is an up-and-comer from the Korn Ferry Tour who can change his life with a victory at the Byron Nelson. At 16 under, he'll play in the final pairing alongside Dou, and he's well aware of everything on the line.
"It would be awesome," Eckroat said of what a win would mean. "I mean, a lot of job security. I'm outside the top 125 right now in the FedEx Cup. A lot of things come with winning a PGA Tour event, and just hoping to get that done."
A nice added bonus, too, would be a spot in next week's PGA Championship at Oak Hill, which would highlight just how quickly one good week can change everything for a player like Eckroat. The 24-year-old had missed eight of his last 11 cuts entering this week. On Saturday, he shot a career-low 63 to grab a share of the lead.
If it all goes well, Eckroat will have an old friend to thank—his high school putter, which the Oklahoma State alum saw in the garage recently and decided why the hell not.
"You know, I've been tinkering with putters for a while now," he said. "It's kind of been holding me back, the putter has been a little bit. I just grabbed it from the garage when I stopped home for a day and it looked good, so I thought I would give it a run.
Through three rounds, Eckroat is first in strokes gained/putting. So, yeah, we'd say so.