Takeaways
Monday Qs take advantage, K.H. Lee seeks a repeat and consistency remains key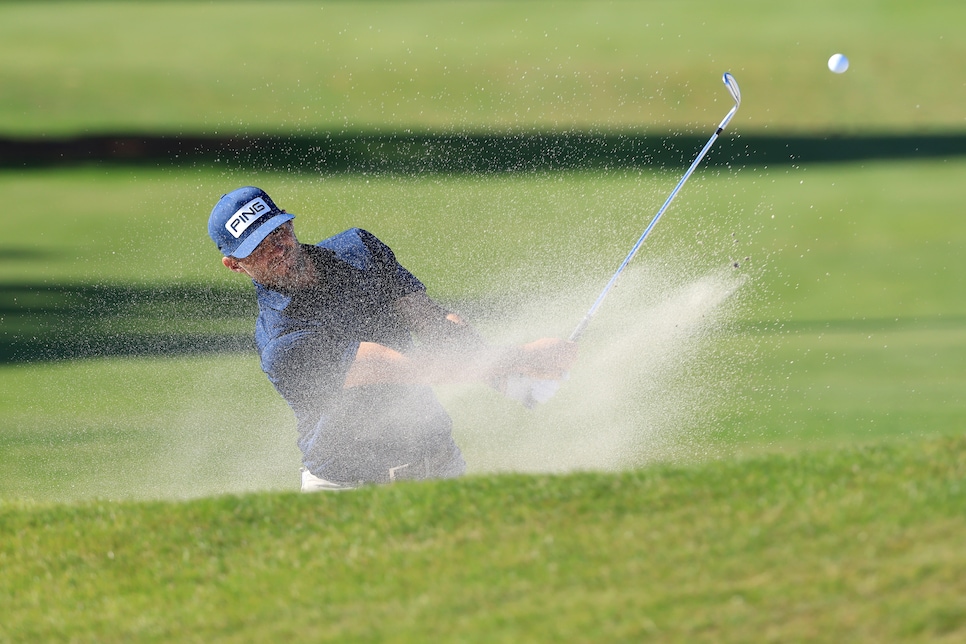 Kyle Wilshire, shown playing a shot during the 2021 RSM Classic.
Sam Greenwood
A wise football coach named Herm Edwards once said "Hello! You play to win the game!" It seems Kyle Wilshire was listening.
Last week, the 29-year-old was playing on the All Pro Tour and earning an $8,000 check for finishing in a tie for second. He had knee surgery in 2018, had a forgettable 2019 and, in 2020, worked for four months as a trash porter. This week, he's tied for fifth on the PGA Tour at the AT&T Byron Nelson, five shots behind Sebastián Muñoz, who shot a 12-under 60 in the opening round.
"I wanted to continue to work on my game, and this was in the evening times, from 6 sometimes to 11 at night," Wilshire said after his round. "It wasn't the most glamorous job, but I wouldn't say it humbled me, but allowed me to work on my game. I did it for four months. It kept me in good shape and I just think it made me a little tougher. Made me just appreciate the opportunity to play."
He could just be happy to be here, playing on the PGA Tour, driving a courtesy car and playing with the best in the world. But you play to win the game. After an opening 65, the former trash porter is very much in contention for what would be a life-changing week.
"I just always hoped I'd get to this level and believed that I could," Wilshire said. "The journey has been a little bit different than a lot of people, but I'm blessed to be here. The opportunity is right in front of me, so I'm excited."
This is just the third career PGA Tour start for the former University of Central Florida Knight, who finished T-62 and missed the cut in his other two starts. Wilshire has no status on any major tour and has been playing Monday qualifiers and mini-tour events to try to pay the bills. The No. 1,616 player in the Official World Golf Ranking is one good Friday round away from guaranteeing his first weekend on the PGA Tour.
And he's not the only Monday qualifier taking advantage of his opportunity this week. Conrad Shindler, who advanced out of the same four-for-three playoff as Wilshire, also came out hot, dropping a five-under 67 on Thursday morning.
The Korn Ferry Tour pro has one professional win, at the 2017 Rex Hospital Open on the then-Web.com Tour. He played the 2018 season on the PGA Tour, but made only nine of 20 cuts before returning to the Web.com Tour in 2019.
First place wins $1,638,000 this week, guys. No pressure.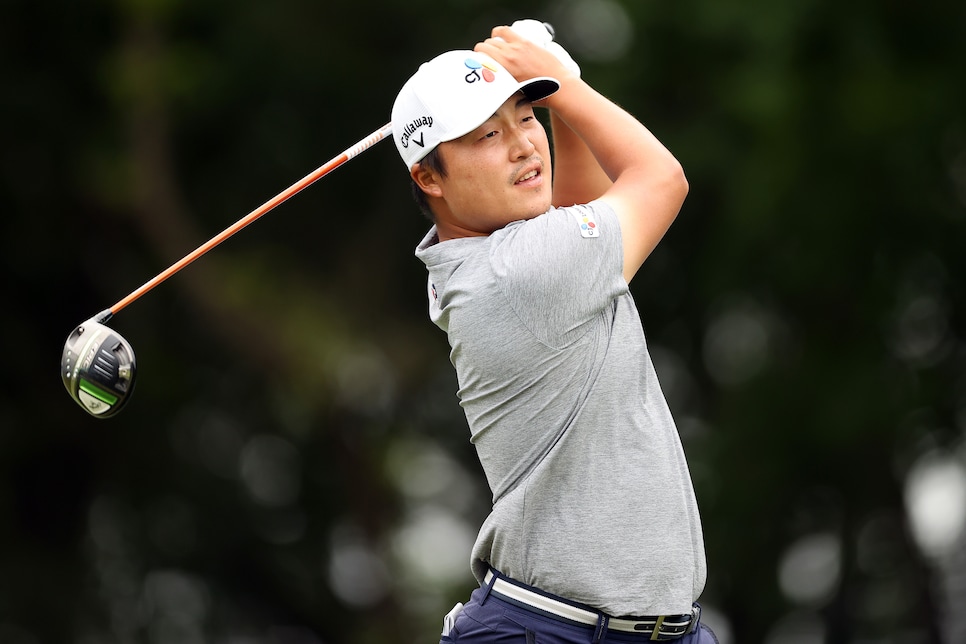 K.H. Lee hits his tee shot on the 2nd hole during the final round of the 2021 AT&T Byron Nelson.
Matthew Stockman
Sometimes a course just fits a guy's playing style. So far, K.H. Lee is batting 1.000 at TPC Craig Ranch. The 30-year-old from South Korea grabbed his first PGA Tour win at this course last year. After a first-round eight-under 64, Lee looks more than capable of going two-for-two.
It hasn't always been played here, but the Byron Nelson has a history of producing multiple winners. Five players have won the tournament more than once, including some of the best to ever tee it up.
Tom Watson won four times (1975, 1978, 1979, 1980), three of Sam Snead's record 82 wins came in this tournament (1945, 1957, 1958), while Jack Nicklaus (1970, 1971), Bruce Lietzke (1981, 1988) and Sergio Garcia (2004, 2016) have each won twice. Lee would be the fourth player to win the tournament in consecutive years.
After the first round, Data Golf's predictive model gave Lee the fourth-best odds to win, behind leader Muñoz, World No. 1 Scottie Scheffler (who's seven under) and Mito Pereira, who also shot 64 Thursday.
A second consecutive win would be a boon for Lee, whose win last year was one of just three career top-10s on the PGA Tour.
These guys are good, and whoo baby are they consistent. Watch every player in the field come through one particular hole on any given day and you're bound to see lots of the same shots. Take the short par-4 14th, for example. The hole played just 324 yards on Thursday and almost everybody in the field went for the green, leaving their tee shot just short of the green.
While players often play holes in much the same way their competitors do, we rarely ever see, um … this.
That would be Emiliano Grillo, Bill Haas, and Peter Uihlein's tee shots on the first hole—all within about six inches of each other, some 295 yards from the tee. On the green, sure, we've seen that before. But in a fairway bunker off the tee? Nope. That's a new one.
And just so nobody felt left out, each one of them made a bogey. Talk about camaraderie.
A broadcaster returns to play
Justin Leonard returned to the PGA Tour Thursday, making his first start since the 2017 Valero Texas Open. The 12-time PGA Tour winner will be eligible for the PGA Tour Champions on June 15, his 50th birthday. The 49-year-old, now a part of NBC's broadcast team, last won on the PGA Tour in 2008 at the St. Jude Classic.
Though he now makes his home in Aspen, Colo., Leonard, a Dallas native, is playing close to home this week at TPC Craig Ranch, where he opened with an even-par 72, good for a tie for 107th. The Longhorn's biggest career wins came at the 1997 Open Championship at Royal Troon and the 1998 Players Championship. He's perhaps more famous, though, for his long birdie putt on the 17th hole of the singles session of the 1999 Ryder Cup that all but secured a remarkable comeback for Team USA.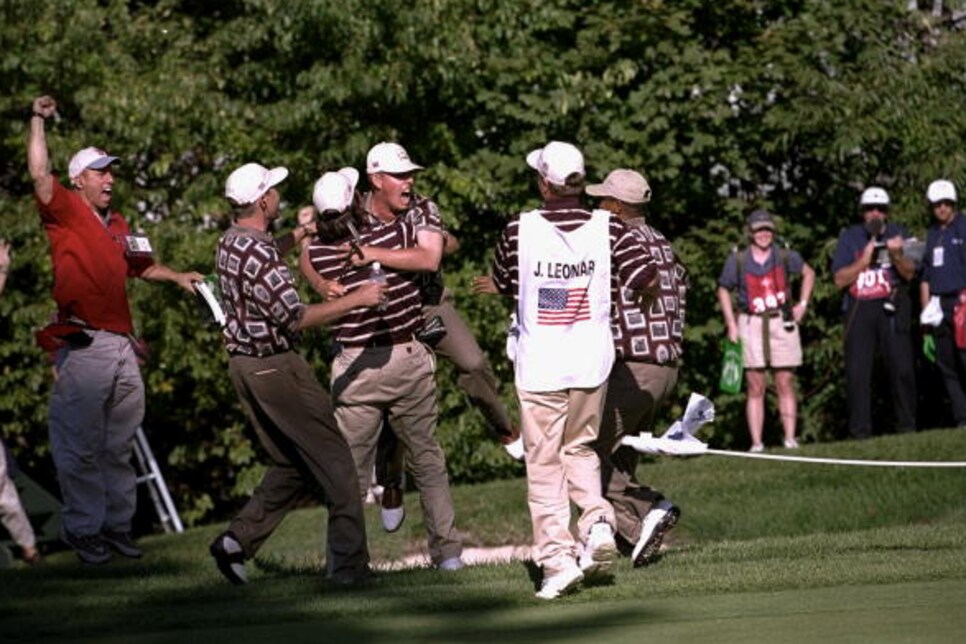 Hopefully his shirts of choice on the senior circuit are a bit easier on the eye than those picture frame threads from '99.