The Loop
Atlanta Braves pitcher gets first career hit—wait, nope, he got thrown out at first by the right fielder
On Monday, a dream came true for Bryse Wilson, when the 20-year-old right-handed pitcher was called up to the big leagues to start for the Atlanta Braves. After pitching 23 games in the minors in 2018, including three for Triple-A Gwinnett, Wilson was thrown into the fire on the road against the Pittsburgh Pirates. It was essentially a must-win for Atlanta, a team that had just lost four straight at home to the Colorado Rockies and now found themselves in a pillow fight for first-place in the NL East with the Philadelphia Phillies, a team also going through a losing streak. Good luck, kid!
Wilson, who became the second-youngest player to make his major league debut this season, delivered and then some, pitching five-innings of shut out ball, striking out five batters and giving up just three hits. The only run of the game came in the first from Atlanta on a Nick Markakis RBI single, eventually giving the Braves, and Wilson, a 1-0 victory, his first in the majors. When asked if he thought he'd be in the show this soon (he's pitched in just 58 games in the minors since 2016), he had this to say:
"Never," said Wilson. "I thought I would move up one step at a time. I never expected this."
In other words, it was a fast-paced Monday for the young hurler, something he got an extra taste of when he stepped to the plate to hit in the top of the fourth. This dream night nearly got even better for Wilson when he ripped a single into right field on a 3-2 count. In his very first MLB start, he appeared to have his first-career MLB hit as well. That was until Pirates right fielder Gregory Polanco decided to spoil the party:
Oh no. That was tough to watch. Of the many cardinal sins of baseball, getting thrown out at first on a base hit to right field may not be the most commonly referred to rule, but that's because of it's rarity. When it does happen though, it feels like the worst of baseball's cardinal sins. Just look at the first-base coach's reaction: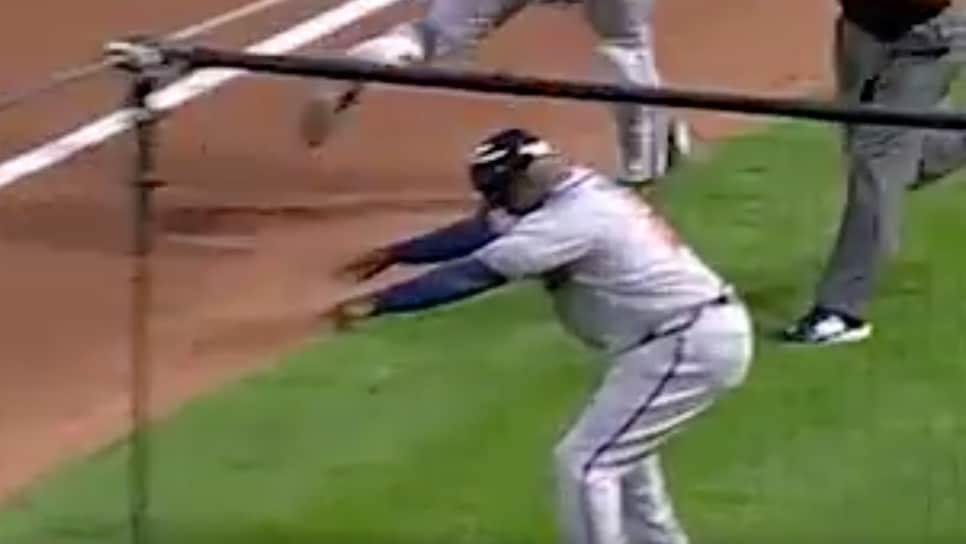 The thing is, Wilson was hustling! It's hard to blame him for getting gunned down by a great outfielder on a hard hit ball. Just check out his EXIT VELO:
Not much else you can do but tip your cap to Polanco there. Don't worry Bryse, if you keep pitching like you did Monday, you'll get another crack at your first hit. Just try and pull one to left field next time.