Editor's Note: This article first appeared in Fire Pit Collective, a Golf Digest content partner.
If Patrick Reed yells, "Let's go!!!" after making a putt but there's nobody there to hear it, did he really yell, "Let's go!!"? Said another way: Do you think LIV players care that so few people are watching them in person? @HeavySvenB
This is the saving grace of the team concept: It forces the players to care because their performance affects others. This is a ridiculous comparison but at the recent Uncle Tony Invitational I grinded my butt off for one reason: I didn't want to let down my partner, one Michael Bamberger. It's human and competitive nature. On LIV, they have a lot more to play for. Money, obviously, but also their professional reputations. You could see how immensely proud and relieved Pat Perez was to come through for his teammates at Doral after having been made into a punchline for most of this season. So I think all the emoting and gesticulating at the season-ending event was genuine, even in the absence of big crowds.
Rome is still a long time away. For Europe, there are five no-brainers: McIlroy, Rahm, Fitzpatrick, Lowry and Hovland. Based on their Cup experience and talent, you gotta figure Hatton and Fleetwood will be on the team barring serious slumps. That leaves five spots, and Power (below) is clearly the most ascendant among these contenders, a list that includes Danny Willett, Alex Noren, Thomas Pieters, Adrian Oteaegui, Bob MacIntyre, Thomas Detry, Jordan Smith and Justin Rose (!). Overall, that's a solid, scrappy crew. The U.S. hasn't won in Europe this century. This Cup will largely be determined by the bottom half of the Euro roster—can they provide enough depth and firepower to compete against a stacked American team? We shall see.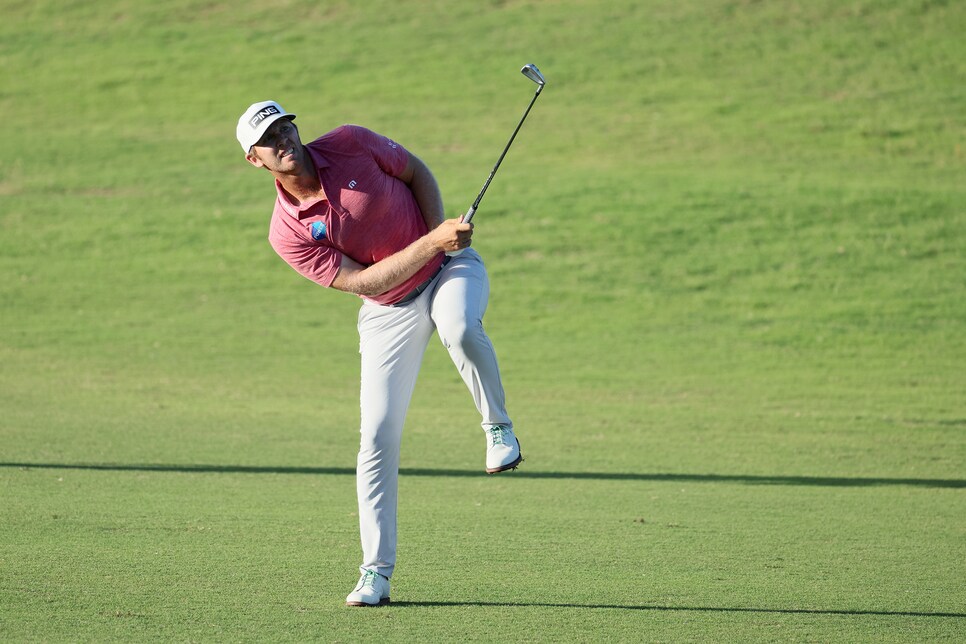 Ooooh, now you have me thinking about all the parallels. In this scenario, the PGA Tour has to be the East Coast—more established, a little bloated, ripe for disruption by a brash new point of view bankrolled by scary motherf***ers.
Jay Monahan is Puffy: an extravagantly-paid figurehead who doesn't realize he has no street cred.
Greg Norman is Suge Knight: vengeful, shady, prone to irresponsible hyperbole.
Rory is Biggie: tons of game and widely beloved but the body of work is incomplete.
Phil is Tupac: a troubled genius whose volatility overshadows his mad skills.
Jon Rahm is Craig Mack: A key piece who keeps a low profile.
Tiger is Dre: pushing all the buttons behind the scenes but also capable of dropping a classic.
JT is Mase: a couple of big hits but riding the coattails of others.
DJ is Snoop: a low-key mega-talent who changes the game.
And Ashley Perez is Faith Evans: always in the middle of everything.
If X [Xander Schauffele] and [Patrick] Cantlay go [to LIV]—will it really make waves? @SusanSSL
Yes, because they were part of the Delaware Two Dozen, so not only would it damage the tour's hold on youngish talent but their defection would serve as a rebuke to the ballyhooed leadership of Tiger and Rory. Signing the reigning Olympic gold medalist has value for international markets, and losing both Schauffele and Cantlay would be a blow to the U.S. Ryder and Presidents Cup teams, which seems to be a focus for LIV. So while neither player is a crossover star, them changing teams would be a big deal in this ongoing personnel battle.
Do you foresee a PGA Tour regression on the horizon? Declining ratings, declining sponsor money, etc? #AskAlan @MichaelSmyth
On this issue, I keep coming back to my hometown event, the Crosby Clambake. It would annually get three stars: Phil, DJ and Jordan. Now two of them have bolted to LIV. That's a bummer for the fans and the title sponsor AT&T, to say nothing of me. I've been hearing about a lot of pushback from sponsors, who are being asked to spend even more on a product that has clearly been diminished. But the PGA Tour is going to have more events next year when all of its top players congregate, and a bunch more when the top guys are almost entirely absent. We'll see how that affects fan interest. This was a wonky season for LIV, with players coming aboard at different times and no TV presence. I don't think we'll be able to truly assess the new landscape until the end of 2023, but I expect PGA Tour ratings will have declined compared to 2021, and that certainly has an impact on what sponsors are willing to spend.
The Fire Pit is offered a media coverage contract to be exclusive to one tour. LIV offers $5M, PGA Tour offers you $2M; which one you taking? @MartinMcSports
Neither, because the whole reason we founded this company was to be independent voices that are beholden to no one. You can't put a price tag on credibility. Or, can we take the money from both? That would keep us neutral but allow for much more luxurious company boondoggles.
Would LIV's TV deal prospects be better with Phil in the booth instead of on the course? #AskAlan @tobythehound
Oooh, this is the best idea I've heard in a while! I've thought for a long time that Mickelson would be a force as a broadcaster—think Johnny Miller with a higher Q rating and sharper needle. Certainly he is an underused asset right now, barely part of LIV's social-media offerings and keeping a low profile with reporters. Putting him alongside Feherty in the booth would be spectacular and Mickelson could certainly provide more value that way than finishing 30th at every tournament.
With the majors looking like they will allow LIV players, a few more prominent signings around the corner, and an imminent media deal next season (whether paid for or not), what's Monahan's next move? #AskAlan @kylelabat
He needs to shore up the talent pipeline. With LIV's massive investment in the Asian Tour/International Series, those purse are going to be double and triple what is offered on the Korn Ferry Tour. For young players fighting for an opportunity, Asia/LIV is going to be increasingly attractive. Monahan needs to pump money into the KFT so it remains viable. Siphoning this dough from the Champions Tour would be the easiest way to do it. Along with Fred Couples, Mickelson was the biggest star on the Champions Tour but he's now a goner. And Freddy is 63 with a bad back, so who knows how much longer he can keep producing. Tiger is increasingly doubtful to ever tee up with the seniors. Lee Westwood and Ian Poulter would have added big names and personalities in the coming years but they have forsaken the opportunity. It should be much more important to the Tour to nurture the next generation of stars rather than subsidize the Seniors.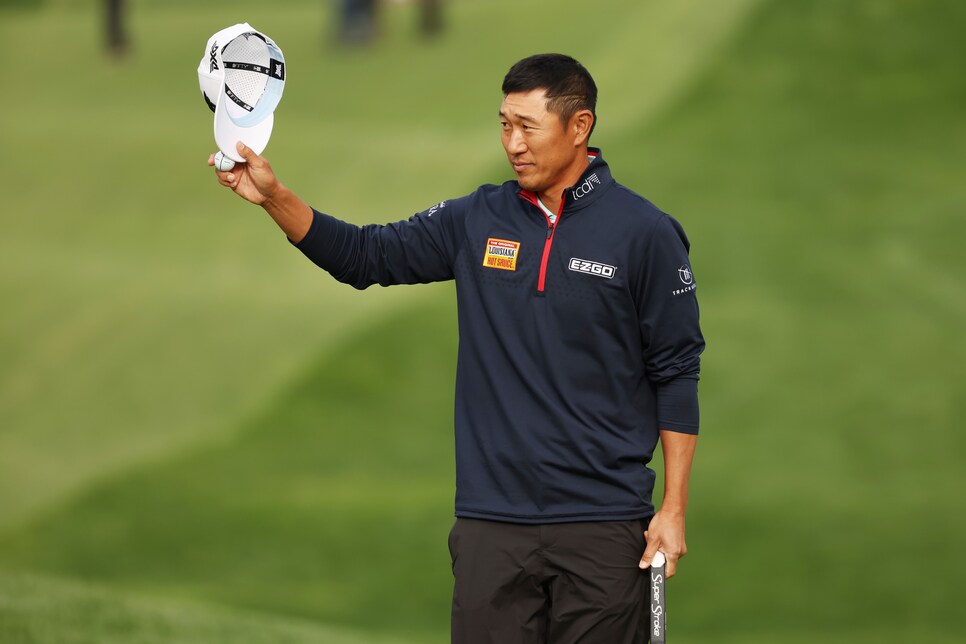 I'm still thinking of the lack of sentimentality by James Hahn (above) when he appeared on your podcast. Is this the feeling of a majority of players? Maybe this is how veteran players think about the PGA Tour? #AskAlan @david_troyan
Professional golfers, by definition, play golf for money. Maybe a dozen or two are truly concerned about history/legacy. Other than the four major championships, most weeks for most players are the same: a chance to make money. There's not much difference to them between a LIV event in Boston or the Greater Hartford Open, except the LIV event has a much smaller field and a much, much bigger purse.
Did you get the hole-in-one ball mounted and where is it on display? @mullaney_matt
I'm working on it! I've got a shelf in my living room with trophies, awards, old press passes and some favorite photos from golf trips, and that's where it will go. Although I am tempted to sweep off all the family photos on the mantle above the fireplace and put it there. I'm sure my kids would understand.