Mutiny
Things were apparently so bad at Arizona State that staffers were leaking intel to opponents to get Herm Edwards fired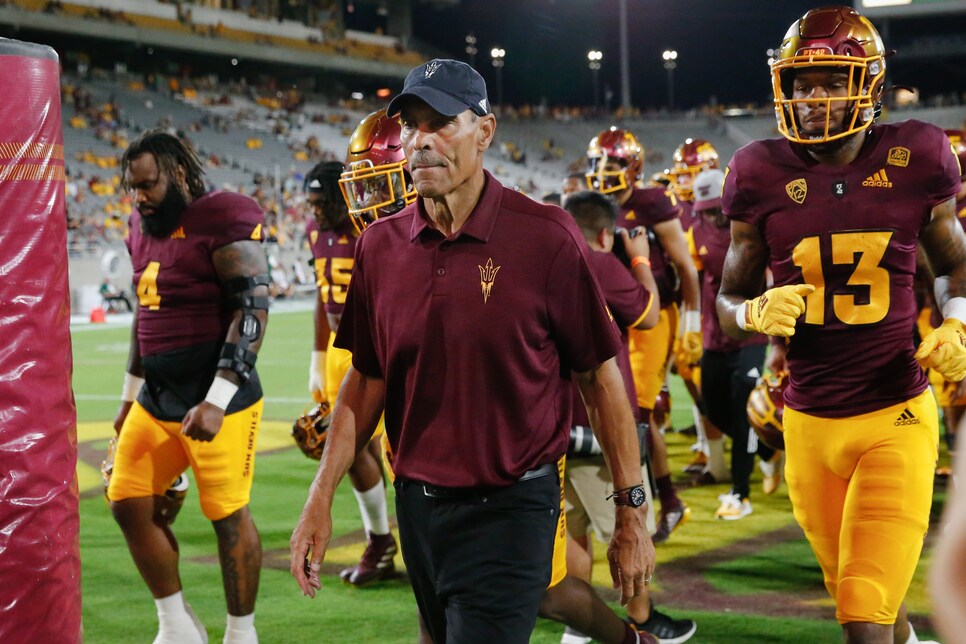 Earlier this week, we poured some out for ol' Herm Edwards—supposedly one of football's few true nice guys—after he was unceremoniously sunsetted at Arizona State. After posting five years of above-.500 football at ASU, Edwards appeared to be fired right on the field following the team's loss to Eastern Michigan on Saturday. 48 hours later, he was spotted flying commercial out of not just the state, but the hearts and minds of Sun Devils fans everywhere. Regardless of how you felt about the hiring and firing, you had to pray for the man that it wasn't economy.
At the time we called this "the saddest scene imaginable," but we are now here to admit that we were wrong. This week, The Athletic's Doug Haller published a deep dive into Herm's affable (but ultimately ceremonial) reign at ASU. Within it were several shocking allegations, but none more treacherous or traitorous than this:
"An opposing coach recently told The Athletic that it wasn't hard to get intel on this season's team because some within Arizona State athletics wanted a coaching change."
If you're reading between the lines at a third-grade level, then you already get it: Allegedly members of the ASU football program were leaking information to opponents in order to get Edwards fired faster. There's been no shortage of Brutus-level backstabbings in college football of late (Lincoln Riley, anyone?), but this one, if true, takes the cake.
This all comes against the backdrop of an ongoing NCAA probe into ASU recruiting violations that has already cost the Sun Devils five assistants, including, most notably Edwards' right-hand man, defensive coordinator, chief recruiter, and, according to some, the actual head coach, Antonio Pierce. According to The Athletic, Edwards gave Pierce carte blanche to run the program as he saw fit while Edwards served at its patriarch, a move that backfired when Pierce allegedly set up various recruiting visits during the pandemic dead period in 2020. Pierce fled the program for the NFL in the offseason, leaving Edwards to take the fall for the rest.
Whether or not you feel bad for a man making $3.6 million a year to delegate responsibility is up to you. That said, if Herm getting hung out to dry by his former lieutenant, betrayed to his enemies by his closest confidants, fired on the turf, and sent packing via Spirit Airlines doesn't move the emotional needle for you, you're either a sociopath or an Arizona fan.