Equipment
Arccos stat-tracking sensors now an option on TaylorMade's newest clubs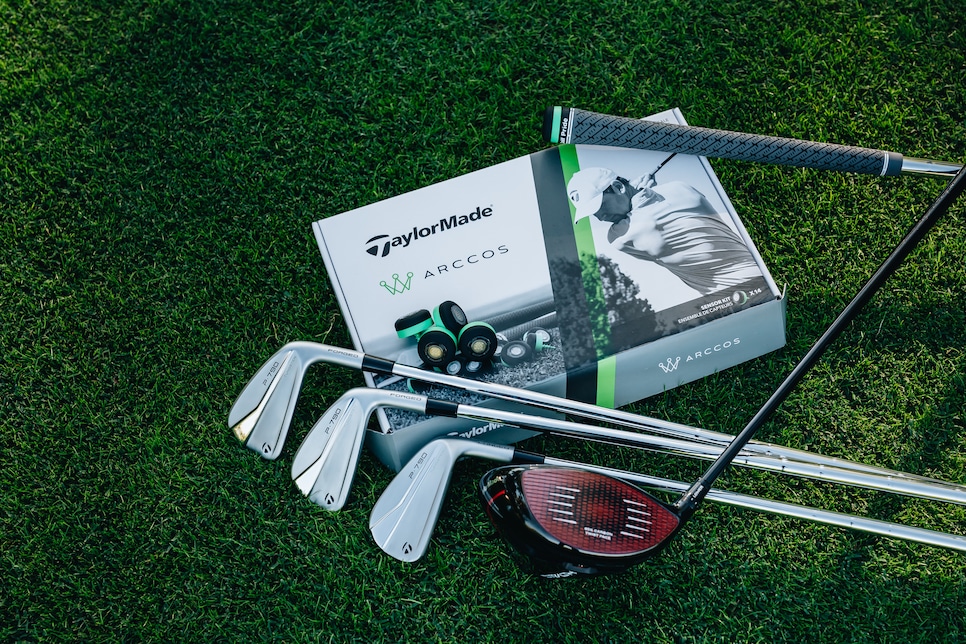 TaylorMade's new commitment to a holistic approach to serving its customers through a revitalized app launched last month got another boost this week when the company joined with Arccos to offer the company's stat-tracking GPS grip sensors free with new club purchases.
Arccos said its users have recorded nine million rounds and 500 million shots with the system while playing courses in 194 countries. In total, the company, which also features a recently enhanced Strokes Gained analytics platform across all major segments of the game, has developed over 35 billion separate data points to help golfers understand and assess their current game and performance goals. Arccos has previously announced similar deals with Cobra and Ping, as well as with leading clubfitting operations Club Champion, Cool Clubs and TXG.
Under the agreement, with the purchase of select TaylorMade clubs or iron sets, including the new Stealth drivers, Stealth irons, and P·790 irons' comes the option to order free Arccos grip sensors and a 45-day free membership to the Arccos platform, Arccos Caddie. After the trial, the standard annual membership fee would apply ($120).
The TaylorMade-Arccos deal could enhance the MyTaylorMade+ app's data tracking features, although that process is still in development.
While Arccos often touts dramatic handicap improvement by users, there is no denying the extensive range of game analytics produced by the company's app and GPS sensors. The app allows players to break down performance and set goals in strokes gained across driving, iron play, short game and putting, while also providing specific yardages for each club, and traditional statistics on fairways and greens hit, sand saves, and putts made. Its Arccos Caddie app includes on-course GPS and an artificial intelligence-driven club and strategy recommendation feature that is geared to each player's current game performance, specific course features and conditions.
"The world's best players, including TaylorMade's staff of major champions, all leverage on-course data and Strokes Gained analysis to determine their strengths and weaknesses," said Sal Syed, Arccos CEO and co-founder. "Arccos's mission is to allow every golfer, anywhere in the world, to take the same approach."
TaylorMade CEO David Abeles said the benefits for Arccos work two ways. "By providing our customers with an incredible opportunity to access the Arccos Caddie platform, we are able to gather data in real-time and deliver unparalleled insights across every facet of their games," he said. "This same data allows us to better understand how our clubs perform on the course, helping us continue to push the limits of technology and create innovative products that deliver higher performance."
Of course, as more average golfers use devices like Arccos, more data is available to show just how average golfers are getting around the golf course. This can be instrumental in how golf courses not only might be maintained but how holes might be renovated. For example, if the company's storehouse of shots show certain areas of the course that almost never see a golf ball, said areas might not have to be maintained as rigorously, thus reducing costs. Even more telling might be data about driving distance for average golfers, an area where the USGA and R&A have fairly limited research yet remain very eager to understand. Included in the annual report on distance is a history of average golfer driving distance over the last few decades, but those numbers are based on about 2,000 drives collected at eight selected clubs in the U.K. Meanwhile, a 2020 study of 26 million Arccos users' drives revealed that distance off the tee for regular Joes and Janes has slightly decreased in recent years. Still, the primary beneficiary of the Arccos sensors is going to be the committed golfer willing to act on what those personal statistics are revealing, said Syed.
"This strategic partnership with TaylorMade now provides millions of players with the opportunity to automatically track their shots and use our personalized Strokes Gained analysis to unlock their true potential," he said.