Augusta
At only 14, youngest player in ANWA is ready for a bow on her biggest stage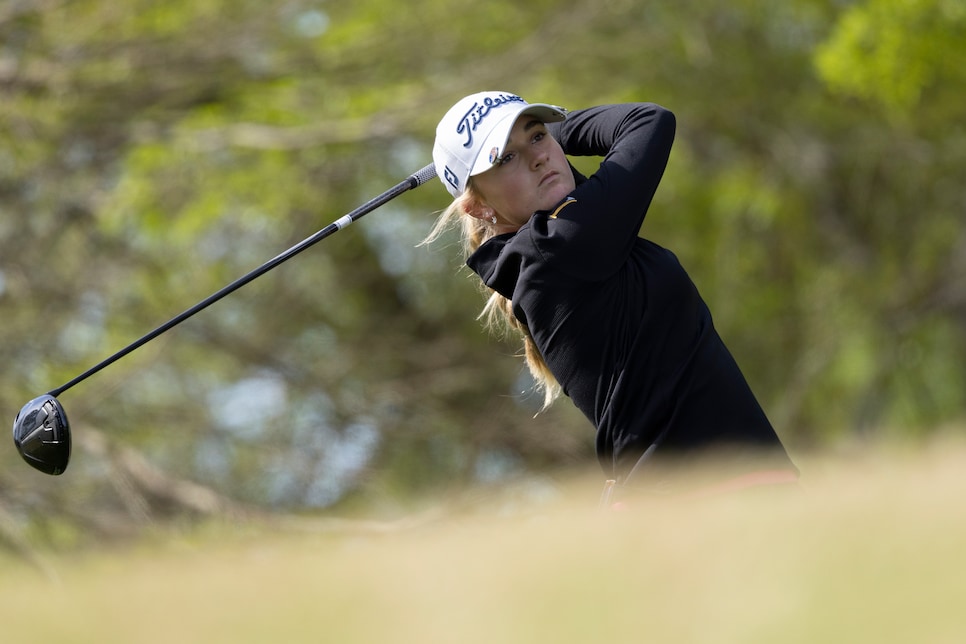 Gianna Clemente local qualified for three LPGA events last season.
Chris Trotman
AUGUSTA, Ga — It says a lot about 14-year-old Gianna Clemente that when she finished her Augusta National Women's Amateur practice round on Friday, she was nearly stricken with writer's cramp. She didn't simply take in the grandeur in her first-ever tour of the Masters course, but jotted down every tidbit she could from the local caddie who was at her disposal in prepartion for Saturday's final round.
"I got a little overwhelmed on the back nine today; it was a lot of information," Clemente said with a laugh. "But I tried to write down as much as I could and take in as much as I could."
That attention to detail says a lot about why Clemente is the youngest among the 31 players remaining from an original ANWA field of 72 of the best women amateurs in the world. And why she is not only present, but in the hunt for at least a top-10 finish, heading into an expected stormy Saturday tied for ninth at one under par. Clemente and everyone else are chasing leader Rose Zhang, who stands at 13 under.
Zhang is the prohibitive favorite to become the third straight teenager to win the ANWA, while Clemente will introduce herself to a worldwide TV audience as another precocious player in waiting. The Floridian appeared in the Drive, Chip & Putt National Finals at 9 years old and two years later she qualified for the U.S. Women's Amateur. Clemente reached the finals of last year's U.S. Girls' Junior, and then pulled off an extraordinary run of local qualifying into three consecutive LPGA events. She headed into Augusta by finishing T-16 in the pro Epson Tour's season opener.
She has a stage presence beyond her years, speaking easily with the media on several occasions, answering various questions, esoteric or otherwise, with aplomb. Clemente's expression became bright after Thursday's second round at Champions Retreat when someone inquired about her mom getting tickets for her birthday to an upcoming Taylor Swift concert in Tampa.
"Yeah, I think she had trouble hiding it," Clemente said. "It was a good surprise."
To which the follow-up was, "More excited for Taylor Swift or Saturday?"
"Saturday," she said with a grin. "Not even close."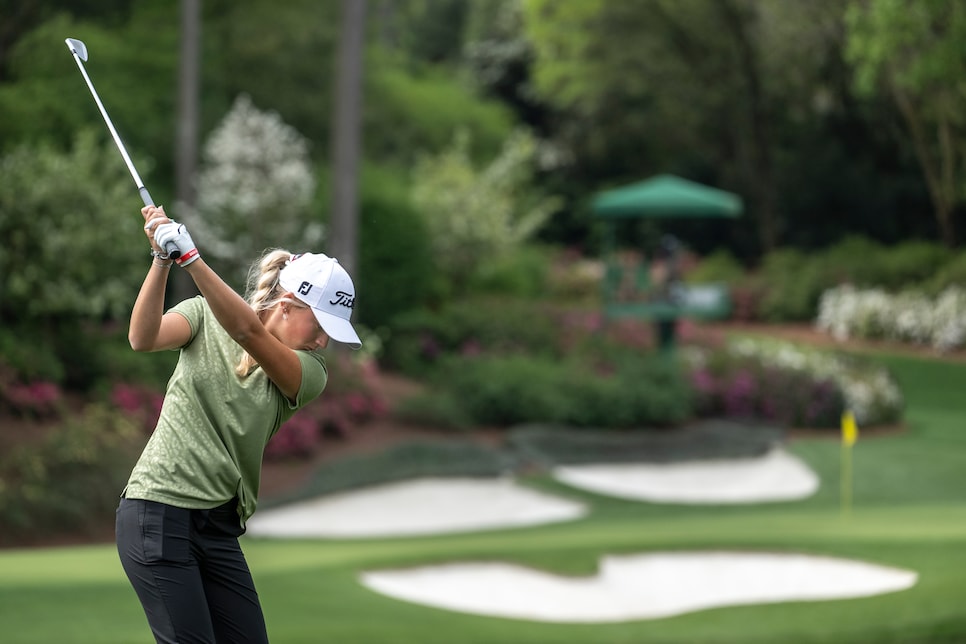 Gianna Clemente hits her tee shot on Augusta National's 12th hole during her practice round for the ANWA.
Charles Laberge
Clemente said she's a lifelong viewer of the Masters and has been focused on competing in the ANWA since watching Jennifer Kupcho outduel Maria Fassi in the inaugural year of 2019. Reaching the tournament is difficult for a junior player, she noted, because of the World Amateur Golf Ranking points required. "It was hard," she said. "There were some moments where I was unsure if I was going to make it or not, and that uncertainty is at times very unsettling, and it can be pretty upsetting."
Clemente was a shoo-in this year, with a current WAGR ranking of No. 54 that is buoyed by the LPGA starts and wins in the Ping Invitational and Sally Championship.
On Clemente's bag for many of her biggest tournaments, including the ANWA, is her father, Patrick, who got her started in golf at about the time she could walk and entered her in her first tournament just after she turned 5. They are a tightly woven pair, with Gianna saying her dad is her best friend, while also appreciating what he brings to her mentally and strategically.
"He's really good at calming me down," Gianna said. "He knows me better than any other person does, and he knows exactly what I'm thinking in every single moment, so he knows me really well. Probably a little too well at times."
And no surprise here: Golf is pretty much all they talk about.
"One thousand percent," Gianna said. "We talk about golf in our house 24/7. Me and my dad will just sit down, and even if it's not a golf conversation about me, we'll sit down and talk about anything golf."
After playing in front of decent-sized crowds on the LPGA last year, Clemente is accustomed to spectators, though she'll never have seen a gallery like the one that lines the first hole at Augusta National on Saturday. Past ANWA players have admitted they've essentially blacked out from excitement and pressure. But if any young teen can handle it, it's Clemente, who admits to relishing the spotlight.
"I've always personally loved the people. I love the crowds, love the attention. I love the roars and the cheers," she said. "Yeah, it's definitely going to be different going from [the practice round], no people, to Saturday, a lot. But I expect myself to acclimate to that pretty easily."
There's not much in her golf that's looked hard so far.