Augusta National Women's Amateur
With loads of poise and personality, ANWA leader Rose Zhang is the 'it' player of amateur golf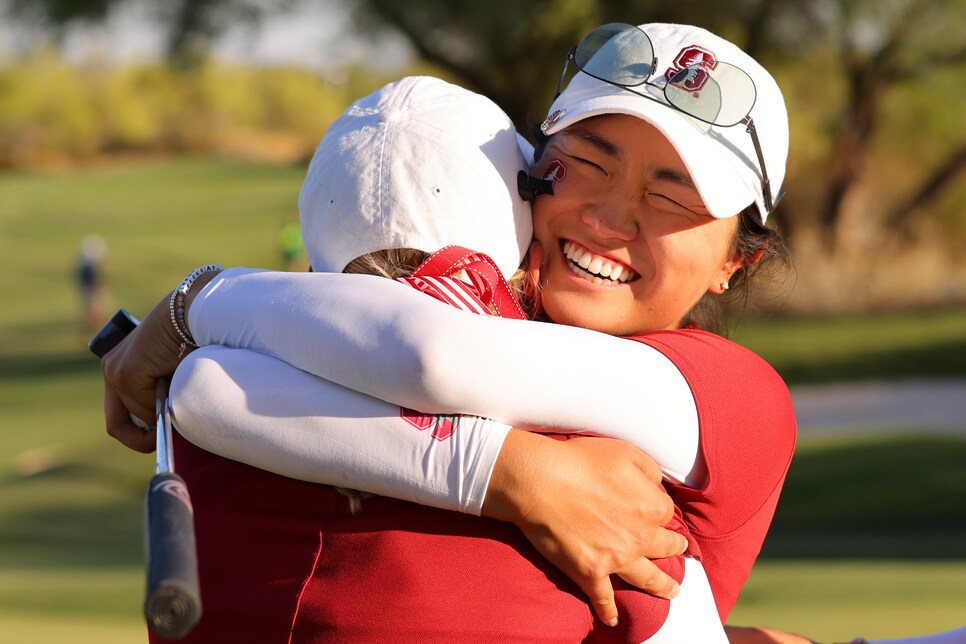 Rose Zhang celebrates with a teammate after Stanford won the NCAA Division I women's golf title in 2022.
C. Morgan Engel
AUGUSTA, Ga. — When it comes to golf, Rose Zhang sheds few tears. At least not in the aftermath of the victories she continues to pile up in a record-breaking amateur career. She was asked this week when she was most demonstrative on the golf course, and after a moment of contemplation, her eyes lit up. "Oh, celebrate? NCAAs!" Zhang said. "This is definitely something I've gotten really hyped about."
Zhang captured the individual title in last year's NCAA Championship, becoming only the 10th freshman to do so, and her Stanford teammates sprayed her with water and engulfed her in genuine hugs of affection. But it wasn't until the Cardinal wrapped up its second team championship—with Zhang making the clinching putt, of course—that she removed her sunglasses and displayed the most emotion you'll see out of her.
"I never really cry, especially of happiness," Zhang said this week at the Augusta National Women's Amateur. "But seeing all my teammates cry, seeing Coach [Ann Walker] cry, everyone is just bawling. It sets the mood right for myself to be crying."
"It was just like a one-tear kind of thing," Zhang said with a smile. "But I still consider it crying."
Hearing that from just about any other golfer, and for those who have not seen Zhang in action, it would probably elicit a cool assessment: She must be a robot.
Emotions aside, Zhang's results would indicate that, too. She has been the most dominating amateur woman golfer on the planet for nearly three years, winning the 2020 U.S. Women's Amateur, 2021 U.S. Girls Junior, and the NCAAs last year. Now the California native is on the verge of earning the quadrilateral in her realm as she heads into Saturday's final round of the ANWA at Augusta National Golf Club with a record five-stroke lead.
Zhang came close here two years ago, sharing the lead after 36 holes, only to suffer a shocking triple bogey on Augusta's famed par-5 13th to fall from contention. But her confidence and poise and shot making are at new heights, and though Zhang got TV time for her U.S. Am victory, playing in the final group on Saturday, on the grounds of the Masters, will be the true introduction for American fans to possibly the next great player to watch for decades.
A robot, however, Zhang is not. Yes, she can be stoic and ultra-focused at times, but she also has a bright smile and demeanor that belies the otherworldly composure she possesses. Her Stanford teammates describe her as having a goofy, almost childlike sense of humor, to which Rose responds, "I'm just not sleeping enough, and I'm just saying the most random things on earth. It's basically incoherent." One teammate painted her as a warm friend to whom you can tell your deepest secrets.
"She does have a personality that is so admirable," said Stanford senior Brooke Seay, 22, who joined Zhang and Megha Ganne in the Cardinal's ANWA contingent this week. "Being humble, being grateful, and being really steady and grounded. I think that's really great for her golf game too.
"That's someone who is just a good role model in life. I think she's the kind of person who you want to break all of the records and someone you can look up to."
Emilia Migliaccio, a fifth-year senior at Wake Forest who was the 2021 ANWA runner-up, said she observed Zhang at a gathering of players earlier this week, and the amateur World No. 1 gravitated toward interacting with the younger people. "She doesn't need to do that, but she does because she knows that it means a lot more," Migliaccio, 23, said. "People aren't asking her questions about golf. They're just enjoying their time with her. So, yeah, when it comes to growing the game, she's kind of the pinnacle of what that is."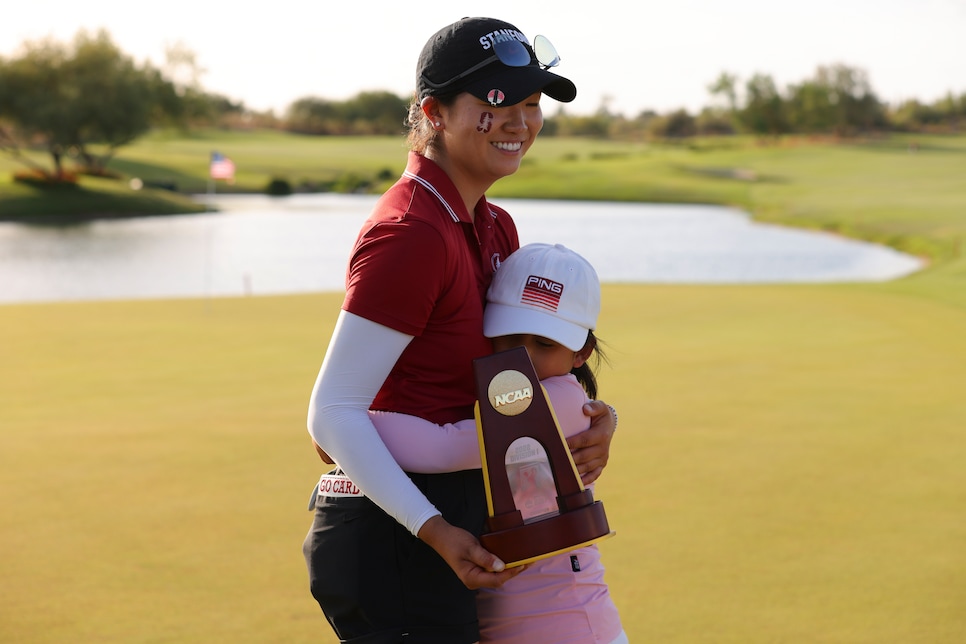 Stanford's Rose Zhang celebrates with a team family member after winning the 2022 NCAA individual title.
C. Morgan Engel
It is not a big stretch to say that for a certain portion of the girls' and women's golf population, Zhang has become their Tiger Woods. Just saying "Rose" brings wide-eyed recognition. Even her competitors speak of giddy and awkward first meetings.
Gianna Clemente, who recently turned 14 and is tied for ninth heading into the ANWA final round, recalled being awed, as a pre-teen, when she got to play an AJGA practice round with Zhang before she left the junior ranks. "She asked me some questions and I probably stuttered a couple times," Clemente said with a laugh.
"I remember stepping on the first tee and saying, 'Oh, my gosh I'm playing with Rose Zhang,' even though it was still a practice round. I was definitely watching her game close and comparing it to mine at the time. I'll never forget that practice round."
Ganne, 19, now Zhang's freshman Stanford teammate, said she was "star struck" the first time she played with Rose, who is only a few months older. "I was so panicked on the first tee box. I kind of had a miracle round, and I somehow ended up in the final group the next day. I was like, 'I'm not supposed to be here. This is where Rose plays.'"
The players know that Zhang's success did not come easily. Growing up in Southern California, she started playing golf at 9, relatively late for juniors these days. But she caught up with an incredible work ethic that led to five-hour practice days that included hitting 200 to 300 balls and sometimes challenging herself to make 100 four-foot putts in a row. Over the years, she has become adept at understanding the slightest changes she needs to make in her swing, which Migliaccio descibes as "elegant."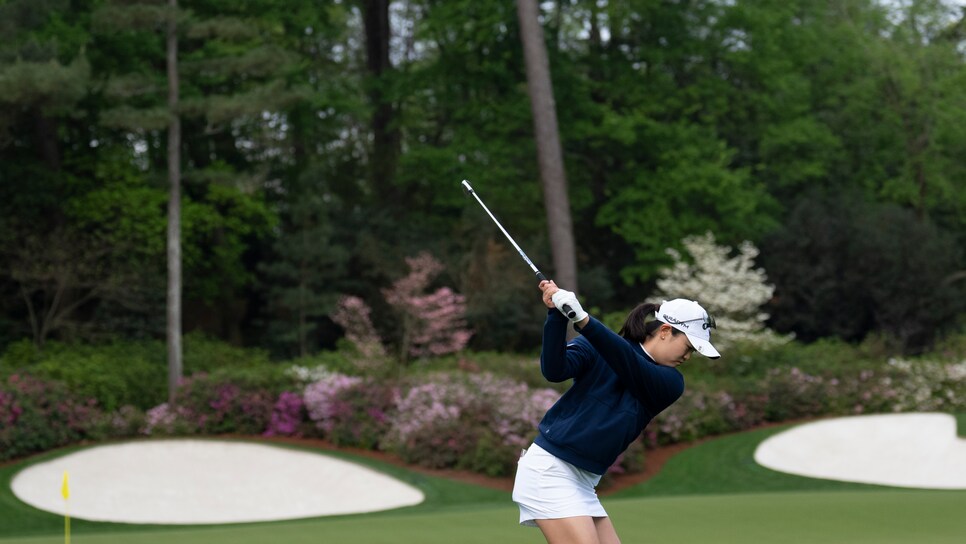 Rose Zhang hits a shot into the 13th green during Friday's practice round ahead of Saturday's final round in the ANWA.
Thomas Lovelock
Seay creatively compares golf to a game of Whac-A-Mole, in which players are always experiencing new issues that pop up and need to be addressed. "There's always something wrong," she said. "You're always trying to get it back. There are too many parts to obviously have it all at once. And she obviously has it all together at one time.
"I think she's really good at dealing with her misses, and narrowing the misses that she has. She has this awareness so quickly about what is wrong, and she can work on it. I think that's really special about her."
A prime example of that came on Friday, when the field of 72 ANWA players got in their practice round at Augusta National. Zhang was among those out earliest, and in front of the media, she said, "feeling pretty good," before quickly adding. "I am spraying my ball a little bit, so I do have to work on that on the range later on."
She was jokingly asked if her "spray" was by a few yards, but Zhang said, "No, I definitely pushed a drive probably 30 yards right, so that's considered spraying for sure. … Then the rest were a little left. … I just want to make sure that I know what I need to do with my swing and at least trust myself so I can get that going tomorrow."
Zhang is clearly more comfortable talking about golf than herself. Her teammates say she waves off compliments, and on Friday she was asked if she's ever able to congratulate herself for her achievements.
"I congratulate myself with food," she said, chuckling, "and I guess I don't necessarily pat myself on the back, because I always feel like there's something that I can work on. So I always just take everyone's compliments and everyone's congratulations as my pat on the back, and then for myself I don't necessarily think I need to do that."
Zhang also admitted this week that she believes she's become a more rounded person outside of golf, and that's translated into not believing the game defines her. But she demures when pressed on how she has changed. After all, she is 19.
"I can't really tell you who I am," she said Friday. "I feel like I'm my authentic self probably all the time. … I'm sure I would like to think everyone around me knows who I actually am, so I don't put up a front too much in terms of who I am or who I want to be or future goals."
Added the most accomplished and respected amateur in the women's game: "I would just say I'm a pretty average girl."