U.S. Women's Open
Annika Sorenstam never thought it'd happen, but she's playing another U.S. Women's Open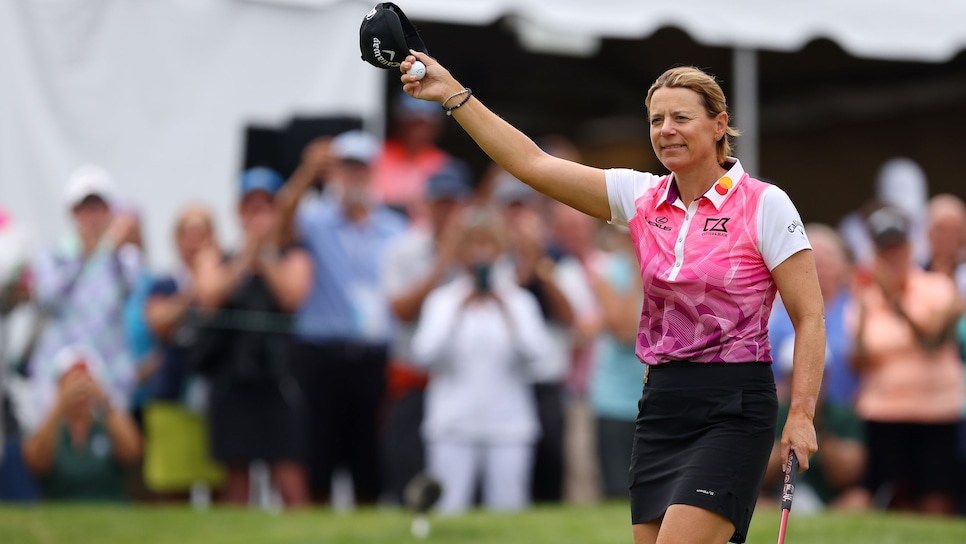 Annika Sorenstam acknowledges the fans after winning the U.S. Senior Women's Open last August. The victory earned her an exemption into this summer's U.S. Women's Open at Pine Needles.
Rich Schultz
A familiar name has joined the field for the 2022 U.S. Women's Open presented by ProMedica. The USGA announced on Thursday that Annika Sorenstam has filed an entry and plans to play at Pine Needles Lodge and Golf Club in June. Sorenstam, 51, has played in 15 U.S. Women's Opens, the last coming in 2008, and has won three times. One of those wins was at Pine Needles Lodge and Golf Club, in 1996. It was a definitive victory: she won by six. Her other two U.S. Women's Open wins were at The Broadmoor in 1995 and Newport Country Club in 2006.
"I'm excited to have the opportunity to play in a U.S. Women's Open again, especially with it being held at Pine Needles," Sorenstam said in a press release. "I really never thought I would play in another one, but everything just sort of fell into place."
Sorenstam won 72 times on the LPGA Tour, 10 of those were major championships, and retired in 2008. Since then, she has been raising her children, Ava and Will, with her husband, Mike McGee, and creating golf opportunities for young women through her Annika Foundation. But she has played a few LPGA Tour events recently. She played the Gainbridge Classic at Lake Nona Golf in 2021, where she made the cut and finished 74th. She's also played as a celebrity in the LPGA's season opener, the Hilton Grand Vacations Tournament of Champions, including last month at Lake Nona. In the Tournament of Champions, the format for the celebrities is a modified stableford. Sorenstam most recently finished second, after a playoff with Derek Lowe. After dipping her toe back into LPGA competition, Sorenstam is excited to compete in a major again.
"Teeing it up in the greatest championship in women's golf, at a venue that has so many incredible memories for me, and to be able to do so with my family means a lot to us," Sorenstam said. "I'm sure Peggy Kirk Bell [World Golf Hall of Fame inductee and longtime Pine Needles owner] is looking down and smiling at how this all came together."
The USGA opened up the entry process for this summer's U.S. Women's Open on Wednesday. Players can apply for entry up until April 6 at 5 p.m. EDT at champs.usga.org. The championship is open to female professionals and amateurs with a Handicap Index not exceeding 2.4.