International Crown
Anna Nordqvist, even at 35, continues representing Sweden admirably in team events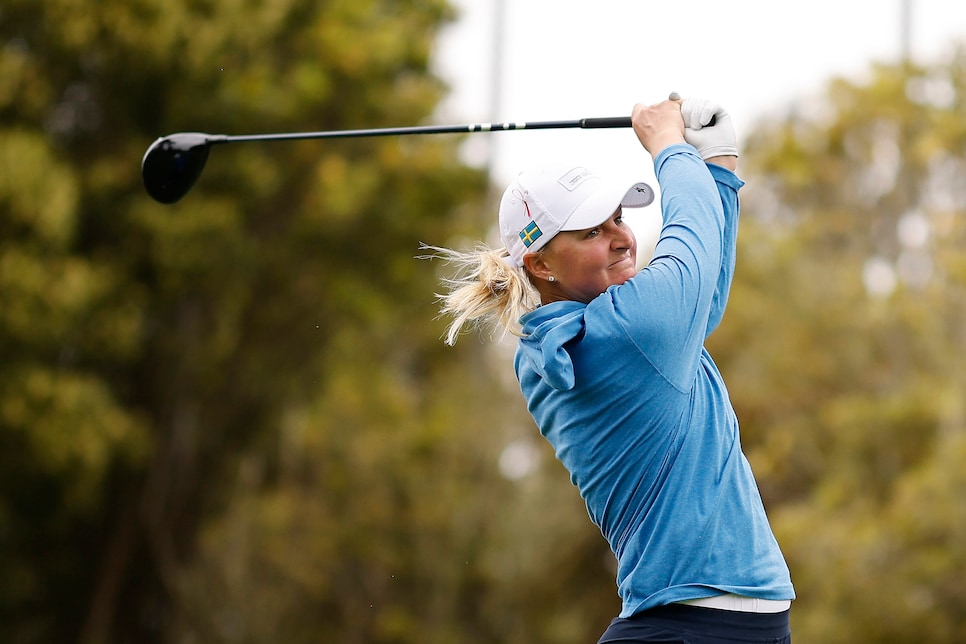 SAN FRANCISCO — Sweden's Anna Nordqvist remains a constant force in an ever-evolving LPGA Tour. The 35-year-old, and the second oldest player in the field behind late-entrant Liz Young of England, delivered her second victory, 2 and 1, alongside Caroline Hedwall at the Hanwha LifePlus International Crown Friday. It marks an impressive 21st career win over 37 matches representing Sweden in the International Crown and Solheim Cups combined, dating to 2009.
"That's one of the things I'm really proud of," Nordqvist said. "You know, I've been out here for a long time, but I still feel like I haven't missed a beat."
Nordqvist now sits at 21-12-4 over her career representing Sweden. Her memories of past Solheims started in 2003 when she attended the Cup at Barsebäck Golf & Country Club in Sweden with her family. Now, she's a vice captain aiming to play in Spain this September in what would be her eighth appearance playing in the event.
The only overlap between her first Solheim team in 2009 and a possible 2023 start are Suzann Pettersen and Laura Davies, but they're serving as captains now.
Nordqvist credits some of her consistency to her extensive match-play experience. She explained that it takes time to understand the strategy of the format and how quickly momentum can change if you make one damaging mistake. That experience is a steadying force this week as Nordqvist navigates recent challenging times.
The Swede missed the first major of her 14-year career at the Chevron Championship two weeks ago. Further, Paul Cormack, her caddie the last four years, notified her last Wednesday that he'd be off to looping on the PGA Tour. Her close friend Mikey Curry is on the bag this week.
"[I'm] going through a little bit of a rough time right now," Nordqvist said. "Maybe it wasn't the best timing, but, it's hard to compete with the guys. Paul's definitely a loss, but I'd had a great time with Mikey."
She'll have teammate Madelene Sagstrom's boyfriend helping out in her next start. That's as far as her caddieing situation is mapped out, as Nordqvist remains searching for a long-term solution. Sorting through the wind and how the ball might fly due to the chilly San Francisco air are challenging enough, let alone with a new caddie on the bag.
However, with Nordqvist making birdie 10 of 32 holes at Harding Park this week, they're gelling quickly.
"He's clubbing me really good and we've been really close on a lot of shots, so he's obviously great at what he's doing," Nordqvist said. "But sometimes that can take a little bit of time adjusting."
Her adaptability to what's in front of her exemplifies Nordqvist's staying power. On the par-5 third, Nordqvist mishit her second shot, a hybrid from the fairway. Instead of negatively reacting, she calmly walked to the side of the rough to chat with Ruixin Liu of China. The two of them met a decade ago at Lake Nona when the China native practiced at Annika Sorentam's academy as a 13-year-old. They chatted about how cold the weather was and the state of Lake Nona. Turning back to play when she got to her ball, Nordqvist stuck her third shot close, setting up her second birdie of the day and Sweden's second win of the match.
Even though the Chinese Liu duo (unrelated) lost to Nordqvist, Ruixin beamed with pride that she could hold her own against one of her childhood idols. While she primarily looked up to Sorenstam, Nordqvist then and now is actively playing and succeeding on tour.
"Her putting is phenomenal," Liu said. "And you know, I think today we lost, but we didn't play bad. They play awesome. But me and Yu Liu, we actually play better than yesterday."
Given that the Chinese pairing took down Lexi Thompson and Danielle Kang, 2 and 1, Thursday, it's an impressive compliment.
With Nordqvist and playing Hedwall's second victory of the week, Sweden booked a spot into the semifinal despite a day of pool play remaining. The three-time major champion over three decades—2009 McDonald's LPGA Championship, 2017 Evian Championship, and 2021 AIG Women's Open—credits her work ethic, allowing her to remain a perennial force in team match-play events.
"[I] really never took anything for granted," she said. "I'm just really fortunate to be able to do this for a living and wake up and kind of be my own boss and determine, you know, it's up to me how much I want to practice, but I've always given it my all."