News
Angela Stanford does the unlikely: beats a stacked leader board to win in Texas at age 43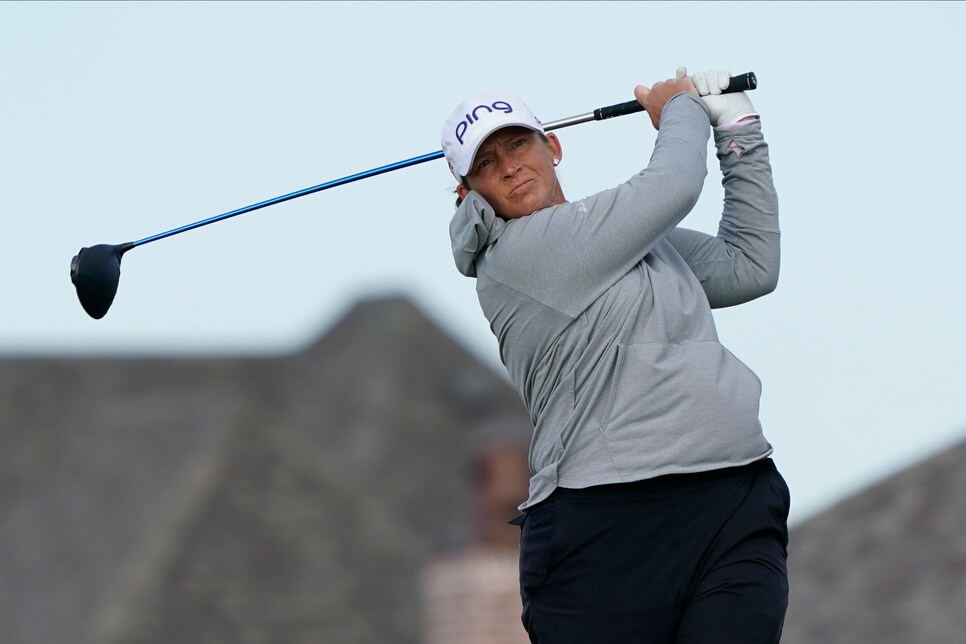 Angela Stanford tees off on the second hole during the final round of the Volunteers of America Classic. Her closing 67 was good enough to win by two strokes.
Chuck Burton
Angela Stanford has been on the LPGA Tour for two decades, but it wasn't until this 20th season, at age 43, that she finally got to win with her parents on site. To make it even sweeter, the win came in their home state of Texas.
Stanford's victory at the Volunteers of America Classic outside of Dallas on Sunday was her seventh career tour title. And she did it holding off a daunting leader board that included Inbee Park (No. 5 in the world), So Yeon Ryu (No. 15) and Jin Young Ko (No. 1). Stanford's seven-under 277 total was good enough for a two-shot victory over Ryu, Park and Yealimi Noh, which felt like it was going to be hers for the majority of the back nine.
While everyone else in contention seemed to struggle to post a low number, Stanford shot a four-under 67, with a stretch on the back nine starting on the 13th that included four birdies in five holes. The rest of the players in the top 10 shot one under or worse on the final round.
How did the 43-year-old conquer Old American Golf Club? In part, because she's a native. Stanford is from Fort Worth, about 45 minutes away. Knowing how to play golf in Texas in December is a skill. All week, players were bundled up in fleece and down jackets, wind chills bringing temps into the 30s. Some said it was the coldest conditions they'd ever played in. Yet having grown up playing golf in Texas, Stanford knew how to handle it—something that will likely serve her next week as well as the U.S. Women's Open is held a few hours south in Houston at Champions Golf Club.
"It was windy, it was cold, and I think growing up in Texas you have to play in a little bit of cold in the off season, so I knew … it was harder than I thought it was going to be this week," Stanford said. "The course played really tough but, it just felt like Texas this week, so I was really comfortable out there."
Playing in the cold isn't just about learning how to swing with a lot of layers on, it's also about commitment to club selection. When it's cold, you're hitting a lot more club than you'd be hitting in July.
"I told my caddie on No. 1, we hit 7-wood into 1 today, I said, It's really hard to commit to a club that you never thought you'd hit into a green. We hit 9-irons and 8-irons and wedges into 1 last year, so I think just being in December and it being cold and the wind coming from a different direction that made it hard," Stanford said.
Stanford also credits a short-game overhaul for her success. Though the veteran won her first major in 2018, the Evian Championship, she struggled in 2019. She missed 10 cuts of the 22 events she played that season, and never finished inside the top 20. It was frustrating.
"After the major, it would have been easy to be satisfied, and I think I was for a little bit. But then there's just something about bad golf. I don't like bad golf," Stanford said.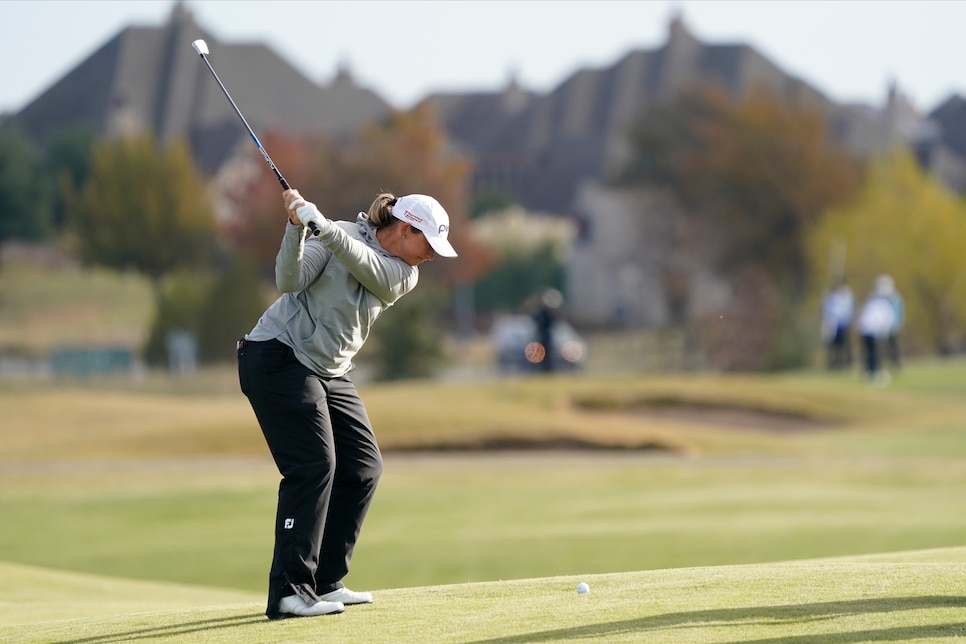 Stanford won for the seventh time in her LPGA career, but the first in which her parents were at the tournament watching.
Chuck Burton
With the help of her coach Todd Kolb, she went to work, admitting that she's spent her entire career relying on good ball-striking, without ever really knowing how to properly hit short game shots.
"I think mechanically I've always been pretty average when it comes to chipping and putting," Stanford said. "My ball-striking has carried me for 20 years. And I think that's why I haven't been more consistent."
She says now, she's starting to understand it. She's learned how to hit the high, soft chip—a shot she didn't know how to really hit before. And they've worked on making sure her hands don't get too far away from her body during the putting stroke. Clearly, the hard work is paying off. Not only did she win in Texas, she's had other good results in 2020: T-3 at the Arkansas Championship and T-6 at the Pelican Women's Championship the start before this week being the highlights.
"I just felt like if I'm getting close to the end of my career, I don't want to leave any stone unturned," Stanford said. "I want to find out, if I chip it the best I can, if I putt it the best I can, if I hit it the best I can, what am I capable of before I'm done."
She'll be an assistant captain to Pat Hurst for Team USA at the Solheim Cup in 2021 along with Michelle Wie West. Stanford has played in the Solheim Cup six times. After this win, many have been prompted to ask, is she going to make it seven? For now, Stanford says she's happy to be in her assistant title, and doesn't want to think that far ahead to the possibility of playing. Instead, she's soaking up this moment where her parents finally got to see her win.
"I couldn't even look over at my mom coming up 18 because I was starting to get teary eyed. I'm like, Just don't look over there, don't look over there. I would have lost it if I would have looked over there again," Stanford said.
Her mom's breast cancer, which was in remission for eight years, returned in 2018 and metastasized in her bones. Though that caused her to miss the win at Evian, she was right there for this one, waiting by the 18th green to hug her daughter, a winner again on the LPGA Tour.