The Loop
An unofficial ranking of the most NSFW GoDaddy commercials ever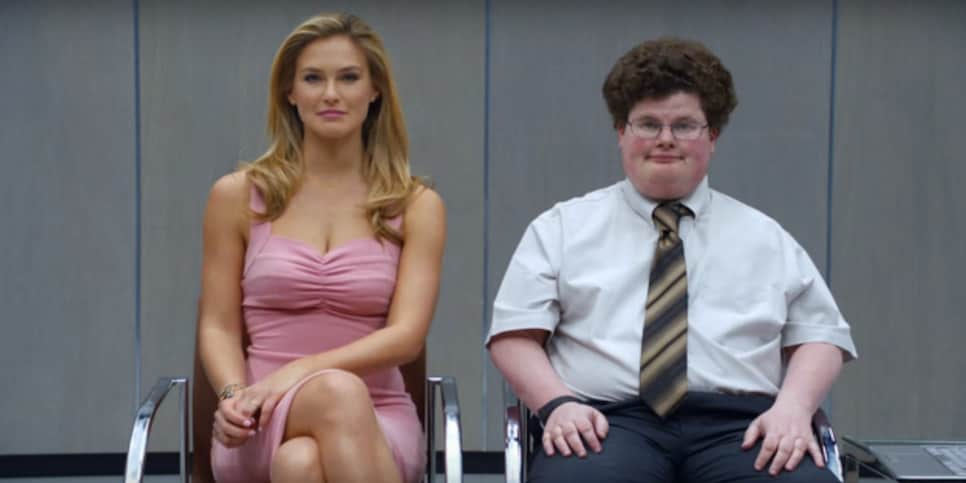 Sex sells. Burgers, cologne, cars, condoms, movies, music, razors, and anything else guys believe will increase their odds of getting laid by a fraction of a decimal point. In the case of GoDaddy.com in the mid-oughts, that anything was [drum roll please] a pre-Wordpress web domain service specifically targeted at the tech world's under-sexed army of early adopters. With the mind of Hugh Hefner and the balls of Larry Flint, GoDaddy thus put together one of the most shameless runs of advertising in American broadcasting history, and that's where we pick up the story—elbows deep in YouTube's gray-ish backwaters as co-workers cast furtive glances at our computer screen from their cubicles.
Our mission? To rank GoDaddy's most immortal commercials on a scale of fire emoji to solar flare. Our advice? Ditch the sweater and don't read the comments. They're fucking terrifying.
Plot Synopsis: A familiar conceit for fans of Bar Refaeli's infamous saliva swap (see below), this one juxtaposes the "outside" of GoDaddy—a gorgeous woman in a white spandex jumpsuit shoving fistfuls of dripping blackberries into her mouth (don't ask, we don't know either)—with the "inside"—a nerdy, bespectacled site developer who has in-depth conversations with his collection of Green Lantern action figures. Subtle? No, but if you're looking for subtle, you must have taken a wrong turn a couple hundred miles back.
Heat Level: Fireball shots
Plot Synopsis: Even by the standards of a GoDaddy commercial—essentially the modern equivalent of a caveman drawing a stick figure on a rock with squirrel blood—this one is pretty simple: Hot chick who inexplicably works at a car wash gives man with abs and a red car a sudsy good time. Whatever you do, however, make sure to wait for the stinger. It's a twist of not-so-Shakespearean proportions.
Heat Level: Sriracha toilet paper
Plot Synopsis: Body paint? Body paint.
DANICA'S DEEP-TISSUE MASSAGE
Heat Level: Swedish sauna
Plot Synopsis: Danica Patrick gets a massage from a female masseuse who begins dancing before falling in the pool while wearing a white t-shit and, yep, all my co-workers are staring at me again.
Plot Synopsis: A riff on the ol' Janet Jackson wardrobe malfunction (back when that was still a thing), this one finds a woman in a courtroom fighting for her right to advertise GoDaddy during the "Big Game" (presumably so she can afford a proper sized tank top for her, uhh, big games).
Heat Level: Arizona in July (but don't worry, it's a dry heat)
Plot Synopsis: A metaphor for the "two sides" of GoDaddy—sexy and (allegedly) smart—in which defunct-supermodel Bar Refaeli graphically makes out with a level 300 iron nerd for what feels like a full minute. Legend has it that this one required 45 takes to get right, so we assume that poor guy probably needed to go sit on an ice pack after this one wrapped.
Heat Level: Snorting ghost peppers
Plot Synopsis: "Now that I'm online, it's like I can make anything happen," boasts this college-age GoDaddy customer to his friends while Danica Patrick disrobes for her "5th shower of the day" on his hilariously outdated desktop screen. Seriously, I'm not making this up (though someone actually had to).
DANICA PATRICK CAUGHT SPEEDING
Plot Synopsis: Danica Patrick gets stopped for speeding along a stretch of abandoned highway by a sexy female cop and…well, come on, you stumbled upon soft-core porn once when you were 13. You know how this ends.