Editor's Note: This article first appeared in Fire Pit Collective, a Golf Digest content partner.
You show me a sportswriter who doesn't, deep down, have a rooting interest and I will show you some dull typing. That's my backdoor way into this admission.
I watched the last Presidents Cup at home, on TV, nobody around. This was in 2019, when the Americans were playing the International team at Royal Melbourne in Australia. I was rooting for Ernie's team over Tiger's team. I mean, at times I was screaming at the TV. That's a litmus test for general intelligence.
Yes, I am proud to be an American. We fly an American flag in front of our kitchen windows, with, now, a Ukrainian one beside it. But I had my reason (singular) to root for the Internationals.
I believe, and I don't know how you could think otherwise, that total fidelity to the rules is the necessary starting point to any serious golf competition. I believe 99 percent of all touring pros, if not more, feel the same way. I believe that Patrick Reed, handpicked by Tiger Woods to be on that American team, had committed a flagrant rules violation one week earlier, at Tiger's charity event, the Hero World Challenge, in Albany, the Bahamas. I believe that Woods, walking a tightrope and with his own rulebook issues in his past, was covering for Reed as the American team left the Bahamas and flew to Royal Melbourne for the Presidents Cup. And I believe that had the Americans lost, and had Reed done nothing to help his team, we would have found out exactly how the American players felt about that debacle in the Bahamas.
I'm not talking about Reed's personality. I have interviewed Reed plenty of times and have always found him to be approachable and engaging. The world of golf, like the world beyond it, has to make room for all sorts of personalities. I am talking about fidelity to the rulebook as a fundamental value of tournament golf. The thing in the Bahamas was not, by any means, Reed's only dustup. His golf was outstanding. But that of course is not enough.
Had the Americans lost that Presidents Cup it would have been like Phil Mickelson on Tom Watson after the U.S. loss at the 2014 Ryder Cup in Scotland. Times 10.
The Internationals led 4-1 after the first day, as Reed and Webb Simpson lost. The Internationals led 6½-3½, as Reed and Simpson lost again, at the end of the second day. The Internationals led 9-5, midday on Saturday, through one session, as Reed and Simpson lost for a third time. Reed's caddie/brother-in-law was benched after an altercation with a spectator.
It all seems so quaint now.
Woods, who is nothing if not stubborn, actually sat both Reed and Simpson for the Saturday afternoon session, when the Americans finally started firing on all cylinders and narrowed the International lead. The score was 10-8 going into Sunday singles.
On Sunday, Reed won. Simpson won. Tiger won. And the U.S. won, 16-14.
To my mind, the best Presidents Cup ever. Except for the outcome.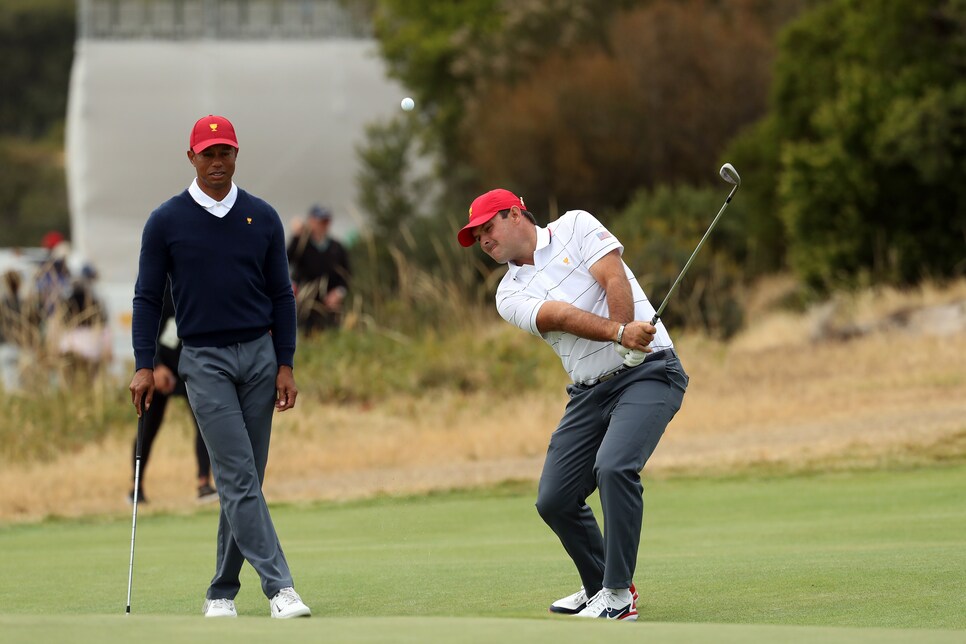 Nobody on the winning team said one thing about Reed. What would be the point? Nike once trotted out this chestnut, on the occasion of Tiger's return to the winner's circle in 2013, after the whole hydrant thing and everything that came after it: Winning takes care of everything. How revolting. I never bought a Nike product again. Of course, the problem with the phrase is that it's true. At least, that's the message of our times. Winning takes care of everything, and I want more. You'll win so much you'll be bored of winning. Blah, blah, blah.
Thirty-three months after the Melbourne event, Patrick Reed showed his sense of loyalty and devotion to his golfing hero, Tiger Woods, staunch defender of the PGA Tour, by signing on with LIV Golf and taking its millions. Patrick Reed can do as he pleases, of course, and he did. I believe the PGA Tour has done a lot more for Patrick Reed than he ever did for it, if something so quaint matters anymore. For one thing, it created and kept a system of Monday qualifiers. Reed played his way on to the tour via the six (six!) Monday qualifiers where he managed to play his way in. That's incredible.
I thought there was a chance, at Tiger's Bahamas event in 2019, that Slugger White, the veteran tour rules official running the show there, would toss Reed from the tournament for improving his lie in a waste area in such a blatant way. There was a small hillock of inconvenient sand behind Reed's ball. Two practice swings later, there was less of one. In every rules dispute or cheating incident, you always have to look at motivation. Reed didn't like his lie and who can blame him? But, you know, it's golf. You play your ball as it lies. That's just basic. By the way, Slugger White is now vice president of rules and competition management for LIV Golf.
As you surely know, Patrick Reed is not on the American team this week, as the Presidents Cup returns to the international golf schedule at Quail Hollow, in Charlotte. Reed's contract with LIV Golf makes him ineligible, per a PGA Tour mandate. Banned, for the same reason but from the International team, are Cam Smith, Marc Leishman, Abraham Ancer, Joaquin Niemann and Louis Oosthuizen. Plus some other names you may actually know, guys who can beat Cameron Young on any given day.
On paper—just on paper—no Presidents Cup has looked more lopsided than the one coming up here. Las Vegas (that's in air quotes because you can gamble anywhere now) says the Americans by 6. Of course, it's golf. Anything can happen and sometimes will.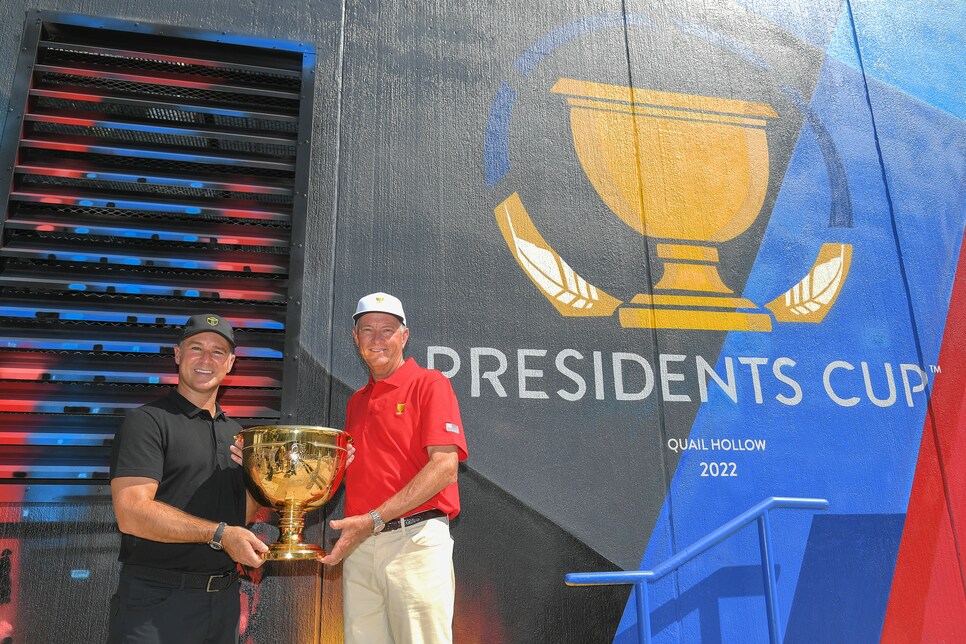 It's stunning, how much golf has changed since that last Presidents Cup, and how the Presidents Cup has changed since that last Presidents Cup. Woods is not playing any sort of formal role in this year's edition. He's not an assistant captain or anything else. But he will be an advisor to the American team, kind of as he was last year, from home, during the Ryder Cup at Whistling Straits. The American lineup cards will get his seal-of-approval before going out to the world.
Any team competition is, of course, about the players in the lineup. And you have to have rules about who can be in a lineup. But I cannot understand, in the name of sporting fairness, why the PGA Tour's ban on LIV players should extend to the International team. I understand that the Presidents Cup is, in a legal and corporate sense, a PGA Tour event. (Viewed in a broader way, it really isn't.) I can understand the tour's ban on LIV players, for the International team, as a political and business decision. But as a sporting one, which is what this whole thing is supposed to be about? No.
The sporting thing would have been to let the International team's leadership decide that question for itself. Just as the European leadership will make a similar decision for Ryder Cup play. Had there been LIV players on the International team, and not on the American team, it would have been very good for business, by the way. For all the wrong reasons, but still. Golf—professional golf—has never been this messy. Not even close.
Anyway, those five International players now with LIV will be missed, because they would have helped make this event competitive. Reed's absence will barely be noted. Dustin Johnson, the affable star of the last Ryder Cup, will definitely be missed.
I laid out this whole odd, mildly depressing scenario for Ernie Elis on Monday afternoon. I say depressing because professional golf looks, I don't know, grubby. I had never thought of professional golf as grubby. I thought of it as cut-throat, polite and fair. Els was at Pebble Beach, for the senior event there, when I reached him by phone. His successor as International captain is the South African golfer Trevor Immelman, winner of the 2008 Masters and now a CBS sports golf commentator. Els has known the Immelman family pretty much all his life. Immelman was his choice to succeed him as captain.
At the 10-minute mark of our conversation, I realized that Els understood everything I was trying to say. Long before the 50-minute mark, I realized he understands everything I have outlined here far better than I do. More than that, Els understands the tender, and almost dangerous, place pro golf is in right now.
There's more money in the professional game, by far, than ever before, at least at the elite level. That's cool, if your main goal in life is to fly private. Ernie's been flying private half his life. (He's 52.) It wasn't a goal. His skill in golf got him on those planes, which took him to first tees all around the world. He played a global schedule, just as Gary Player, Arnold Palmer, Jack Nicklaus, Lee Trevino, Tom Watson, Nick Price, Vijay Singh, Tiger Woods, Phil Mickelson and Rory McIlroy have done. I imagine they all made more money than they know what to do with.
What worries Els now is the state of the Presidents Cup, the state of the game and the state of the world. One solution, of course, is to stand on the range and hit 60-yard shots with sand irons. It's a kind of meditation. But then you clean your club and walk back to your car and the world is still there.
"Who would have thought that you would have a global pandemic, so many people dying, businesses closing, people not going to the office anymore, and the stock market goes up?" Els asked rhetorically. A glimpse into his view of the world: it's upside-down.
Three years ago, Els had something in his hands he could handle—a young, talented Presidents Cup team, playing on one of his favorite courses in the world, Royal Melbourne, a place that rewards smart, crafty golf. Els could teach smart, crafty golf. He could make good two-man teams for better-ball play and alternate-shot play, using his intuition and more than a little science. Late in his career, he was getting another chance to beat a bunch of talented Americans, led by Woods. And then they came, straight from the Bahamas, with all their baggage. Namely, Patrick Reed. "I took Patrick aside and told him it might get a little rough with the Aussie fans," Els said. "I mean, the people in Australia were laughing about it. For the guys on my team, what Reed did, it was almost personal."
It took 26 hours of flying for the American team to travel from the Bahamas to Melbourne. They arrived midday on Monday with the event beginning Thursday morning. "I don't care if you come on the space shuttle, I don't care how comfortable your plane is, you're going to be exhausted after a trip like that," Els said. "My message to my guys was, `They're going to be jet-lagged. Let's take advantage of it.'"
Els made sure the team got all its social obligations done early. From Tuesday on, pretty much, it was all golf. Reed's rules issue was hanging over his play. Would it help it or hurt it? There were other things going on. Bryson DeChambeau was remaking his body. Woods, a playing captain, was beat up. The course was nothing like anything you see on the PGA Tour, and difficult to figure out in a hurry. The American team, except for Woods, was loaded with bashers.
"I told my guys, keep it under the wind, under the trees, we're playing bullet shots, we're flighting the ball," Els said. "We had enough practice days where we made some headway with all that."
The play began. Things were unfolding pretty much as Els had hoped. Tiger's golf was astoundingly good. Only one player was better, Els told me: young Cameron Smith of Australia. But Sunday was Sunday. By Sunday the Americans had settled down and settled in. By Sunday night, the Americans, Pat Reed among them, were in a bus, well-served, and singing "We are the champions." For a while, it was a YouTube clip. "Fortunately, I never saw that," Els said. He and his guys were playing Australian Rules Football at the club on Sunday night. Geoff Ogilvy, one of the assistant captains, pulled a hamstring. "The guy who really impressed me was Adam Hadwin," Els said, referring to the Canadian golfer. "Exceptional athlete and guy."
That's one of the appealing things about Els. You could say the same of Nick Price, Rory McIlroy, Padraig Harrington and a few others. Brandt Snedeker. They're observers. They travel the world and take things in.
Ernie said to me at one point, "Remember that big guy who used to stand behind 15 tee at Augusta every year? I haven't been there in a number of years now, but he was always there. Just a fan, standing there, taking it in. He was in the camera shot, again and again. Last few years, I haven't seen him. Things change. Even the fans at Augusta change. But 72 holes on a good course, that doesn't change."
Els is not, at all, flat-out against LIV Golf and what it represents. He thinks there's a place for 54-hole events with 48 players, a team component, no cut, a shotgun start and music on the tee, with the players playing for big bucks. In October and November and December. It's not, he says, serious golf. It will never be serious golf. But that doesn't mean it can't be a meaningful part of the golf calendar.
"Real cricket is test cricket, it can go on for days, and that's when we find out who are the great cricketers and how good the teams are," Els said. "Other cricket is other cricket, and it's fine, but it's not real cricket. Golf is exactly the same. The majors will always be 72 holes with a cut on the best, hardest courses. That's how you make a mark in the game. That's how you play for history and legacy."
You know why Rory McIlroy and his wife, Erica Stoll, joined Els and his wife, Liezl, for dinner at the Els home in London a few days after this year's Open Championship at St. Andrews? Because they're friends, because Rory had lost, because Els knows what it's like to lose, because Ernie is a good talker and a good listener, too.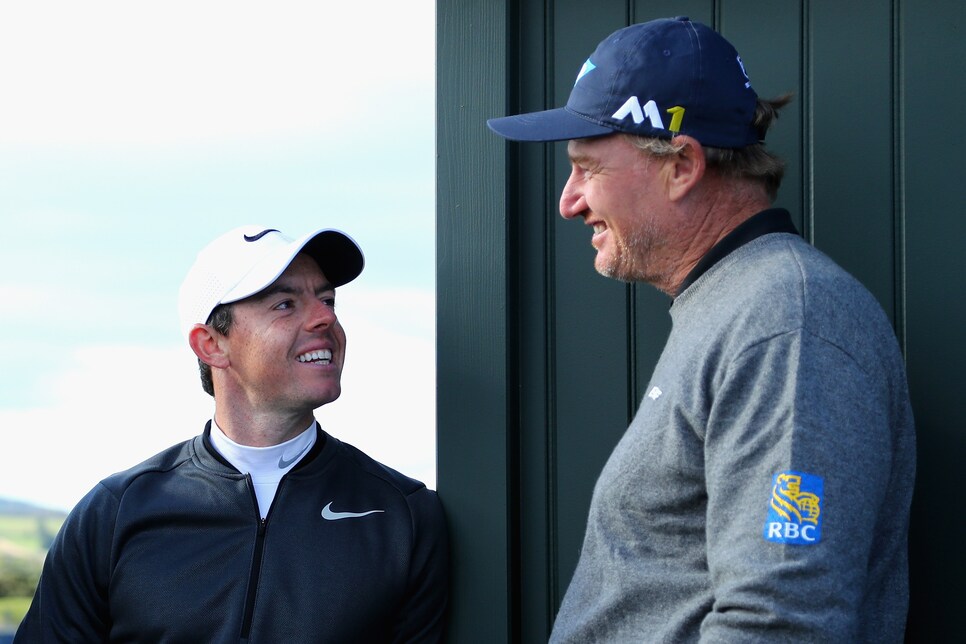 "I told him, `Sometimes you get beat. You didn't do anything wrong. You got beat. Cam Smith shot 30 on the back nine in a major? When does that happen? Gary Player did it. Jack Nicklaus did. I'm sure Tiger did it. Now Cam. But that's got to be about it?'"
I asked Ernie how Rory took his post-game pep talk.
"We'd had a couple of glasses of wine by then," Ernie said. "He was OK."
Els thinks McIlroy will win eight majors before he's done. He has four. He can relate to sportsmen who compete with history in mind, whether it's Rory McIlroy or Roger Federer or A.B. de Villiers (South African cricketer), Laird Hamilton (big-wave surfer) or Michael Schumacher (Formula 1 driver).
He's worried about golf's playing fields. He doesn't think it's right, that the International team could not decide for itself if it wanted the LIV players. He doesn't think it's right, if LIV players can earn World Ranking Points by way of 54-hole events with 48 players to earn their way into golf's greatest and most historic events. Did you see Bryson's signature among the 49 others, in the letter from the LIVsters to Peter Dawson, chairman of the Official World Golf Rankings board? Looks like a machine did it. I don't know why I'm sharing that. Just seems like for something so important, you'd want a more personal touch. Charlie Howell has the most itsy-bitsy signature I've ever seen. Weirdly, Greg Norman's name, image and likeness is not on the five-page letter (most of them filled with signatures) at all.
Els sees an absence of leadership on the global golf stage. Not that there are any easy answers here. But right now, he notes, there's nobody who can get everybody into a room. Three years ago, at Royal Melbourne, Ernie had his own room, filled with players, caddies, assistants, some of them lifelong friends, some of them new people in his life. He was playing for a cup. It was one of the most meaningful events of his life.
"You want to see the joy in their eyes, and you don't want to go down as the losing captain," Ernie told me as we were winding things down. "It still bites at me." But the week did end with an epic game of Australian Rules Football.
Ernie knows what it's like, in his life, to win, lose and draw. He knows that winning does not take care of everything, that losing is part of life, that there is no such thing as free money and that if something sounds too good to be true it is.
He'll be watching the Presidents Cup this week. For one thing, he has a rooting interest. And he likes the stakes. They're playing for a cup.
Michael Bamberger welcomes your comments at Bamberger@firepitcollective.com