The Loop
An all-time Tiger Woods prop bet lock, Phil Mickelson's special "training" for THE MATCH, and golf's revival tour rolls on
Welcome to another edition of The Grind, where we're feeling extra thankful this Turkey Day. You see, before Tiger Woods made Thanksgiving week car crashes all the rage, I had one of my own in 2008 that I celebrated the 10-year anniversary of on Monday. You never heard about it because it predated my arrival at Golf Digest by a few months and wasn't accompanied by an international sex scandal.
A decade after escaping the wreckage (My poor silver Scion TC) and getting hugs from a group of strangers who saw it happen while driving behind me, I'll get to hug a wife and daughter I couldn't have dreamed of at the time. And I'll also get to spend part of my holiday with Woods (sort of) thanks to THE MATCH. What a time to be alive! Literally.
Alright, enough with the sappy stuff. Let's take a look at everything happening in golf, and remember, watch out for fire hydrants.
Charles Howell III: OK, maybe just a little more sap. How could you not have all the FEELS when CH3 dropped the winning putt at the RSM Classic and then dropped to the ground as emotions overcame him: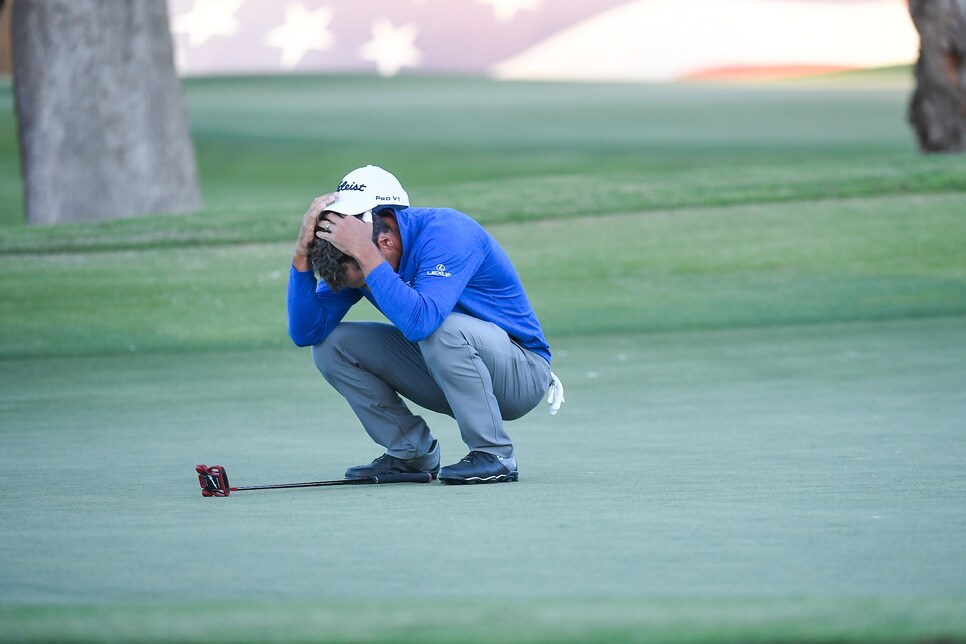 Howell displayed incredible grit and ball-striking on Sunday, but I might be more impressed by that squat hold! After winning, he celebrated his first PGA Tour title in more than 11 years with his wife, Heather (who happens to share my last name so I'm practically part of the family), and his two kids who had never seen dad win. Even Howell's son was crying:
Good stuff. There were an incredible 11 winless droughts of 1,000-plus days that ended on the PGA Tour in 2018, but Chucky Three Sticks takes the cake by finally getting victory No. 3 after a gap of 333 starts. To put that in perspective, Tiger Woods has made 343 starts in his entire PGA Tour career. That's almost as amazing as the fact Howell has amassed more than $37 million in earnings with just three wins. The guy is truly a marvel.
Danny Willett: From Masters champ to total chop to big-time player again, it's been a wild couple years for this Brit. And he offered this wild quote after he captured the Dubai World Championship. "I was in a very, very dark place," Willett said, whose World Ranking dipped to 462nd at one point and was only 276th to start the week. "There was no light coming through the trees. Just a big f---ing stump in front of my ball. I was despising golf, because it was like Groundhog Day, turn up, be in pain and repeat."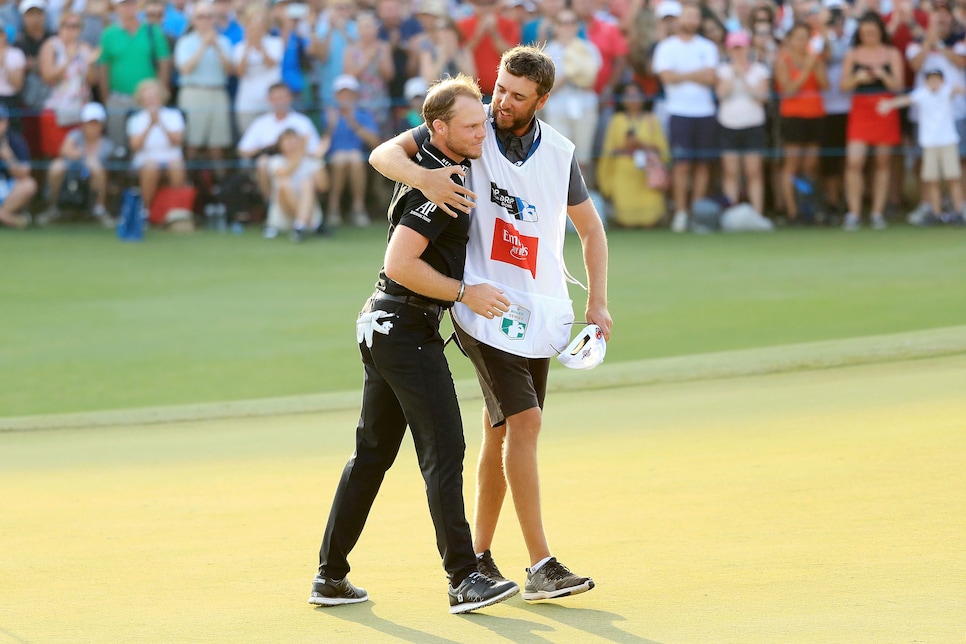 Andrew Redington/Getty Images
Good for you, Danny. And as someone who profited from Willett's Masters win, I'm especially happy for his revival. While we're on the subject, what are his odds for winning at Augusta next year. . .
Lexi Thompson: It's been a roller coaster season for Lexi as well, but after taking a month-long sabbatical to re-charge mentally, along with candidly discussing her struggle with body image and parting ways with her caddie, she finished the year on top by winning the CME Group Tour Championship by four shots. By the way, doesn't it seem like Lexi has been around forever? Well, she's still only 23. We're guessing she wins a lot more than just once in 2019.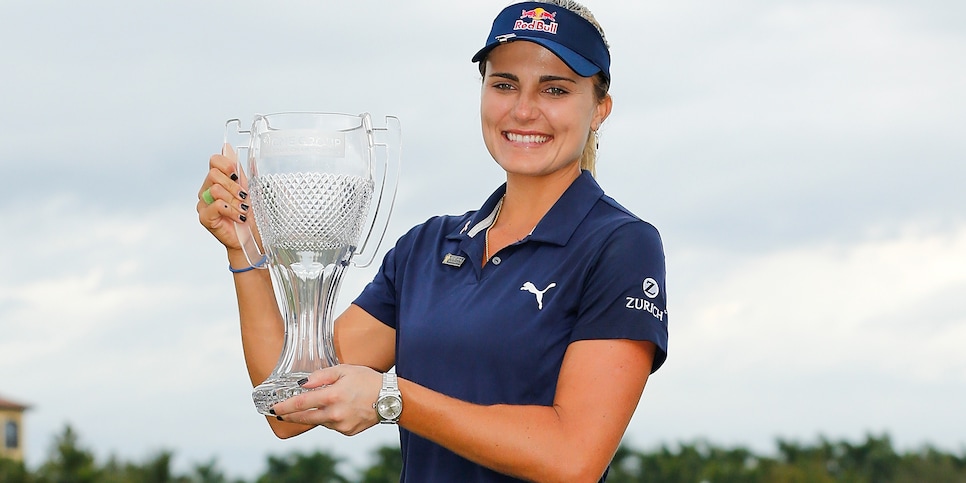 Ariya Jutanugarn and Francesco Molinari: They didn't win their respective tour finales, but they came away with the season-long prizes. In fact, in addition to the $1 million bonus Jutanugarn took home, she swept the major LPGA awards for her dominant campaign. And Molinari added a first Race to Dubai title to an incredible 2018 to make a legit claim to win the Golf Writers Association of America's Player of the Year vote. When you factor in the partisanship from golf writers on both sides of the pond, this one could require a re-count. And if Brooks Koepka doesn't win after claiming two majors, that chip on his shoulder will be the size of the Wanamaker Trophy.
THE MATCH's broadcasting crew: Nothing against guys like Ernie Johnson and Darren Clarke, but I want to hear from Tiger and Phil and only Tiger and Phil. At least, once THE MATCH starts. I can't wait to hear from Charles Barkley on the pre-game show. Look, we were promised something different for $19.95 and I hope the cameras and microphones stay on the two golfers as much as possible. I don't care if there's a lot of awkward silence. In fact, awkward silence sounds awesome. So please, please, Turner Sports, let's let these showmen run the show.
THE MATCH merch: I don't blame a few companies for trying to make a few bucks off this thing with special merchandise, but c'mon, no one is actually buying a red "Team Tiger" shirt specifically to wear during the event. This is a fun exhibition of which the outcome shouldn't matter to anyone other than Tiger, Phil and their agents/accountants. That being said, that Tiger shirt with a goat on it is pretty dope. . .
Snow before Thanksgiving: This happened on November 15?! Are you freaking kidding me?!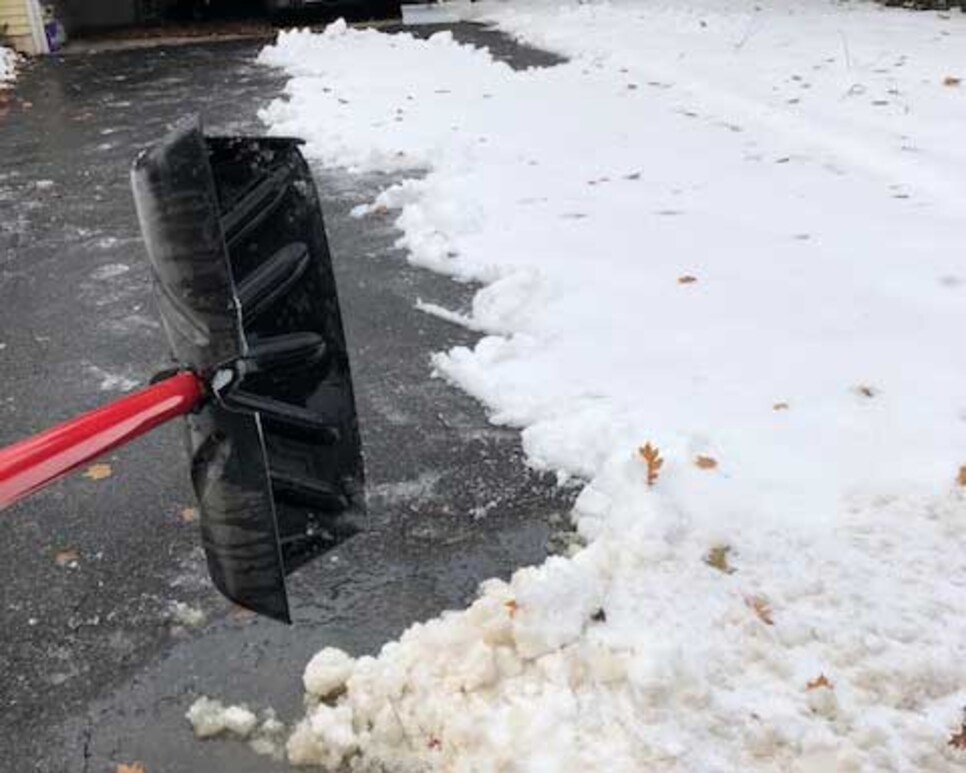 Goodbye, golf season. At least, I got my cardio work in for the day week month. . .
The PGA Tour season has come to a brief respite, unless, of course, you count THE MATCH, which actually appears on the tour's official calendar now. After months of speculation and hype and criticism and more hype and criticism, this $9 million winner-take-all event between Tiger Woods and Phil Mickelson is finally here. Don't let us down, guys.
RANDOM PROP BETS OF THE WEEK
— This is the last THE MATCH involving Tiger and Phil: 9 MILLION-to-1 odds
— Tiger Woods will go over 3.5 club twirls: LOCK (Again, an actual prop bet that is such a lock I might make a special trip to New Jersey just to make a wager. Woods should eclipse this number on just the par 5s.)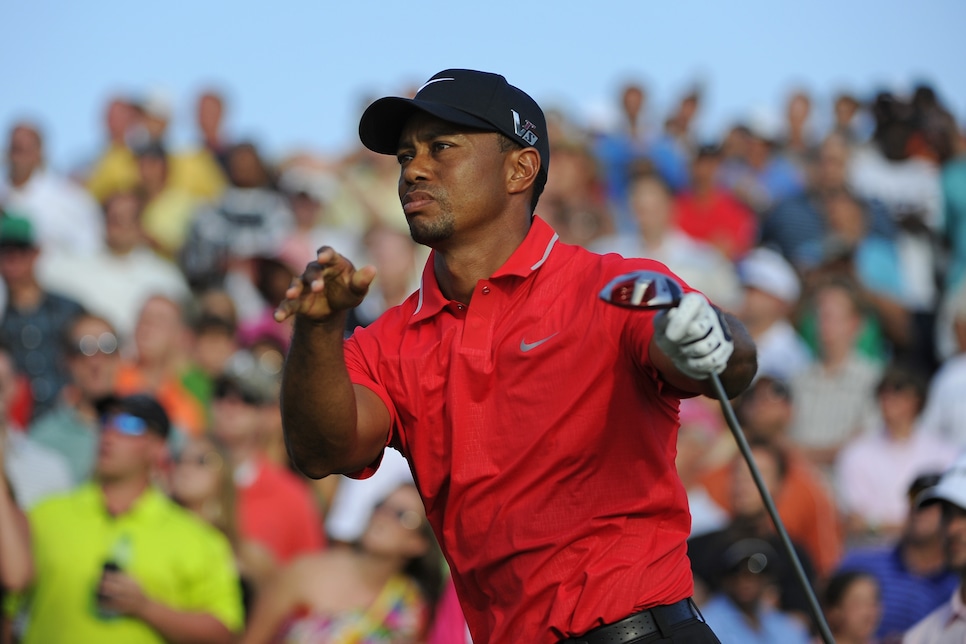 Presenting Phil being Phil. . . being Bryson:
Hey, I'd try anything if I thought it could help me win $9 MILLION. And Phil wasn't done with his prep for THE MATCH:
Please make it phu--ing stop.
VIRAL VIDEO OF THE WEEK (IMPERSONATION DIVISION)
A week after going viral with his incredible impressions of Dustin Johnson and Keegan Bradley, Jack Bartlett is back with appropriately timed Phil Mickelson imitation:
VIRAL VIDEO OF THE WEEK (JIM NANTZ IMPERSONATING JIM NANTZ DIVISION)
The CBS announcer grabbed Maverick McNealy's phone during a practice round at Pebble Beach and the results were fantastic:
Jim Nantz could make my trips to the grocery store sound riveting.
VIRAL VIDEO OF THE WEEK (ARCHIVE DIVISION)
We're not sure how Golf Channel's Brandel Chamblee has all this old footage of Cameron Champ's swing as a kid, but we're not complaining:
By the way, Cameron Champ almost won again. Decent player, huh?
"Well, I've been in Phil's head for 20-something odd years." — Tiger. Woo!
THIS WEEK IN DUSTIN JOHNSON-PAULINA GRETZKY PHIL MICKELSON-AMY MICKELSON PUBLIC DISPLAYS OF AFFECTION
Might as well keep with the whole THE MATCH theme:
Patrick Rodgers shot a PGA Tour record 61-62 over the final 36 holes, but lost that playoff to Howell to remain without a victory. There's no way someone who can do that on the weekend will stay winless forever. . . . The PGA Tour announced its first official event in Japan, the ZOZO Championship, which will take the CIMB Classic's spot in the tour's Asian Swing next fall. It's already an upgrade when it comes to the tournament name. . . . Shubhankar Sharma won the Sir Henry Cotton Award for being the European Tour's Rookie of the Year. The second half of the season was a bit of a struggle, but we are still long on Big Sharma stock. . . . Congrats to Golf Digest/The Loop's Coleman Bentley for not only capturing our office putting green's "Farewell Cup," but for also ending my two-year reign in the Editor's Putter: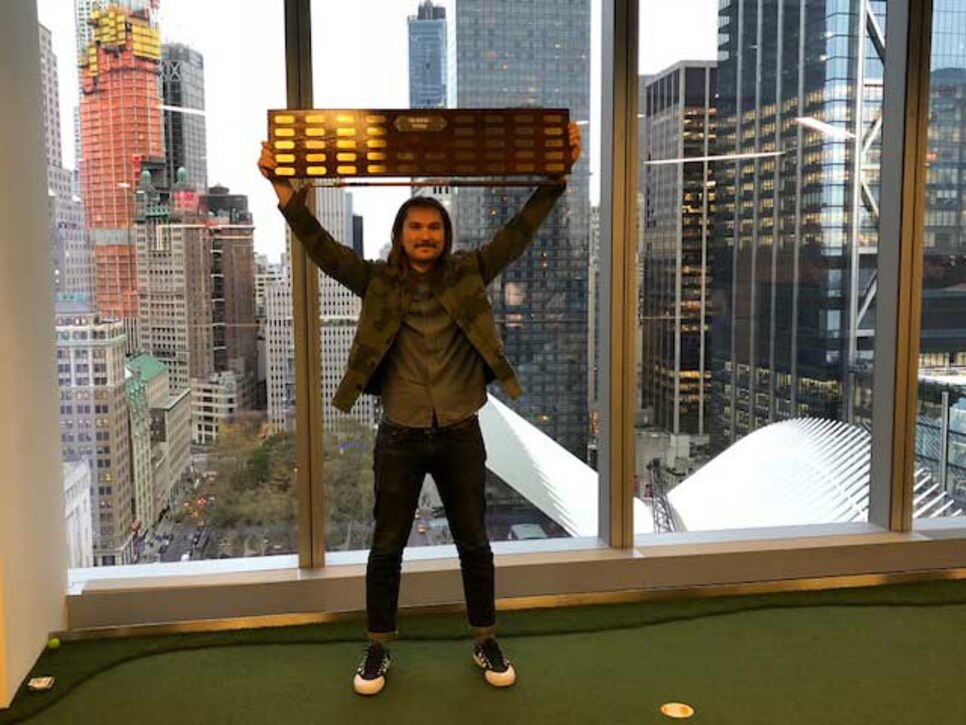 Of course, since the Editor's Putter was contested on a putting green instead of an actual golf course, there's an asterisk, but still, Coleman is hereby dubbed the King of Synthetic. . . . Speaking of our sad so long to our office green, it's not all bad, because now I have a mini-fridge next to my desk on the new floor. And my first order of business, even before setting up my desk, was stocking it with the good stuff: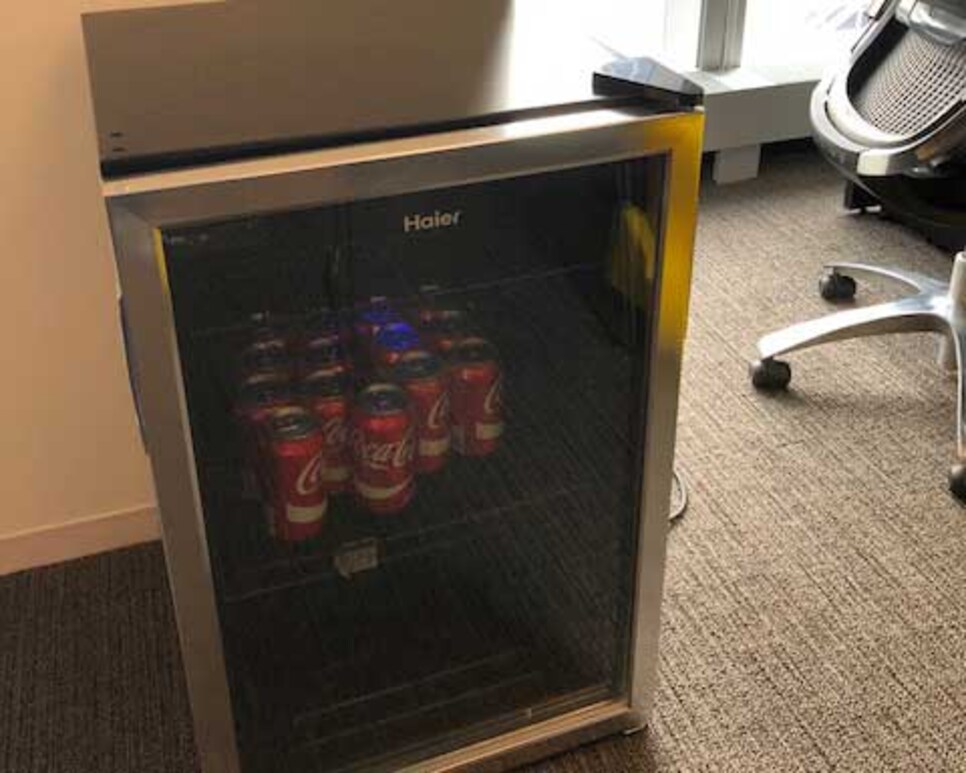 Seriously, Coca-Cola or Coke Zero, any time you want to start sponsoring The Grind, you can find me on floor No. 23 now.
RANDOM QUESTIONS TO PONDER
Is there any chance Cam Champ doesn't win PGA Tour ROY?
At what age can you make your kids shovel snow?
Can I parlay that Tiger-red-shirt and Tiger-twirl bet?