Brotherly Love
Alvaro Ortiz promises to "give some sh--" to older brother Carlos after beating him by one at PGA Tour event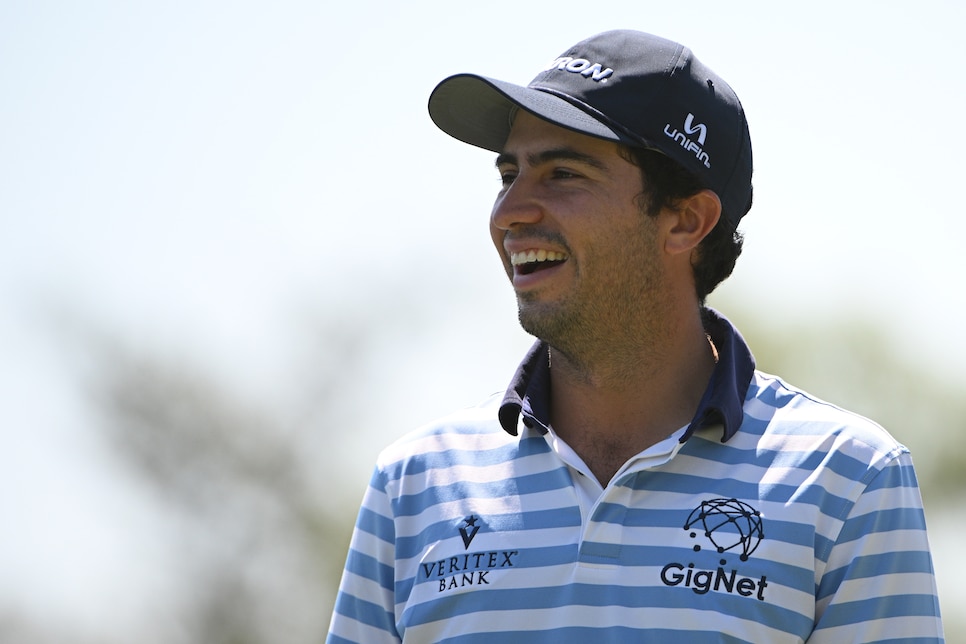 Alvaro Ortiz during the first round of the 2022 Mexico Open at Vidanta.
Orlando Ramirez
For a second consecutive week, the PGA Tour was the site of a pretty cool family affair. Following Bill Haas and his 68-year-old dad, Jay, making the cut at the Zurich Classic, the Ortiz brothers both did the same at the Mexico Open at Vidanta. There was just one main difference for Carlos and Alvaro: It was every man for himself come the weekend.
Big brother Carlos is the far more established of the two with three Korn Ferry Tour wins and a PGA Tour title, but Alvaro wound up getting the better of him this time thanks to some late heroics. Now normally we wouldn't throw the term "heroics" around over a tie for 42nd place, but Alvaro's birdie-birdie finish (including a chip in on the penultimate hole) on Sunday gave him a big win over big bro.
After he was asked if it was nice to get some bragging rights over Carlos, who finished one shot behind in a tie for 51st place.
"Oh, yeah," Alvaro told reporters. "I didn't even know until German just told me and it makes it much sweeter, much sweeter."
Moments later, Alvaro was asked if the two were playing for anything extra.
"No, not really, not really," Alvaro said. "In the past we've given each other shit a little more during the rounds, but right now, at least on my part, I feel like I just want to get done with the 72nd hole and then give some shit, and luckily I'm going to be able to give some today."
Good for you, Alvaro. Of course, it should come as no surprise that the Ortiz bros have always been super competitive. Earlier in the week, Carlos mentioned at their joint pre-tournament press conference that even their video game sessions as kids got pretty heated.
"I've had many Nintendo controllers thrown into my head by him. He was a sore loser, he still is," Carlos said. "But it's been fun having him be involved in golf. And as competitive as I am, it's been great for us. I think that's pushed us to be better and work harder. Every time we're back home, we're like this, we try to play together and we always have a competition. And we both love it when we beat each other because we can give each other shit as much as we can. As you hear him, he's already giving me -- like he's happy I'm healthy that he's going to beat me. So we'll see."
Yep, we saw alright, Carlos. Better keep your head on a swivel the next few days.