LPGA Tour
Ally Ewing eyes CME Group Tour Championship title a year after a wedding kept her out of the finale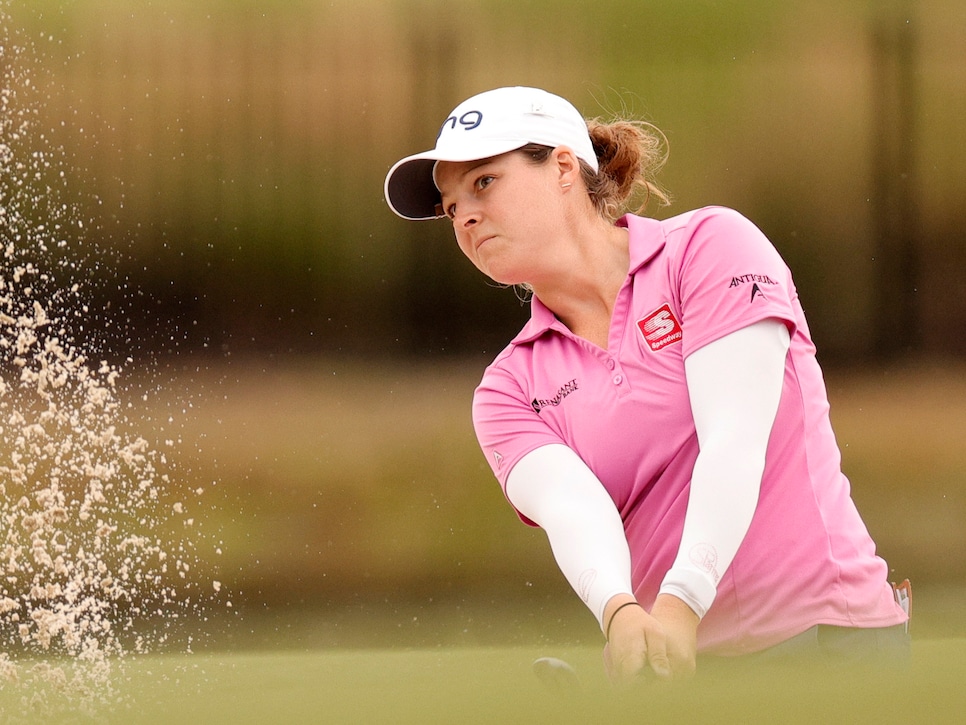 Ally Ewing plays her shot during the first round of the CME Group Tour Championship.
Douglas P. DeFelice
NAPLES, Fla. — Winning on the LPGA Tour usually rewards players with a punched ticket to the CME Group Tour Championship and an opportunity for one of the biggest paydays on tour. Ally Ewing broke through for her first LPGA victory at the 2020 Drive On Championship at Reynolds Lake Oconee, but didn't compete in the season finale because of her brother Will's wedding.
Just shy of a year later, sitting at a bogey-free eight under heading into the weekend this year at Tiburon Golf Club, Ewing could only laugh at the missed opportunity.
"I made a joke with him," Ewing said. "I was like, 'This is a pretty pricey wedding. You're costing me.'"
Ewing's 2021 campaign made up for the opportunity cost. In May, she won her second LPGA title at the Bank of Hope LPGA Match-Play in Las Vegas, setting herself up for another shot at the Tour Championship and effectively sealing her spot on the Solheim Cup Team.
However, the 122 holes it took to win over five hot, grueling days in Las Vegas turned into a pyrrhic victory for her season's results, as Ewing struggled to maintain a consistent level of play. She finished T-6 at the Meijer LPGA Classic, then followed up with a T-52 at the KPMG Women's PGA Championship. In August, she finished the Women's Scottish Open with a blistering 63 to notch a solo sixth, then missed the cut at AIG Women's Open.
Three starts later, Ewing decided to put the clubs away for a few weeks and stay home after a T-55 at the Cognizant Founder's Cup to reset.
"I don't know if it [the exhaustion from the Bank of Hope win] kind of lingered," Ewing said, "but as I got to that last week in New Jersey I just felt absolutely exhausted."
Ewing spent time with her husband Charlie, the head women's golf coach at her alma mater, Mississippi State, and around his team. She also attended The Ally, a women's golf tournament the Bulldogs host that they renamed in Ewing's honor because of her college dominance and LPGA success from the Magnolia Invitational in 2020. Her time around both teams rekindled her fire for the remainder of the season.
"Just being around that atmosphere," Ewing said, "kind of reenergizes you too, to see the girls so hungry, because a lot of them are in pursuit to get here."
The energy fueled Ewing to a T-16 at last week's Pelican Women's Championship, and she has now gone 49 consecutive holes without a bogey at Tiburon, dating back to her last time she played there in 2019. A potential $1.5 million check for the 29-year-old can make up the difference from losing out on a shot in 2020.
"It's certainly going to take great golf this weekend," Ewing said, "but I'm really happy with what I've seen for the first two days, and just try to keep the same game plan and approach the next two."