Corpuz' whirlwind continues
Allisen Corpuz is weary, but like Jon Rahm, insisted on fulfilling commitment week after major win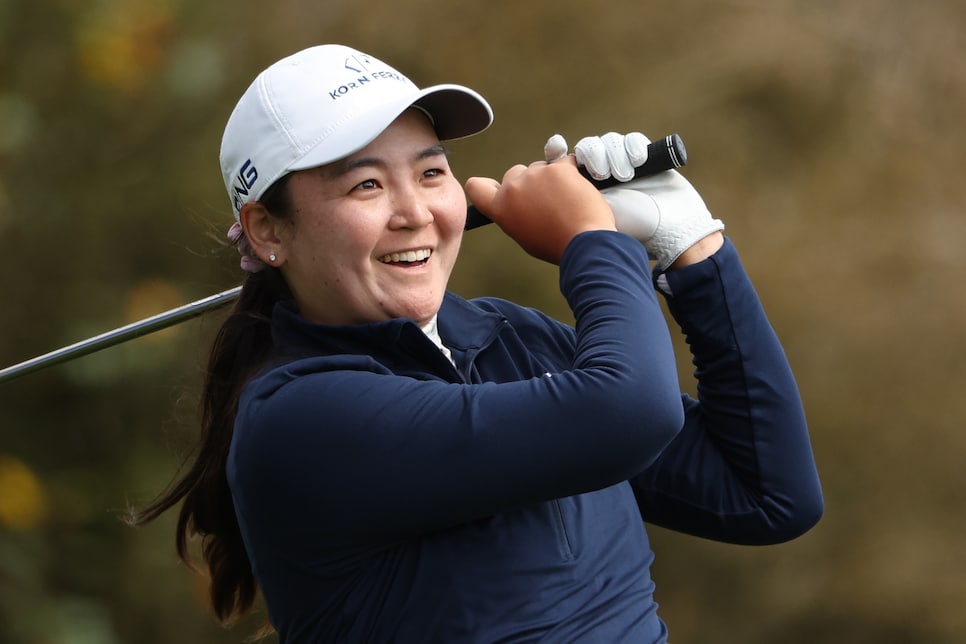 Fans would have forgiven U.S. Women's Open winner Allisen Corpuz if she withdrew from the Dana Open this week. After all, it's a cross-country flight from San Jose, Calif., to Sylvania, Ohio. But instead, Corpuz followed through on her obligation to the Dana Open, teeing it up at Highland Meadows Golf Club only four days after her life-changing major title at Pebble Beach.
"Not to make the comparison and say I'm like Jon Rahm," Corpuz said, "I remember when he played the week after [the Masters] he was saying, 'I made the commitment earlier.' Kind of the same deal. I didn't want to withdraw."
The trek to Ohio turned quite eventful.
Late Sunday following her historic three-shot victory, Corpuz, 25, had media interviews and autograph signings for fans, then celebrated late into the evening with family and friends. Instead of taking a USGA shuttle to a hotel, Corpuz booked a room in San Jose on Sunday because it was easier for her 6:15 a.m. flight on Monday. However, the Hawaii native ended up staying oceanside for one more night at the lodge at Pebble Beach. She enjoyed the amenities for three hours, did not sleep, then scrambled with her parents to get a ride to San Jose early Monday.
"I got 30 minutes [sleep] between boarding and take off," Corpuz said.
Corpuz arrived at Highland Meadow Golf Club late Monday. The media requests continued on Tuesday, where she had an interview nearly every hour during the day to discuss her U.S. Women's Open victory. Corpuz had only played the front nine during a pro-am before her Wednesday press conference. She only walked the back nine ahead of her second career start at the Dana Open. She missed the cut by five strokes last season.
Corpuz, amidst the weariness, started processing what the major win is doing for her career. She accomplished her most significant goal of playing in the Solheim Cup this year as she's a virtual lock to play for the U.S. in Spain in September. Corpuz is looking at her schedule because she wants to get back to her alma mater, Southern Cal, for a football game this fall where she's been invited onto the field. But for now, at her first event as a major champion, Corpuz is trying to get used to the new title.
"It's starting to feel more real, I think, as more people just keep congratulating me," Corpuz said. "Just feels like the last week was just a dream."