News
All too familiar with hurricane prep, PGA National, Seminole and other Palm Beach County courses brace for Irma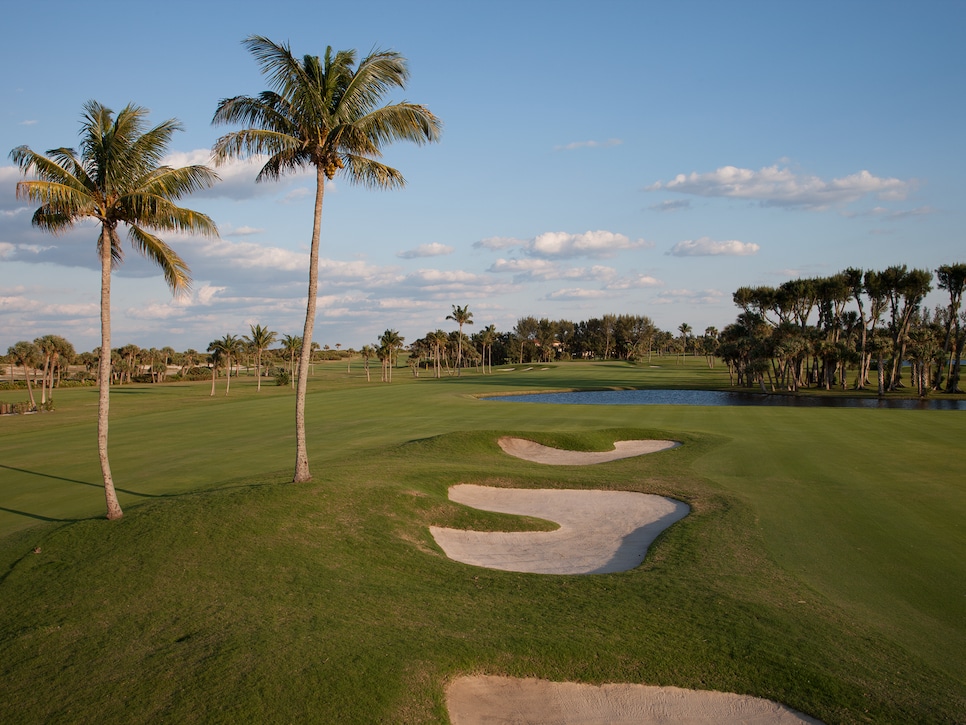 In some respects, it was an ordinary Thursday at the public and private golf clubs and resorts in Palm Beach County. The shoulder season of late summer means reduced green fees and a steady stream of play at many courses. But with Hurricane Irma boring in on South Florida, and the lingering nervousness about to what expect from one of the largest storms to ever surface in the Atlantic Ocean, it wasn't exactly business as usual. We'll except perhaps for Abacoa Golf Club in Jupiter.
"We're open today. We're open Friday. We're open half a day Saturday, probably until 2 o'clock," said the course's owner and operator, Robbie Dew. "We'll weather the storm and hopefully come Monday, we'll pick up all the debris and Tuesday we'll be open. That's the plan."
It's an ambitious one, but Dew can speak from experience. He and Carl Sawyer, his original partner, built Abacoa in 1999 with the foresight to prepare for heavy rain and wind. He also anticipates 60 people to find refuge in the clubhouse when the storm is expected to arrive late Saturday.
"We've been open the day after every hurricane," Dew said. "It's a huge relief to a lot of people because they've been cooped up and in fear. This gives them the sense that there's hope at the end of the tunnel."
Other courses in the area are also following what have become all too familiar procedures. At PGA National, home of the Honda Classic, director of golf Jane Broderick initiated the plan that has been enacted several times in the past decade, including the back-to-back hurricanes, Frances and Jeanne, that went over Broderick's house at Sewell's Point in 2004 and tore giant banyan trees from their roots at PGA National.
Three courses were open at PGA National with 70 players on Thursday, most of it member play. Originally 400 were on the books for Friday, but there was cancellation of an outing that knocked the number down to 94 players. When the golfers are finished, the pin flags and tee markers will be taken off the course, along with all the equipment from the driving ranges.
"Everything outside that isn't nailed down or strapped down," Broderick said. "It's an expensive storm, as they say."
On Palm Beach, The Breakers Ocean Course had already closed down. Tim Collins, the director of golf, called it mandatory evacuation mode. "Since 2004, we have steps to what we do and how we do it," Collins said, recalling how the evacuation of Palm Beach Island lasted 10 days and how they're prepared for this drill 10 fold from what it used to be. "We're pros at this," Collins said. "We know how to shut it down."
Six miles to the south of The Breakers, along the ocean, Tony Chateauvert was going through the same process with a smaller staff at Palm Beach Par 3 course. Business is relatively steady this time of year, with 90 golfers instead of 190 golfers during the peak season on the tee sheet. Only two golfers were on the course Thursday, and they were playing with no pins or flags on the course. "We're in a shutdown mode now," Chateauvert said. "This is going to be catastrophic and we're 50 yards from the ocean."
Once he shut it down, there was work to do at home. Chateauvert and his wife, Tonya, who works in the pro shop at Admirals Cove in Jupiter, recently sold their house in Hobe Sound and moved to a place on the beach on Singer Island. "We're going to ride it out," he said. "If it's my time to go, it's been nice knowing you."
Just north of Singer Island, along the ocean in Juno Beach, Seminole Golf Club has been going through a restoration of its golf course for the 2021 Walker Cup by Ben Crenshaw and Bill Coore, along with the addition of a new roof to the clubhouse—precipitated by Hurricane Matthew last year—that has not been completed. While closed for the summer, club president Jimmy Dunne was waiting with "trepidation, concern and anxiousness," while acknowledging, "A lot of people are concerned about bigger things than we are," Dunne said.
Hurricane Jeanne submerged Seminole in 2004. There were the same feelings then are there are today. As Dunne said, "We're going to batten down the hatches, prepare for it as we have, expect the worst, hope for the best and see what we've got to deal with come Tuesday afternoon."