The Loop
Alabama has already kept an insane streak alive before the first snap of its 2019 season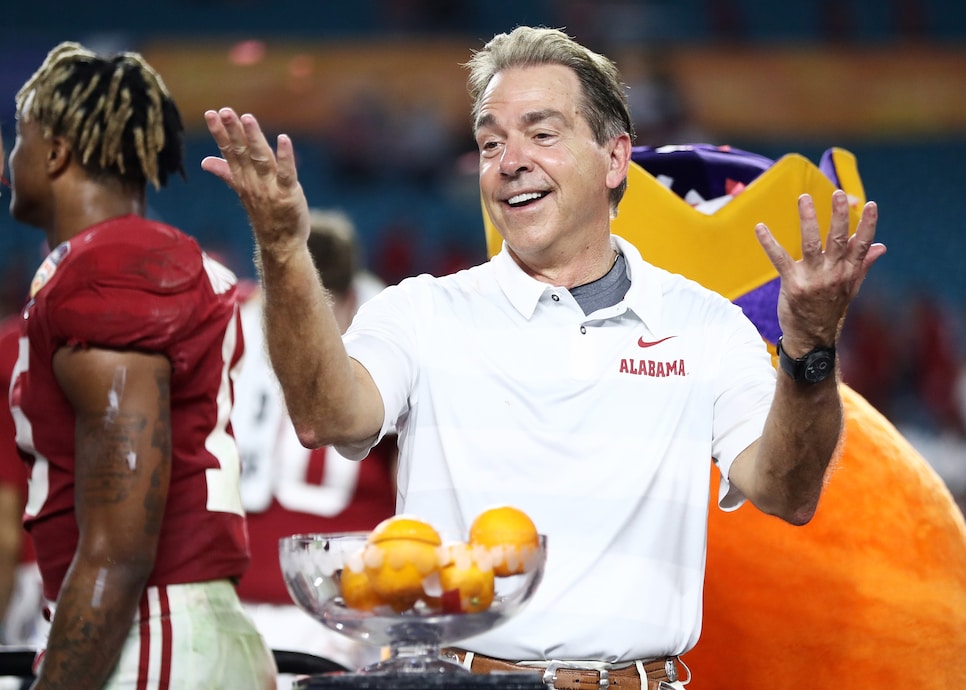 Over the last decade, the Alabama Crimson Tide have been the most dominant force in college football, not that you needed me to remind you of that. The numbers since Nick Saban took over in 2007 are staggering: five National titles, six SEC Championships, 11 straight 10-plus win seasons (only two of those did they win less than 12 games) and five consecutive College Football Playoff appearances (the CFB Playoff has only existed for five years). The Tide are a juggernaut, and the only times they didn't win the Natty or make the Playoff, it took an equally-dominant force as them to beat them (Ohio State, Clemson) or a miraculous victory by their most-hated rival (see: Auburn's comeback in 2011, kick-six in 2013).
As impressive as all of those stats are though, the most eye-popping of all may be one that involves gambling, and the Tide have kept the streak we speak of alive without even taking a snap in 2019. According to data provided by www.sportsbetting.ag, Alabama has been favored in 54 consecutive games, and will extend that streak to 55 on Saturday when their season opens up against Duke, who the Tide are a 35-point favorite over. Goodness gracious.
That means Alabama has not been an underdog in nearly four full years, the last time coming on October 3, 2015, when the Tide were a 1.5-point dog on the road against the Georgia Bulldogs. Two weeks prior, 'Bama lost in stunning fashion for the second straight year to Ole Miss, this time at home, a 43-37 defeat that included one of the most insane plays in college football history. Even after pummeling Louisiana Monroe 34-0 the next week, Vegas was not ready to make the Tide a road favorite in Athens. Let's see how that worked out for Georgia:

If not for the fact the Tide were an underdog in that one, the streak of being the favorite would currently be at 127 games in a row, as they'd reached 72 straight prior to the Georgia game. The last time they were a dog before that game was the 2009 SEC Championship game, when Tim Tebow's Florida Gators closed as a 5-point favorite. Hmmm, wonder how that one played out:

No wonder the Tide are never a dog. That said, they aren't a very profitable favorite, as sportsbetting.ag reports. During this 54-game favorite streak, 'Bama has gone 30-24 against the spread.
"A $10 bettor would be up $36 had you bet on Alabama at standard juice every game during this streak, so it hasn't exactly been a wildly profitable system," says Adam Burns, head linesman at sportsbetting.ag. "The Tide are going to be massive favorites, and inflated favorites, in most games again this season so there usually isn't a lot of value in backing them."
That statement could continue to ring true on Saturday, as 35 points is a ton to cover, especially when betting on Nick Saban's Tide. He rarely runs up the score, usually stopping when he's up by 35 and taking his foot off the gas.
Barring a shockingly bad season, the Tide's streak of being the favorite will reach 66 games by the end of the regular season, as they're projected to be at least a 7-point favorite in every game they play this year. It would take one of a few things to happen for that to change: 1. Texas A&M starts the season 5-0, including wins at Clemson and home against Auburn, an impresses enough to earn home favorite status over 'Bama on October 12, OR 2. Auburn surprises, has a great season and becomes a slight favorite at home in the last game of the season against the Tide, OR 3. Georgia goes undefeated and is favored in the SEC Championship game against Alabama. I put the chances of each of those three scenarios at .000001-percent. The last and only likely scenario is that Clemson and Alabama meet again in the title game and Clemson is the favorite. If not, Bama's streak will reach 69 this year, and then eclipse 72 by October of 2020.