News
Akshay Bhatia, Yealimi Noh win the 2018 AJGA Rolex Junior Player of the Year awards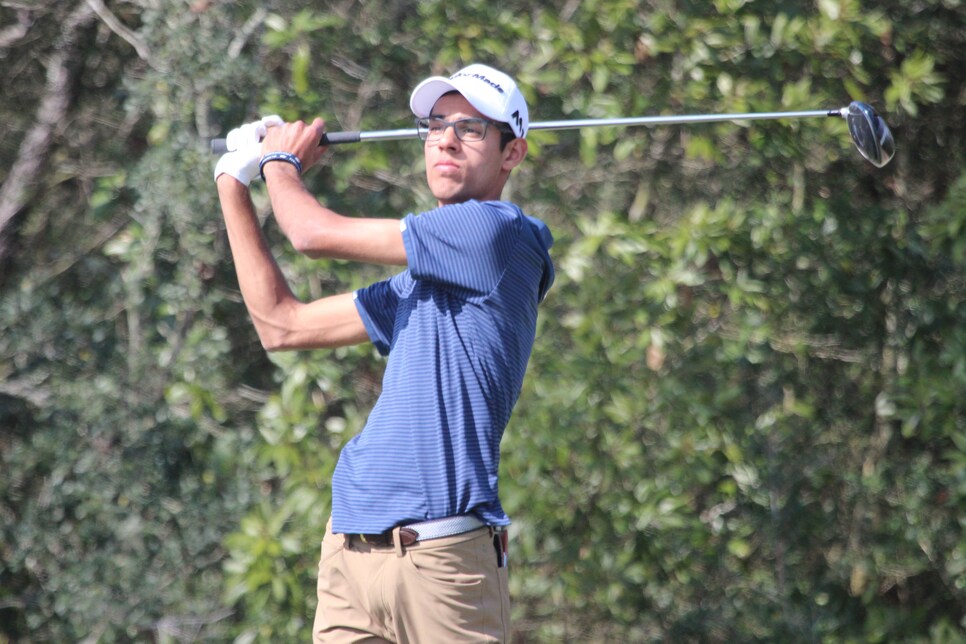 How do you know Akshay Bhatia is a golf nerd? Ask him the highlight of his 2018 season, and the 16-year-old from Wake Forest, N.C., doesn't point directly to any of the obvious answers: his chip-in for eagle to become the first golfer to be a repeat winner at the Junior PGA Championship, his 10-stroke triumph at the Polo Golf Junior Classic or playing in the Junior Ryder Cup in France. No, how about his 16th birthday in January, when the lefty from Wake Forest, N.C. got this present from him mom and dad.
Monday's announcement, however, might change Bhatia's mind. Finishing the season the top-ranked junior, Bhatia sealed his standout season by being named the AJGA Rolex Boys Player of the Year.
Joining him on the dias in November to receive the honor during the AJGA's Rolex All-America Award Banquet will be Yealimi Noh, a 17-year-old from Concord, Calif., who had a similar impressive run that culminated in being selected as the Girls' Player of the Year. Noh, accomplishments in 2018 included five national/international wins, highlighted by the U.S. Girls' Junior, Girls Junior PGA and the Canadian Women's Amateur.
"I'm so honored to be receiving this incredible award," said Noh, a high school senior who plans to turn pro some time in 2019. "It truly is one of my biggest accomplishments. It comes as a bit of a surprise because in the beginning of the year, I didn't think I would get enough points to win, or even, that I would win three tournaments. This really means a lot to me."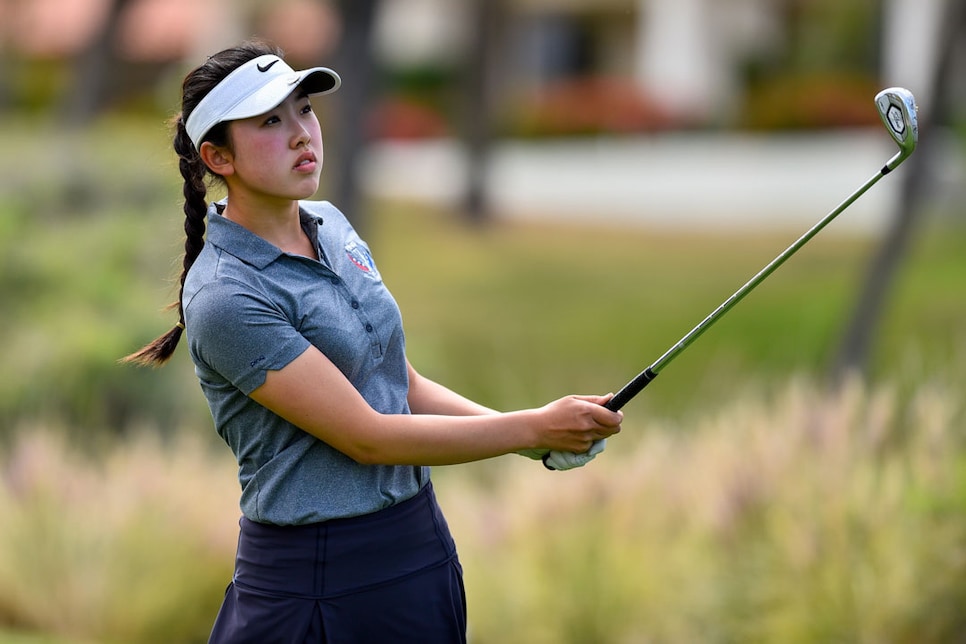 Bhatia, all 6 feet, 125 pounds of him, credits his birthday present for much of his success in 2018, the device helping him fine tune various parts of his game. But perhaps more important was the breakthrough he had in March when the lanky lefty started to hone a go-to swing off the tee with Chase Duncan, a teaching professional at Lonnie Poole Golf Course in Raleigh, N.C.
"I always struggled hitting a good cut where it starts right and then fades back to the fairway," said Bhatia, a high school junior. "It's always started left and went left. And [Chase] gave me this drill to do and I literally started hitting perfect cuts and my speed was going up. I just started hitting it really good. My contact was a lot better."
"Once I won Sage and just started playing better in qualifiers and whatever, I have so much confidence in myself and I believe in myself that I'm the best player there and no one can beat me."
The one event Bhatia fell short was the U.S. Junior Amateur, losing in the final to his good friend, Michael Thorbjornsen. But even that finish provided something to build on.
"It was definitely disappointing because you play great golf for I think more than one hundred holes and then you just fall one shot short, it's always hard to swallow," Bhatia said. "But it motivates me for next year. That's the one I really want to win."
Bhatia and Noh highlight the AJGA's Rolex Junior All-American teams, which were also named on Monday. Here's the rundown of the other top juniors who'll be honored in November.
2018 Rolex Junior All-Americans
Boys – First Team
Akshay Bhatia, Wake Forest, N.C.
Ricky Castillo, Yorba Linda, Calif.
Canon Claycomb, Bowling Green, Ky.
Ryan Hall, Knoxville, Tenn.
William Moll, Houston
Shiryu (Leo) Oyo, Japan
Cameron Sisk, El Cajon, Calif.
James Song, Canada
Michael Thorbjornsen, Wellesley, Mass,
Travis Vick, Houston
Karl Vilips, Australia
Girls – First Team
Anne Chen, Australia
Sadie Englemann, Austin, Texas
Rachel Heck, Memphis, Tenn.
Lucy Li, Redwood Shores, Calif.
Michaela Morard, Huntsville, Ala.
Yealimi Noh, Concord, Calif.
Alexa Pano, Lake Worth, Fla.
Megan Schofill, Monticello, Fla.
Erica Shepherd, Greenwood, Ind.
Yujeong Son, South Korea
Lei (Angelina) Ye, China
Rose Zhang Irvine, Calif.
Boys – Second Team
Alexander Yang, Carlsbad, Calif.
Connor Creasy, Abingdon, Va.
Eugene Hong, Orlando
J. Holland Humphries, Austin, Texas
Bo Jin, China
John Keefer, San Antonio
William Mouw, Chino, Calif.
Jeewon Park, South Korea
Luke Potter, Encinitas, Calif.
Gordon Sargent, Birmingham, Ala.
Ian Siebers, Bellevue, Wash.
Jackson Van Paris, Pinehurst, N.C.
Jonathan Yaun, Minneola, Fla.
Girls – Second Team
Amari Avery, Riverside, Calif.
Irene Kim, La Palma, Calif.
Xin (Cindy) Kou, China
Alexa Melton, Covina, Calif.
Katherine Muzi, Walnut, Calif.
Bohyun Park, South Korea
Brooke Seay, Rancho Santa Fe, Calif.
Aneka Seumanutafa, Emmitsburg, Md.
Erika Smith, Orlando
Kornkamol Sukaree, Thailand
Christine Wang, Houston
Elizabeth Wang, San Marino, Calif.
Boys – Honorable Mention
Trey Bosco, Austin, Texas
Nicolas Cassidy, Johns Creek, Ga.
Kuangyu Chen, Australia
Aaron Chen, Fremont, Calif.
George Duangmanee, Fairfax, Va.
Chris Fosdick, Middlefield, Conn.
Peter Fountain, Raleigh, N.C.
Austin Greaser, Vandalia, Ohio
Frankie Harris, Boca Raton, Fla.
Jun Min (Jimmy) Lee, South Korea
Tyler Lipscomb, Carrollton, Ga.
Dylan Menante, Carlsbad, Calif.
Hazen Newman, Las Vegas
Jay Nimmo, Benton, Ky.
Cole Ponich, Farmington, Utah
Austyn Reily, Pottsboro, Texas
Jackson Rivera, Rancho Santa Fe, Calif.
Jeevan Sihota, Canada
Brian Stark, Kingsburg, Calif.
Nicklas Staub, Boynton Beach, Fla.
Will Thomson, Naples, Fla.
Brendan Valdes, Orlando
Andi Xu, China
Sampson-Yunhe Zheng, China
Girls – Honorable Mention
Ty Akabane, Danville, Calif.
Zoe Antoinette Campos, Valencia, Calif.
Briana Chacon, Whittier, Calif.
Ya Chun Chang, Taiwan
Megan Furtney, South Elgin, Ill.
Ashley Gilliam, Manchester, Tenn.
Agustina Gomez, Argentina
Savannah Grewal, Canada
Sophie Guo, China
Yoon Min Han, South Korea
Trinity King, Arlington, Texas
Anina Ku, Basking Ridge, N.J.
Rachel Kuehn, Asheville, N.C.
Yu Wen Lu, China
Ashley Menne, Surprise, Ariz.
Alyssa Montgomery, Knoxville, Tenn.
Brianna Navarrosa, San Diego
Jennie Park, Carrollton, Texas
Sarah-Eve Rheaume, Canada
Serena Sepersky, Temecula, Calif.
Latanna Stone, Riverview, Fla.
Alexandra Swayne, Maineville, Ohio
Nicole Whiston, San Diego
Katie Yoo, Orlando